---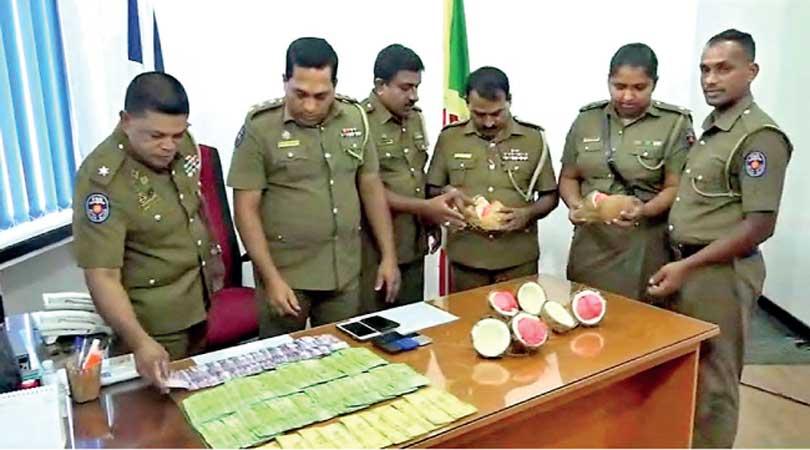 Drug trafficking racket operated by a Colombo prison inmate exposed
By Darshana Sanjeewa Balasuriya
A young couple from Galle were yesterday arrested in Pinnaduwa with 500 grammes of heroin hidden inside coconuts they were carrying on a motor bicycle.
The arrest came a day after Moragahahena police arrested two suspects with 4.7 grammes of heroin during a raid at Uduwa in Moragahahena.
Preliminary investigations have revealed that the two suspects were part of a drug trafficking racket operated by a Colombo prison inmate named Shantha.
Police arrested the couple, aged 23 and 28, travelling on a motorcycle following information received from the two suspects.

After further questioning, Police took into custody the 18-year-old daughter of the inmate Shantha, over her involvement in drug trafficking in the Akmeemana area together with Rs. 140,000 in cash and a mobile phone.

The couple and the young woman are to be detained for further investigations.

Meanwhile, four suspects were arrested while transporting more than 30 kilogrammes of Kerala cannabis and Rs. 1 million in cash in Negombo.
Police said the suspects were transporting the drugs and money from Jaffna to Negombo.

Four more persons were arrested with 696 grammes of Crystal Methamphetamine (ICE) during joint raids by the Navy and the STF at Pannegamuwa and Debarawewa in Tissamaharama.

The Navy said initially two suspects were arrested with nine grammes of drugs in Pannegamuwa area, Tissamaharama. This arrest led to the arrest of another suspect with ICE.
Four suspects were arrested while transporting more than 30 kg of Kerala cannabis