---
By Sandun A. Jayasekera
Former Minister and SLFP stalwart Dilan Perera said yesterday that the divisions, mistrust and conflicts between the SLFP and SLPP would come to an end after yesterday's crucial meeting between the two parties chaired by Opposition Leader Mahinda Rajapaksa and Maithripala Sirisena.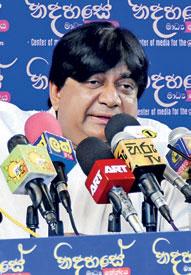 "We will come before the people from today as a strong political force and face the three elections scheduled this year led by Mahinda Rajapaksa. We will be a formidable force against the UNP, no doubt about it as all the differences between the SLFP and SLPP would be sorted out at today's discussion," he stressed.
Commenting on the budget vote, he said collective decisions of the party was to vote against the budget but a few nincompoops disrupted it and gave a victory to the UNP and pass the second reading of the budget easily.

Mr. Perera vowed that all SLFP members would vote against the budget on the final day of the debate but added it is unlikely that they could defeat the budget because the government has the support of 15 TNA members. Mr. Perera said that however, four SLFPers, Sriyani Wijewickrama, Nishantha Mutuhettigama, Lakshman Perera and he, stood with the party decision and voted against the budget and added that he thinks the four who voted against the budget were correct.
"If the party thinks we four are wrong and went against the party line, the General Secretary of the SLFP can take disciplinary action against us and we will face the inquiry willingly," Badulla District UPFA parliamentarian stressed. Addressing the weekly news briefing at the 'Centre of Transformation' in Colombo yesterday (14) Mr. Perera went onto say that the UNP performed a 'Melodrama' scripted by Speaker Karu Jayasuriya with Prime Minister Ranil Wickremesinghe as the main actor.
Former Minister Bandula Gunawardana said the division policy struggle among the UNP top brass came to light at the budget debate. "Minister Ravi Karunanayaka severely criticized the government's move to obtain foreign loan at very higher interest rates on which our children will have to pay back. Sajith says that estate workers must be paid more that Rs. 1,000 per day and the estate plantation companies running at a loss is not acceptable.