---
Girl allegedly abused at a devale in Bataduwa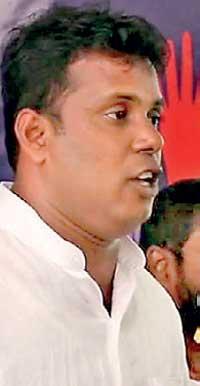 By Darshana Sanjeewa and D.G. Sugathapala
UPFA Southern Provincial Councillor Krishantha Pushpakumara alias 'Raththaran', who was arrested on charges of child abuse, was released on bail by the Galle Magistrate's Court yesterday.
He was released on a cash bail of Rs. 25,000 and two sureties of Rs. 500,000 each by Magistrate Harshana Kakunawela. The Councillor was arrested after he surrendered to the Akmeemana Police through a lawyer last morning.

Police said the arrest was made after a complaint was lodged with the police stating that the councillor had allegedly abused a 16-year-old girl in Akmeemana.

According to the police, the girl was allegedly abused at a devale at Bataduwa on Saturday (23) during a ritual conducted by the councillor, who is also reported to have been a popular exorcist.

Police informed the court that the victim girl had accompanied her parents, brother and sister to the Devale. Accordingly, when the girl had gone inside the devale, the councillor is reported to have told that the girl's body was poisoned and then the girl was allegedly abused claiming that the poison would be removed from her body. The girl had been asked not to divulge details to anyone about the incident. Police said the girl had obtained treatment from a private doctor claiming that she had fallen off a bicycle. The case was fixed for April 30.
Police said the girl had obtained treatment from a private doctor claiming that she had fallen off a bicycle