---
Rs.45mn - Abhayagiriya
Rs.384mn - Maha Vihara Mirisavetiya and Mihintale
Rs.10.2mn - Sigiriya
Rs.5.4mn - Dambulla
Rs.116mn - Kandy
Rs.147mn - Jethawanaramaya
Rs.6.8mn - Yapahuwa
Rs.8mn - Arantalawa
Funds spent on developing, rebuilding places of worship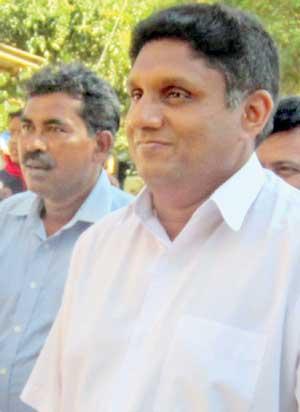 By Yohan Perera and Ajith Siriwardana
Housing and Construction Minister Sajith Premadasa told Parliament yesterday that he spent money from the Central Cultural Fund (CCF) with necessary 'covering approval.'
"That is how things were done during the previous regime and during the time Minister Akila Viraj Kariyawasam held the portfolio. If we wait for approval, we won't be able to do anything," he said in response to JO MP T.B. Ekanayake who alleged a sum of Rs.3.6 billion from CCF had been used without the approval of its management board.

He said Prime Minister Ranil Wickremesinghe granted permission to work towards the revival of Buddhism and other religions and that the President had also approved this programme.
"Both the President and the Prime Minister are aware of the importance of religious revival. We have spent the funds on many projects and to develop historic places of worship. We have spent Rs.45 million for the development of Abhayagiriya, Rs.384 million is being spent to develop Maha Vihara, Mirisavetiya and Mihintale, Rs.10.2 million for the development of Sigiriya, Rs.5.4 million for Dambulla, Rs.116 million for the development of historic temples in Kandy, Rs.147 million to develop Jethawanaramaya, Rs.6.8 million for Yapahuwa and Rs.8 million to construct a pilgrims' rest at Arantalawa where a number of Buddhist monks were slain by the LTTE. These funds were given to State institutions only and every cent has been spent to develop places of worship.

"We also spent funds to re-build the churches at Kochchikade, Katuwapitiya and the Zion church in Batticaloa which came under attack on Easter Sunday. These funds were released to the armed forces since they had engaged in re-building them. Even Minister Akila Viraj Kariyawasam, under whose purview the CCF was earlier, had spent funds legally; the same way he did recently. Mr. Kariyawasam had also done a lot of good work during the tenure he was Cultural Affairs Minister. I feel sorry for MP Ekanayake as he had swallowed a wrong pill given by someone. I suggest he himself conduct an investigation to determine as to who was behind this move to mislead him. I will not hate him for this, but I like to take him to my side within the next couple of months." he said.