---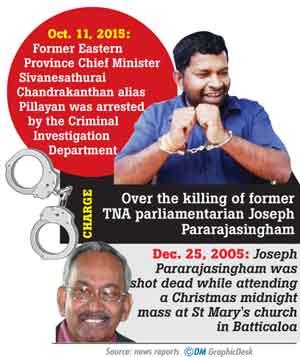 By Yoshitha Perera
Tamil Makkal Viduthalai Pulikal (TMVP) Leader and Batticaloa District Parliamentarian Sivanesathurai Chandrakanthan alias 'Pillayan' who was held under the Prevention of Terrorism Act in connection with the assassination of TNA MP Joseph Pararajasingham was granted bail by the Batticaloa High Court yesterday.
He was arrested on October 11, 2015.

The MP was held in connection with murder of Mr. Pararajasingham at St. Mary's Cathedral, Batticaloa during the Christmas Mass in 2005.

He was remanded along with former Eastern Provincial Councillor Edvin Silva Krishanantharaja, Kananganayagam alias Gajan Mama, Army Intelligence Officer M. Kaleel and former Army Officer Mathusinghe alias Vinoth.

The Court had earlier granted permission to former Chief Minister of Eastern Province Chandrakanthan to contest in the General Election.The Court released him and four others on two personal bail of Rs.100,000 each.
The Court had earlier granted permission to former Chief Minister of Eastern Province Chandrakanthan to contest in the General Election