---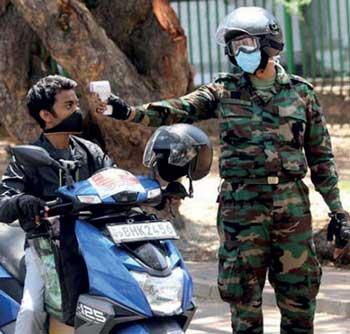 By Darshana Sanjeewa Balasuriya

The army has deployed a Quick Reaction Rider Team (QRRT) of 20 members to conduct random temperature checks on persons arriving in Colombo for essential services.
The QRRT was launched following an initiative, proposed by Army Commander Lieutenant General Shavendra Silva in a bid to further strengthen the ongoing preventive mechanism of the government against the spread of Covid-19 in the risky Colombo District.

Army sources said the novel practice would promptly diagnose persons with high temperature.
"In the event of an observation was made with regard to high temperature, they are quickly referred to medical consultants for onward arrangements," the army commander said.

The army urged the public on essential services to co-operate with those QRRT members who would test them for their own safety and randomly conduct such temperature checks.