---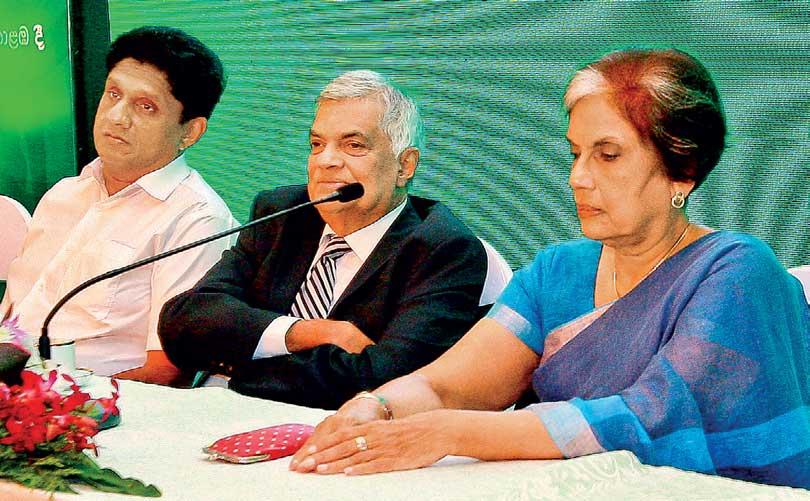 We will never enter into agreements detrimental to the country and betray the country. We will give prominence to Buddhism while respecting the values of other religions and traditions
By Ajith Siriwardana
The agreement for the formation of the Democratic National Front (DNF) was yesterday signed by several political parties including the United National Party (UNP), the 'Api Sri Lanka movement' led by former President Chandrika Kumaratunga and several other civil society groups.
Twenty eight political parties and 30 civil society groups signed the agreement at a ceremony at the Taj Samudra Hotel with the participation of political party leaders of the political parties including UNP leader Ranil Wickremesinghe, Chandrika Kumaratunga, Jathika Hela Urumaya (JHU) General Secretary Champika Ranawaka, Sri Lanka Muslim Congress Leader Rauff Hakeem and the All Ceylon Makkal Congress (ACMC) Leader Rishard Bathiudeen.

Ruwan Ranatunga signed the agreement on behalf of the 'Api Sri Lanka movement' while Dr. Rajitha Senaratna signed the agreement on behalf of the DNF.
Dr. Senaratne said the DNF will support New Democratic Front (NDF) presidential candidate Sajith Premadasa and would commit themselves to upholding democracy and freedom.
"This is the struggle to continue the unfinished task undertaken in 2015. Even though the candidate is different, we will fullfil the task that we couldn't complete during past five years," he said.

NDF presidential candidate Sajith Premadasa said they would engage in international affairs that would only be beneficial to the country.

"We will never enter into agreements detrimental to the country and betray the country. We will give prominence to Buddhism while respecting the values of other religions and traditions," he said.

Mr. Premadasa said they would embark on a development strategy which would be based on social democracy so that the people would receive the benefit of development equally.
He said they would create a digital revolution where traditional agriculture and traditional industries would be further enhanced by providing government assistance.
We will never enter into agreements detrimental to the country and betray the country. We will give prominence to Buddhism while respecting the values of other religions and traditions