---
MPs who vote for it will soon repent for doing so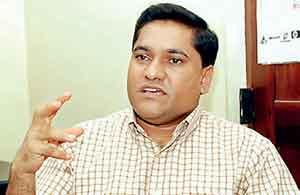 By Ajith Siriwardana and Yohan Perera

National People's Power (NPP) MP Vijitha Herath said yesterday the tabling of the 20th Amendment to the Constitution marked the 'funeral of Democracy' in Sri Lanka and the MPs who voted for it would soon repent for doing so just as some MPs who voted for the 18A did.
He told Parliament that J.R. Jayawardene introduced the 1978 Constitution with the intention of introducing a new liberal economic model in Sri Lanka and the people came to realise its consequences before long. "All the political leaders who came to power promised to abolish the executive presidency after realising the gravity of the absolute powers of the President under the 1978 Constitution and because of the voices of the people raised against it," the MP said.

He said 18th Amendment was also introduced to consolidate power by the then President and MPs who voted for it such as Ven. Rathana Thera and Maithripala Sirisena later repented for supporting it.

"The 20A has first attacked the ministers and the MPs. No minister pointed out any shortcoming of the 20A when it was presented in the Cabinet and they approved it on the same day. But later they talked of its shortcomings. When people began to protest against the 20A a committee which included five ministers were appointed to review it and make recommendations. But it appears that it was not discussed at the Cabinet meeting," the MP said.

He said it was reported that the MPs who talked about the 20A at the government group meeting had been prevented from doing so and the President had already started bulldozing the government.
The 20A has first attacked the ministers and the MPs. No minister pointed out any shortcoming of the 20A when it was presented in the Cabinet and they approved it on the same day