---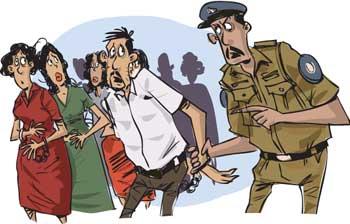 By Chaturanga Samarawickrama and T.K.G. Kapila
Fourteen Sri Lankans were arrested when attempting to smuggle gold jewellery worth more than Rs.30 million at the Bandaranaike International Airport (BIA) yesterday, Customs Additional Director General and Media Spokesman Sunil Jayaratne said.
He said the passengers aged between 30 and 50 were residents of Colombo and the suburbs and arrested by Customs officials at the airport arrival lounge.
"The 4.7 kilograms of gold jewellery was found hidden in their pockets, undergarments and their luggage. They had not declared the gold jewellery valued at Rs.31,975,180 to the Customs," the spokesman said.

The detection was made by the Customs Superintendents H.C.M. Perera, W.D.I.G. Withana, T.D.N.T. Samaranayake, H.M.G.P. Rajaratne, M.W.A.T.M. Wijesooriya, H.P.M.J.G. Pathirana, M.M.P. Gunathilake, R.S. Madurapperuma, D.L.S. Rupasinghe, R.M.T.S.S. Dhanapala, P.M.I. Wimukthi, S.V. Kamburugamuwa, Customs Assistant Superintendents M.P.W. Perera. Investigations are being conducted by the Customs Superintendents K.D.R. Perera, Lalith Gulawita, Sunith Bernard under the supervision of Deputy Directors K.H.P. Kumarasiri and M. Wimalasena.