---
Two more special flights to leave tomorrow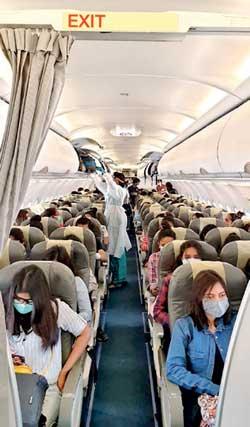 By Darshana Sanjeewa Balasuriya and T.K.G. Kapila
A total of 101 Sri Lankan students who were stranded in India arrived yesterday at the Bandaranaike International Airport (BIA) on a special SriLankan Airlines flight.
The SriLankan flight UL1145 departed from the BIA yesterday morning to evacuate the Sri Lankan students from the Amritsar International Airport.

The flight with eight crew members, including two pilots landed at the BIA carrying passengers who were students of Lovely Professional University.

All the students and their luggage were disinfected after disembarking at the airport. Their body temperatures were measured before they were taken to the quarantine centres.

Earlier the SriLankan Airlines said it decided to operate special flights from India's Amritsar, Coimbatore, Pakistan's Karachi, Lahore and Nepal's Kathmandu to bring home 433 Sri Lankan students who had been stranded overseas due to the prevailing travel restrictions imposed in view of the COVID 19 pandemic.

A SriLankan plane carrying 113 Sri Lankan students from Lahore and Karachi, Pakistan arrived at the BIA on Tuesday as the first batch.

These special flights are being operated as part of Sri Lankan government's programme to bring back Sri Lankan students stranded in foreign countries and are being carried out in partnership with the Ministry of Foreign Affairs, SriLankan Airlines said.

Two more special flights are scheduled to leave for India to evacuate 117 Sri Lankan students from Coimbatore and 93 more from Kathmandu tomorrow.
Two more special flights are scheduled to leave for India tomorrow