---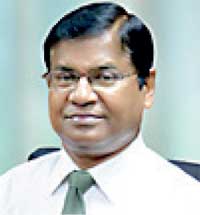 Commercial Bank of Ceylon PLC (ComBank), Sri Lanka's benchmark private sector bank, has just launched a new, aspiration-linked savings account that offers account holders an opportunity to become millionaires in a short span of two to six years. In this interview, the bank's Deputy General Manager Personal Banking Chandana Gunasekera elaborates on the 'Commercial Bank Millionaire Account' and why it is one of the most exciting new savings products to reach the market in a long time.



Excerpts:


What was the thinking behind the launch of the Commercial Bank Millionaire Account?


This is a product that was born out of a brainstorming session involving the bank's senior managers and regional managers, who have a good understanding of the banking needs of the masses as a result of their constant interaction with our existing as well as potential customers. It was felt that there is a need in the market for a product that will motivate saving on a structured basis among the younger segment in particular. When we discussed this, we realised the potential for a product that is target-linked, affordable and short term, so that a clear, achievable benefit becomes the motivating factor. The view was that becoming a millionaire is still very much a milestone that could be aspirational for a large segment of our target market and so, we designed the 'Millionaire Account' that offers depositors the possibility of becoming a millionaire in as little as three years.





How does this product work?


The beauty of this product is its simplicity and affordability. All it requires is for the depositor to choose the savings period, between two and six years, based on how much he or she can afford to deposit each month. A monthly deposit of Rs.38,800 for two years, guarantees the depositor an account balance of Rs.1 million at the end of the two years. If a depositor cannot afford to set aside Rs.38,800 a month, the period of saving can be extended up to six years, with a correspondingly lower monthly deposit for every year that is added on. To become a millionaire in six years, for example, the monthly deposit required is just Rs.11,225. Depositors can simply make a standing order for the transfer of their monthly deposit for the pre-agreed duration and collect their million at the end of the saving period.





Wouldn't a depositor be able to achieve the same result via a normal savings account?


Interest rates can, and do fluctuate, so a normal savings account holder will find it difficult to calculate how much will be saved at the end of a specific period. The Millionaire Account guarantees the target balance, protecting the depositor against interest rate fluctuations. Additionally, a normal savings account does not require a commitment on a monthly deposit, so the motivation to keep depositing a fixed amount each month is self-generated. What we find is that generally, saving via a bank savings account is somewhat unsystematic in that people deposit whatever they can, whenever they can and also tend to withdraw whenever there is a need. As a result, the account balance in a normal savings account also fluctuates, as there is no savings target.





How does the Commercial Bank Millionaire Account compare against other investment options such as fixed deposits (FDs) or treasury bills (TBs)?


It compares very well for one very compelling reason: affordability. If someone wants to build up a balance of Rs.1 million through an investment in a fixed deposit or in treasury bills, that person would need to have the funds for a large initial investment. For example, to have a balance of Rs.1 million in three years via a fixed deposit that pays 6 percent interest per annum, the depositor would have to start with more than Rs.800,000. With the Millionaire Account, the process can begin with Rs.25,000 and requires the same amount over three years. Therefore, this product is infinitely more affordable, making it accessible to a much larger segment of the populace than FDs or TBs.





Can this product also cater to those who want to raise more than a million rupees?


Yes, it can, because we offer the option of saving in multiples of Rs.1 million, up to a maximum of Rs.10 million. Depositors who wish to raise more than Rs.1 million may increase their monthly deposit according to the number of millions they wish to raise, up to a maximum of Rs.10 million. For example, if a depositor can afford to deposit Rs.50,000 a month for three years, he or she will have an account balance of Rs.2 million.
Our intention is to encourage the middle-class segment, young professionals and executives, to look at saving in a structured, target-linked manner, so that their savings can make a significant contribution to their future.





What other benefits would this product offer?


Building up an account balance of Rs.1 million can provide a good platform for many things. If the money is not required for an immediate purpose like a wedding or higher education, the account can be used, for example, as equity to obtain a higher loan from the bank for another purpose. Therefore, the Millionaire Account can be the beginning of a long-term relationship with Sri Lanka's largest and strongest private sector bank. This product is a good articulation of Commercial Bank's brand promise of 'For a Better Future.'





What would happen if, for some reason, a Millionaire Account holder cannot keep up with the required monthly deposit?


We have provided a grace period of up to two months with a nominal penalty payment in the event of an interruption in deposits. However, if an account holder wishes to exit the scheme, there is provision to do that as well and the bank will pay the accumulated capital along with interest at an adjusted rate based on how much is in the account. Account holders may also nominate a beneficiary to receive the capital and interest in the event of the premature demise of the account holder.





In conclusion, can you summarise why you think the Commercial Bank Millionaire Account is one of the most exciting new savings products in the market?


This account is fundamentally affordable, flexible, easy to understand, hassle-free and aspirational. To many salaried workers with day-to-day expenses, becoming a millionaire in three to six years can seem a daunting, even impossible dream. But the Commercial Bank Millionaire Account shows how it can be done, in partnership with the country's strongest and most stable financial institution. It can provide a great launching pad for a better future for thousands of young Sri Lankans.