---
With the New Year bringing in new opportunities, expectations and determinations; Pan Asia Bank recently relaunched "Pan Asia Salary Saver", with a host of novel value additions designed to help account holders to maximize the returns on their monthly salary.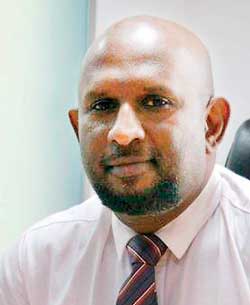 Specially designed for salaried individuals, Pan Asia Salary Saver is bundled with a host of value additions that promises bright prospects for the ambitious salaried professionals
and executives.

Commenting on Pan Asia Salary Saver Account, DGM Retail Banking & SME of Pan Asia Bank Naleen Edirisinghe shared his thoughts on the newly re-launched account, at a recent interview.
What is the uniqueness in Pan Asia Salary Saver account, compared to the other salary accounts available in the market?

This is the only Salary Savings account in Sri Lanka which offers a variety of special features attached to the account not only to the main account holder but also to his/her immediate family members. We can also say that it is a special Savings account designed for salaried employees to manage their salary with a bundle of additional benefits categorized based on their net monthly salary remittance.

What are those categories that you are referring to?
We have identified three different segments in salaried employees and thus introduced three different product tiers, which allows us to offer highly targeted and relevant benefits to each category. The basis of this categorization is the net salary remittance the individual will be remitting to Pan Asia Salary Saver account and thereby it is very easy for anyone to identify the category that they may fall in. These tiers are;
Silver- Net Salary remitted –Rs. 25,000 - 50,000/-
Gold- Net Salary remitted – Rs. 50,000–150,000/-
Prime*- Net Salary remitted –
Rs. 150,000/- and above
What are the additional benefits Pan Asia Salary Saver Account holders can expect from the bank?
Pan Asia Salary Account holders will have access to a host of added benefits including; instant loan facilities in case of a financial emergency, Overdraft facilities, the option to obtain loans facilities such as Pan Asia Personal Loan 'Aspire' Education loan or 'Nivasa' Home Loan at preferential interest rates and preferential rates on selected deposit products.

They will also be able to obtain a credit card with no Joining Fee and the first year Annual Fee waived while getting documentation fee waivers for leasing. Further, account holders can access their Salary Saver accounts via over 2700 ATMs island wide and through free internet banking. They also get discounts on SMS alerts, standing orders and foreign draft issuances etc.

Can you elaborate more on the instant loan facility that can be taken at a financial emergency?
This special service is called "Emergency Cash Advance Facility" and is a unique feature of Pan Asia Salary Saver. Under this scheme account holders can obtain an instant loan up to 40 percent of their net salary after loan and credit card deductions subject to a maximum of Rs. 75,000. The specialty of this service is that, the loan will be credited to the respective account within couple of hours. All what you need to do is Open up a Pan Asia Salary Saver account and remit your net salary of Rs, 25,000 or more continuously for three months and then register with us for this service. Thereafter the loan can be obtained just by calling our hot line 011 4667 222 and simply making a request over the phone. The loan will be credited within matter of few hours.

You also mentioned about customers being able to get overdraft facilities through this Salary account. How can a customer apply for an overdraft facility?
Yes account holders who qualify for Gold and Prime categories are entitled to open current accounts. Then they can enjoy over draft facilities subject to remittance of the required net salary to the account for six consecutive months. Gold category account holders can enjoy over draft facilities up either two times as their net salary or Rs.200,000, whichever is lower while Prime category account holders can go up to Rs.300,000.

It was interesting to hear that the immediate family members of the account holder are also eligible for benefits for facilities obtained. Can you explain this?
Yes. This is the key feature that Pan Asia Bank adds on to this special account and stands out from other Salary accounts in the market. We offer an additional 0.25 percent interest on new Fixed Deposits and new or existing Children's Savings Accounts of immediate family members of Pan Asia salary account holders. In addition we also offer special interest rates that are 0.25 percent less than the published interest rates to the account holder and his/her immediate family members for new Housing loans /Consumer loans/ Educational loans and Leasing facilities.

Prime is the highest category of Pan Asia Salary Saver Account. So what are the special benefits that this segment is getting?
Yes, "Prime" is the top segment of Pan Asia Salary Saver account and in addition to all the benefits described before, these customers will receive unique benefits such as a dedicated person in the branch to serve them in a separate area reserved exclusively for them.

What are the eligibility criteria to open this account?
Pan Asia Salary Saver can be opened by any Sri Lankan national over 18 years of age. The applicant must also be a Private or government sector Employee with monthly net salary of over Rs. 25,000.

What is the initial deposit to open an account and how does one open a Pan Asia Salary Saver account?
This account can be opened with an initial deposit of Rs. 1,000. However the salary should be credited to the account within the next 30 days. A Pan Asia Salary Saver account can be opened at any of the 80 Pan Asia Bank branches island wide. For more information on this Account, you can simply walk into any Pan Asia Bank branch or call 24/7 customer contact centre on
011 4 667 222.