---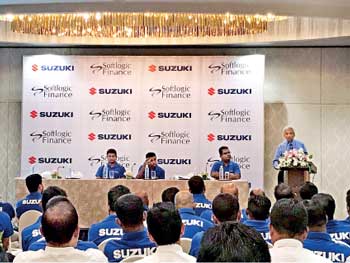 Sri Lanka's most dynamic financial services solutions provider, Softlogic Finance PLC announced an exclusive breakthrough partnership with Suzuki Motors to facilitate leases for aspiring motorcycle owners.

Through the new agreement, Softlogic Finance customers will be able to not only have their loan applications processes, but also take home a brand new motorcycle, all within just 24 hours. In addition to effectively streamlined service, customers also stand to receive discounted rates on selected brands of Suzuki motorbikes and a remarkable 4-year repayment period on their lease.
Speaking at a jointly hosted event to a gathering of Suzuki authorized dealers representing 32 dealerships across the island, Softlogic Finance CEO, Nalin Wijekoon expressed enthusiasm over the new possibilities enabled by the partnership.

"Having long maintained an unwavering commitment to delivering the best possible service to our valued customers, we at Softlogic Finance are pleased to have partnered with such a globally respected brand as Suzuki. I am confident that the synergies created by our two companies will enable further improvements to the popularity of the Suzuki brand in Sri Lanka, while also supporting the aspirations of Sri Lankans across the island," he stated.

The new lease facility was designed with superior customer convenience in mind; hence, in the event that a customer wishes to settle the entirety of their lease before the conclusion of the agreed repayment period, Softlogic Finance will not impose any additional fees for early settlement."Suzuki has long maintained an extremely strong position in the Sri Lankan market and this performance is a testament not only to the outstanding quality, reliability and affordability of Suzuki vehicles, but also to the exception service and after-sales care extended by Suzuki Motors Lanka. In that regard we are confident that through our exclusive partnership with Softlogic Finance, we will be able to extend our brand out to an even wider range of customers," Suzuki Motors Lanka Ltd CEO, Dinesh Dharmaratne stated.