---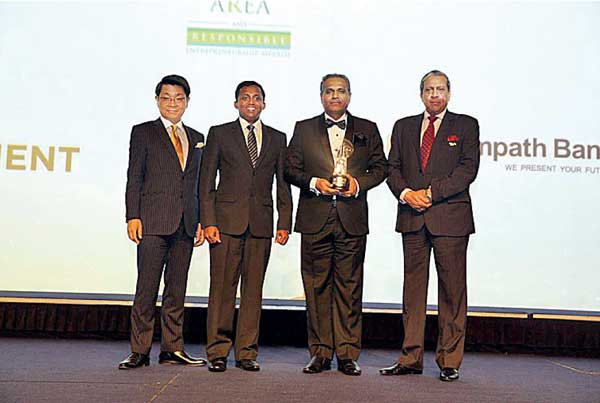 From left: Dr.Naoki Adachi, Founder and CEO, Response Ability, Inc. and Executive Director, Japan Business Initiative for Biodiversity, Nuwan Pathirana, Business/ Product Analyst and Brand Manager for CSR Sampath Bank PLC, Thusitha Nakandala, Assistant General Manager – Branch Banking, Sampath Bank PLC; Lt. General Sudhir Sharma, Advisor, Enterprise Asia/former Quartermaster General, Indian Army
Sampath Bank was presented with the prestigious Asia Responsible Entrepreneurship Award (AREA) 2016 held in Singapore on the 24th of June.

The award recognized Sampath Bank for its initiative 'SampathSaviya' under the 'Social Empowerment' category.

The AREA Awards organized by Enterprise Asia recognizes and honours Asian businesses for championing sustainable and responsible entrepreneurship.

The winning categories include Green Leadership, Investment in People, Health Promotion, Social Empowerment, SME CSR and Responsible Business Leadership. The program focuses on companies operating in the four sub regions of Asia and culminates in a large award ceremony in the presence of international business and government leaders, diplomatic representatives and international media.

'SampathSaviya', is an entrepreneurship development programme, launched in 2013 with the objective of empowering and uplifting the livelihood of Micro, Small and Medium entrepreneurs in Sri Lanka. The programme offers technical and financial assistance for start-ups as well as existing business ventures that lack necessary and vital resources to begin and expand their businesses.As an initiator in uplifting the well-being of citizens and their communities, Sampath Bank has been committed and driven towards identifying and providing solutions to rid poverty, bridge unemployment gaps and solve issues amongst the Sri Lankan community.

Tharaka Ranwala, Senior Deputy General Manager – Consumer Banking & Pillar Head of CSR, Sampath Bank PLC said, "This award is a humbling depiction of the Bank and its team's commitment to our CSR initiatives that are attuned towards societal needs and the welfare of our country. We will continue to link a strong sense of social ethics whilst identifying and nurturing long-term solutions that bring about a promising future to the citizens of the country, and the country as a whole".
Over the years, Sampath Bank'sCSR initiatives have been duly recognized on numerous platforms –such as, a Gold Award for "CSR Brand of the Year" (SLIM Brand Excellence Awards 2015), and the title of "Overall Best Corporate Citizen" at the Best Corporate Citizen Sustainability Awards 2015 presented by the Ceylon Chamber of Commerce.

Additionally, the Bank was honoured with awards for categories such as "Best Use of CSR Practices in Banking and Finance", "Poverty Alleviation" and "Health Promotion "at the 5th Asia Best CSR Practices Awards held by CMO Asia and AREA Awards 2015, respectively. Justifying these achievements, Sampath Bank was awarded Silver for its 'Overall Excellence in Corporate Social Responsibility Reporting" at the Annual Report Awards 2015 by CA Sri Lanka.