---
Ravi Edirisinghe has been elected to the Global Council of CIMA (Chartered Institute of Management Accountants) in the UK, for a three year term commencing June 2016 representing South Asia (Area 14).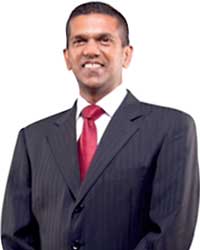 Ravi is the CEO at Freight Links International, a leading international freight and logistics management company. He counts over 23 years of professional experience in local, multinational and Fortune 500 organizations covering senior management positions. He is a Fellow of the Chartered Institute of Management Accountants and holds a Masters Degree in Business Administration (MBA) from the Postgraduate Institute of Management (PIM) – University of Sri Jayewardenepura. He is a member of the Chartered Institute of Logistics and Transport (CILT) and also serves as a board member of the PIM Board of Management. During the past 20 years, Ravi has been serving CIMA in multiple roles. He is a former member of the CIMA Sri Lanka Board and contributed immensely to shape CIMA Sri Lanka's long-term plans to enhance its services to students and members. During his tenure as a board member of CIMA Sri Lanka, Ravi was an active member of the Member Services Committee. He serves as a membership assessor for CIMA from November 2010 to date and has conducted a number of workshops for CIMA in Sri Lanka and overseas to guide exam-completed students applying for membership. Ravi has also coached thousands of students to progress along the CIMA qualification, with countless hours of lecturing.
He is also the Chairman of Achievers Lanka Business School (Pvt) Ltd, one of the leading business colleges in Sri Lanka. Following his passion to teach, he serves as visiting Lecturer for MBA and MSc programmes at PIM, Sri Lanka Institute of Information Technology SLIIT (on behalf of Sheffield Hallam University – UK) and University of Moratuwa. Ravi has served as a consultant to the government of Sri Lanka on many occasions. He has over 20 years of experience as a management guru and a public speaker on Finance and Strategic Planning. He was the winner of the Achievers Award in 2004 from the University of Sri Jayewardenepura for the contributions made to society, business and profession.