---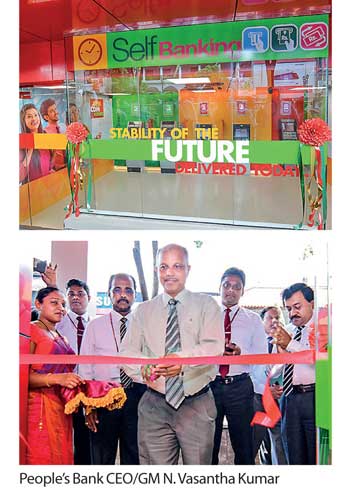 The latest self-banking unit of People's Bank (CDM/ATM/Kiosk) was declared open recently by People's Bank Chief Executive Officer/General Manager N. Vasantha Kumar, at the Dalada Veediya, Kandy People's Bank branch.
The self-banking unit, which was installed under the People's Bank digital banking conversion process, is complemented with an automatic teller machine (ATM), cash deposit machine (CDM) and bill payment machine (kiosk). This unit will be opened round the clock on all seven days, offering customers a convenient and highly efficient banking service throughout the year.
The opening ceremony was held with the participation of Deputy General Manager Channel Management Boniface Silva, Deputy General Manager Retail Banking Lional Galagedara, Kandy Regional Manager Emil Mendis, Kandy Branch Manager Nalin Poththawela, People's Bank staff and clients.