---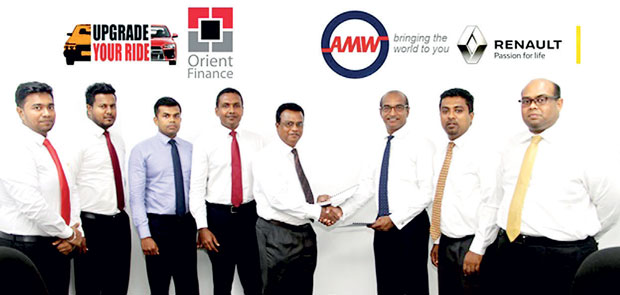 Orient Finance PLC Chief Executive Officer Mayura Fernando and Associated Motorways (Pvt.) Ltd Director Chaminda Perera at the signing of agreement with Orient Finance PLC Senior Assistant General Manager Marketing Nilantha Jayanetti, Orient Finance PLC Assistant General Manager Ranjith Rathnapriya, Renault General Manager Shehann De Zoysa and Renault Deputy General Manager Yasantha Wijeyesekera
Orient Finance PLC, Sri Lanka's unique financial services provider, has entered into partnership with a leading automotive company in the country, Associated Motorways (Pvt.) Ltd (AMW), to offer a special trade-in facility for Orient Finance customers.

To mark this event, a memorandum of understanding (MoU) was signed by Orient Finance Chief Executive Officer Mayura Fernando and AMW Director Chaminda Perera at an official ceremony held recently.

Under this partnership, the Orient Finance customers can trade-in their existing vehicles for a Renault KWID through AMW, supported by a leasing package from Orient Finance. The MoU enables Orient Finance to offer exclusive benefits to its customers together with tailor-made leasing options that suit customer lifestyles with affordable and flexible repayments to maximize cash flow objectives.

According to Fernando, "We are extremely happy to be signing this MoU with AMW. This alliance will open up new vistas for both organisations to service their customers better. At OFP, we understand our customers' unique financial requirements and are continuously driven to offer the best possible solutions for borrowing that fit their wallets and lifestyles."

Renault is one of the world's foremost automotive brands represented in Sri Lanka by AMW. The organisation recently launched its vibrant compact hatchback, the new KWID, which is a SUV-inspired vehicle that symbolizes dynamic performance, robust strength and a taste
for adventure.

Orient Finance is listed amongst the 20 largest finance companies in the country. The organisation is strengthened by a wide-spread network of 31 branches and customer access points to better serve its customer network islandwide. Positioned to be a leading provider of unique financial solutions, Orient Finance is focused on delivering financial services that creates economic value to society and supports growing customer needs. The organisation offers an enhanced range of innovative products that is ably supported by a professional and experienced team, maintaining the highest level of service at all times.