---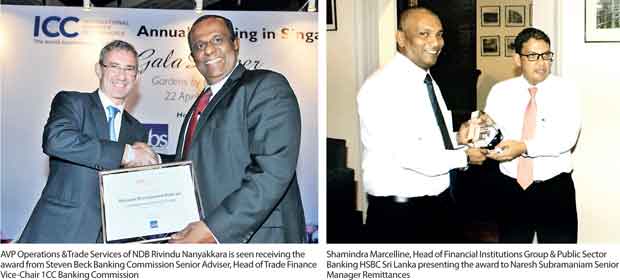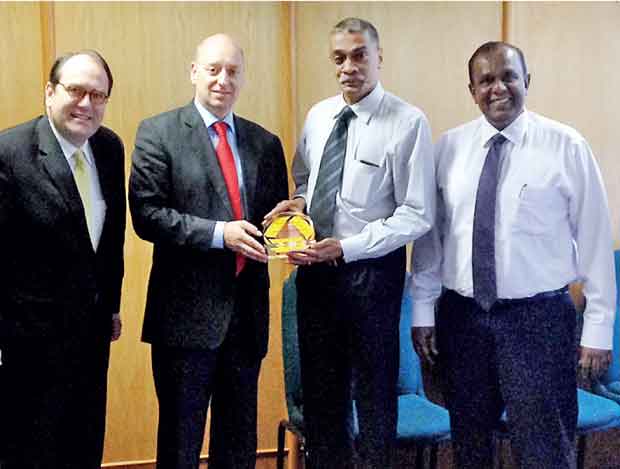 Christian Von Zastrow Senior Representative/Director Commerzbank Frankfurt presenting the award to Reshanka Abayasekara Head of Operations of NDB. Peter Born Director/Chief Representative India, Bhutan, Maldives, Nepal and Sri Lanka for Commerzbank (left) and Rivindu Nanayakkara AVP Operations & Trade Services NDB (right) participated at the awards ceremony
NDB's processing hub has been in the limelight receiving international recognition from many international banks.
Trade services of NDB which is ISO 9001-2008 certified and a key element in the processing hub of NDB has been of tremendous value in delighting customers with regard to the trade services offered and has been simultaneously showered with bouquets from correspondent banks overseas.
The team has commenced a journey taking trade to the rural areas in an attempt to encourage, educate and promote imports and exports among local entrepreneurs instilling in them the confidence to take up the role of direct importers and exporters, a feature which has always been more Colombo Centric in the past. In pursuit of this goal the NDB trade team has carried out programs to create awareness in pre-selected rural markets for businessmen and women of the area.
NDB have further strengthened its resources with Rohan Muttiah Chief Operating Officer joining the leadership of the bank. His previous experience and knowledge in Information Technology are expected to boost the capabilities and performance of NDB in pursuit of International Excellence in the field of shared services.
Being an active player in the Asian Development Banks trade finance program NDB trade services was awarded 'best partner bank in Sri Lanka for the Asian Development Bank- trade finance program' (ADB -TFP) and the award ceremony was held in Singapore.