---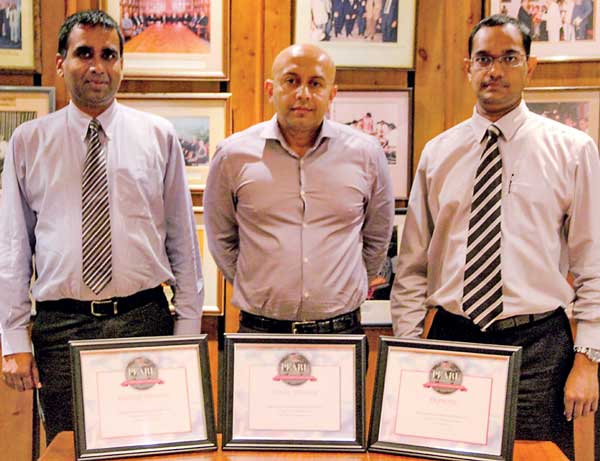 From left: Finance Director Shermal Jayasuriya, Managing Director Gerard Ondaatjie and General Manager Finance Deva Anthony with awards
As an organisation renowned for winning awards in the corporate world for producing exceptional annual reports, Mercantile Investments and Finance PLC (MI) excelled in financial reporting this year once again.

The company won three international awards at the prestigious ARC Awards 2016 held in New York, USA, affirming the global excellence for its 2016 annual report, 'A Model for Financing Life'.
MI bagged the Silver award for the best Non-Traditional Annual Report (Financial services: General), Bronze award for the best report under 'Printing and Production' (Financial services: General) and Honours for Financial Data in the same segment.

This follows MI's recent feat at Integrated Reporting Awards 2016 organised by the Institute Certified Management Accountants of Sri Lanka (CMA), where the same report won the All Island Integrated Reporting Bronze award, surpassing the cream of corporates in
the process.

As a premier finance company in the industry, MI has stood committed in enhancing financial reporting standards over the years and made tremendous strides every year in upgrading reporting parameters in line with the local and international standards and best practices.
Moreover, the company upholds integrated thinking and for better decision-making has incorporated its ideologies to its corporate planning process. This has already guided the company towards a sustainable business journey, promoting also greater cohesion and efficiency in corporate reporting and most of all supporting long-term value creation for its stakeholders.