---
This is the 10th interview of the Mirror Business-Colombo Stock Exchange interview series, featuring the top executives of the S&P SL20 companies. Here, Lanka Orix Leasing Company PLC (LOLC) Managing Director/CEO Kapila Jayawardena talks about his company's performance, future plans and industry growth prospects.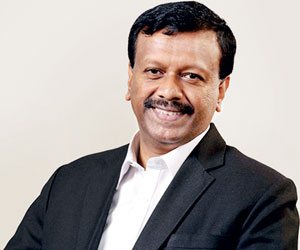 What key milestones did the company achieve in 2016?
From a financial perspective, this has been an exceptional year for the LOLC group, which saw the company tabling a profit before tax (PBT) of Rs.11.8 billion, a 45 percent rise from the previous financial year of 2014/15. LOLC Micro Credit (LOMC) and BRAC Lanka Finance PLC, the microfinance entities of the LOLC group, expanded their portfolio by 52 percent and 160 percent, respectively, revolutionizing financial inclusion among the grassroots level. LOLC Life Insurance and General Insurance, now as two individual companies, have strengthened their position among the insurance players to reach the top 10 players in less than three years of operations. Our associate, Seylan Bank, now the fourth largest commercial bank in Sri Lanka, also achieved its highest ever net profit of Rs.3.8 billion. Thus, this year exemplified the perfect alignment of strategy and action.
Emboldened by this financial performance, we have been able to negotiate some key deals with foreign institutions, such as a landmark syndication where three LOLC group companies signed agreements with a group of international financial organisations to receive a loan of US $ 247 million, which included the largest ever syndicated loan in the local non-bank financial institution (NBFI) sector.
As part of these loan packages, we also received technical assistance (TA) programmes, which I am excited to announce will enable us to implement an environmental and social management system for the first time in the company's history, as well as a gender mainstreaming programme to empower and enrich our female clients and employees in the microfinance and small and medium enterprise (SME) sectors. Another TA programme played a key role in enhancing the capacity of some of our top-tier management, which culminated in an agreement to train 100 senior managers at the Frankfurt School of Finance & Management (FS) in Germany, as well as 120 of our senior executives by FS trainers in
Sri Lanka.
In terms of the leisure sector, LOLC was able to capitalize on favourable macroeconomic conditions and entered into a strategic partnership with Club Mediterranee, France (Club Med). This agreement gives LOLC's Riverine Resort in Beruwela a flagship status as Sri Lanka's first Club Med property, with the collaboration boosting the visibility and strength of Sri Lanka tourism, with the potential to generate valuable employment opportunities within local communities. In line with the LOLC group's motivation to provide a wide range of services encompassing the tourism and entertainment value chain, we have also made strong inroads into the Maldivian leisure sector securing some of the most sought-after real estate in Male and
other atolls.
Closely following our strategic impetus to expand our multi-geographic footprint in microfinance, I can also announce that we are in the final steps of procuring our biggest overseas transaction with PRASAC Microfinance Institution Ltd.
Consolidating our commitment to driving sustainable growth, the LOLC group commissioned the first large-scale solar farm in Sri Lanka with a 10 MW power plant spanning 40 acres in Hambantota, called Saga Solar, which provides valuable support in easing the burden on the country's national grid.
Capping off the year, the LOLC group was crowned as the overall Gold award winner at National Business Excellence Awards 2016, widely recognized as Sri Lanka's highest corporate award, along with a number of other sub-sector awards in the Diversified Group and Hospitality and Tourism categories. This represented a source of renewed vigour and recognition for our young and dynamic team, who work tirelessly in pursuit of the group's overarching vision.
What does 2017 hold for the company and what do you see as potential opportunities?
The strategic initiatives taken by the LOLC group have helped build a solid foundation to accelerate the growth of the company in years to come. We hope to prudently expand our reach in line with the national growth trajectory, as Sri Lanka grows into a middle-income nation. In terms of the non-financial sector, we will explore lucrative opportunities offered by the leisure sector through changes in the socio-economic climate, with more strategic investments in popular tourist destinations within South Asia. In Sri Lanka, I am looking forward to the completion of a five-star resort and spa property in Kosgoda, which represents a significant value addition to our leisure sector position. In the financial sector, the onus is on value addition and regional expansion in South and East Asia, with a particular focus on microfinance as it is broadly recognised as a catalyst in the country's economic aspirations with vast potential and significant untapped market base. Armed with the strong 'LOLC' brand, dynamic team, responsible practices like attaining the Client Protection Principles Certification for LOMC, LOLC Cambodia and PRASAC and the largest array of international funders in Sri Lanka, the future appears bright. We are particularly bolstered by the technical assistance project from the Asian Development Bank (ADB), where there will be an environmental and social management system implemented for LOMC and LOFC to monitor the sustainability impacts of our operation, as well as paving the way towards a gender action plan for greater gender equality within the company as well as clients. We seek to consolidate our position in rural Sri Lanka and presence amongst the urban poor, where we will strengthen our capacity by moulding operations to embrace value chain financing, employee training and tactical investment
in technology.
Could you elaborate on a few industrywide growth prospects going forward?
The LOLC group's strategic plan is geared to align itself with the key growth sectors in the Sri Lankan economy and we are also able to enact this vision in a range of industries such as the more traditional primary sector industries such as agriculture, to service industries like leisure and healthcare, with our fully-fledged hospital in the Gampaha District. Given our experience and strength in microfinance, it bodes well for us that this particular sector has been identified by the government as a catalyst for growth – there is much untapped potential in the industry and we are looking to capitalize on the enhanced regulatory structure and increased competition to sharpen our approach and expand the quality and reach of our micro and SME portfolio. With shifts in nationwide mindsets towards energy conservation and favourable government policies, LOLC is also well set to expand on our renewable energy projects, starting with the establishment of our solar farm in the near future. In line with the growth projected in the economy, as well as rises in the per capita incomes, along with greater recognition for Sri Lanka as a top-quality tourist destination, we are confident that our investments in the leisure sector will stand us in good stead going forward.
In your opinion, what challenges do you anticipate in the industry and how do you intend to address them?
In the face of the current trends and projected depreciation of the rupee, as well as changes to the regulatory structure, there is expected to be some level of hesitation in the investor market. Increased interest rates also add to the issue and there will be a steeper challenge with respect to sourcing low-cost funding to better serve our clients, especially in the micro and SME-dependent communities. However, LOLC has shown great resilience in challenging conditions and is well-positioned due to our agility and proactive strategy motions formulated, allowing us to focus inwards on optimizing our processes to ensure we remain on our high-paced growth trajectory. Anchored by the solid foundation provided by the ORIX Corporation of Japan, we will ensure our core business of financial services continue to thrive and are exploring the possibilities to leverage the group synergies through our diverse portfolio, helping smoothen the impact of fluctuating economic cycles and catalysing our core growth objectives.
Focusing on the shareholder, what efforts and initiatives are you taking to drive shareholder value?
Displaying strong bottom line growth, LOLC is stronger today and better positioned than ever before to deliver long-term value to our shareholders, thanks to our commitment to continuous improvement and uncompromised execution of our strategies. We believe in a continuous learning process, which enables us to maintain our innovative edge in the industries in which we operate. With initiatives such as training programmes with prestigious international educational institutes such as the Frankfurt School in Germany, we are committed to enhancing strategic leadership skills, technical proficiencies and other such knowledge for all our staff to better serve our expanding client base. We are fine-tuning our risk management and asset liability management with the help of foreign consultants, with the first-ever dedicated training provided to the LOLC Treasury Department. This again, was possible due to the strong relationships maintained with our foreign funding partners, which is a key aspect we will look to further hone going into the future.
How has listing on the CSE been beneficial to your company?
LOLC has been listed on the Colombo Stock Exchange since 1991 and this has enabled us to enhance our transparency to the stakeholders and standards of compliance with regard to corporate governance. We are now one of the largest listed companies in Sri Lanka, with a market capitalization of Rs.24.6 billion, which I feel is one of the key factors propelling the LOLC group towards its strong, sustainable financial performance. In acknowledgement of the value all stakeholders place on good governance and our commitment to withholding ethical principles, the CSE endorses these ideas and endeavours to embed appropriate practices in the processes and procedures of the company. This has allowed us to gain greater access to capital through the increased investor confidence and accountability ensured through the CSE listing, which has played an important role in attracting our wide array of international funding partners, many of whom now utilize LOLC as their preferred conduit to fulfil their development goals. The LOLC group has also benefitted from an increased presence and accessibility from a global standpoint, complementing our strategic goal of widening the company's international footprint.
Finally, what is your message to the shareholders of your company?
Starting off as pioneers in leasing in the nation, the LOLC group has truly come a long way in a short time span. Today, we are not only able to enjoy a position as the largest NBFI in the country, but are also proud to rank amongst the key conglomerates driving the growth sectors of the economy. Most importantly, I am heartened by the catalyst role we have been able to play in inclusive, sustainable development, empowering and uplifting communities beyond financial solutions along the entire value chain. Our accomplishments and accolades would not have been possible without the invaluable input, support, patronage and loyalty of our employees, funding partners, regulators and our clients, so I would like to sincerely thank all of our stakeholders for their dedication to LOLC.