---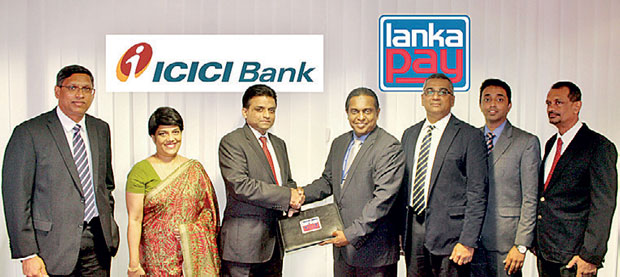 From left: Rajitha Thoradeniya, Asst. Vice President - Retail Banking, ICICI Bank; Nelun Fernando, Senior Vice President, CFO Sri Lanka & Regional Head operations – Sri Lanka Bahrain, UAE, Qatar and south Africa, ICICI Bank; Biju Jacob, Country Head, ICICI Bank; Channa de Silva, General Manager/CEO – LankaClear Pvt Ltd; Harsha Wanigatunge, DGM IT & Operations - LankaClear Pvt Ltd; Isuru Jayaweera, Head of Bank Services - LankaClear Pvt Ltd; and Hemanthe Samaliarachchi, Head of Certification and Integration - LankaClear Pvt Ltd
ICICI Bank, India's largest private sector bank by consolidated total assets, recently joined 'LankaPay Common ATM Network', the national payment network that facilitates high quality electronic financial services at affordable prices in a secure, reliable and convenient manner to all in Sri Lanka.
This marks a definitive step towards enriching customer experience. The partnership with LankaPay Common ATM Network brings in synergies that provide unparalleled convenience to ICICI Bank customers by providing them with the ability to access their accounts from over 3750 ATMs island wide free of charge. ICICI Bank commenced operations in Sri Lanka in 2006.
Speaking on joining LankaPay Common ATM Network, Biju Jacob, Country Head of ICICI Bank, Sri Lanka Branch, said "At ICICI Bank, we are committed towards keeping our customers' interest at the forefront of our business strategy, thereby delivering products and services that create a great customer experience. Our partnership with LankaPay is another step towards providing added convenience to our customers. Customers can now use their debit cards at any ATM connected to LankaPay Network to avail this service free of charge."
Welcoming ICICI Bank onboard Channa de Silva, GM/CEO of LankaClear states "In our quest to take financial services to the masses by empowering the nation with faster, convenient, secure and affordable payment options; the partnership with ICICI Bank marks yet another important milestone. Over the last 3 years we have grown to connect almost 99 percent of the total number of ATMs in the country, thereby enabling customers of any member bank to, literally, withdraw cash and access their account from any ATM irrespective of their bank. We are indeed enthralled by the acceptance of our services from the general public across the country, evident by the steady growth achieved in the interbank ATM transaction volumes, which now exceeds 3 million transactions a month. I believe we are well on course of overcoming the mind barrier among general public of going only to your own banks ATM".
Launched in 2013, LankaPay Common ATM network currently has 23 participants, including ICICI Bank. Other members of the network are People's Bank, Bank of Ceylon, Hatton National Bank, Seylan Bank, NDB Bank, Union Bank, Regional Development Bank, Commercial Bank, Cargills Bank, Habib Bank, Standard Chartered Bank, Sampath Bank, Pan Asia Bank, Nations Trust Bank, DFCC Bank, Public Bank, MCB Bank, National Savings Bank, Axis Bank, Amana Bank and Commercial Credit
and Finance.
The Common ATM Switch is the first phase of the LankaPay Common Card and Payment Switch, which is envisioned to be the backbone of all domestic electronic payments in future. The launch of LankaPay Common ATM Network marked a significant milestone in the country's banking sector through common usage of resources generating greater economies of scale whilst enhancing customer convenience. Consequently the transaction cost to the banks and customers have come down drastically by almost 10 fold, saving the country billions of foreign exchange that would have otherwise drained out of
the country.