---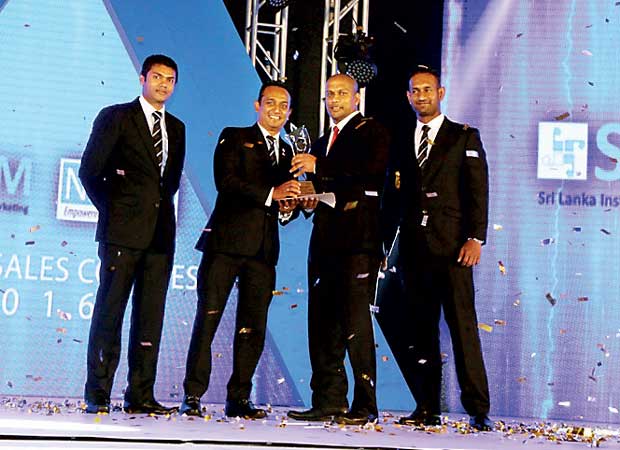 Nalin Dissanayake – Manager Card Services HNB, accepting the overall gold award for the Territory Manager of the Year
Hatton National Bank (HNB) was the biggest winner at this year's SLIM NASCO Awards 2016, clinching three awards including the highlight of the night, the award for Territory Manager of the Year.
This win was a momentous one for HNB, as the bank was participating at SLIM NASCO for the first time in this category and the competition saw a record number of entrants numbering over 500 vying for honours.
The top award of the evening, the Territory Manager of the Year award was won by Nalin Dissanayake – Manager Card Services of HNB, who also walked away with the category award for Financial Products and Services, while Jeevantha Perera – Manager Leasing of HNB won the bronze award in the Financial Products and Services category.
Speaking about this win, Thimal Perera, Deputy General Manager – Retail and SME Banking of HNB said, "In today's context, banks can no longer wait for customers to walk into a branch looking for products and services. HNB has taken the lead in delivering its products and services to the doorstep of their customers. Our 'feet on street' model is a ground breaking initiative in the financial industry and is one that is now being emulated by many others. The sales professional is often the face of the bank and the initial interaction with the customer will often determine how the relationship develops from there onwards. This award is a testament to our efforts to drive sales and service excellence across our organization and my heartiest congratulations to Nalin and Jeevantha for their sterling performance that has brought honour and recognition to HNB."
All entries were judged by an eminent panel of over 25 of the country's leading sales professionals headed by Neil Samarasinghe – Vice President JKH, Head of Sales and Marketing at Keells Food Products PLC, advised by Nandana Wickramage – Group Director/Head of Marketing and Sales, Ceylon Biscuits Limited.
SLIM NASCO, which is in its 16th year, is the most sought after awards show for members of the sales fraternity that recognizes sales excellence through rewarding and motivating sales professionals to achieve greater heights.