---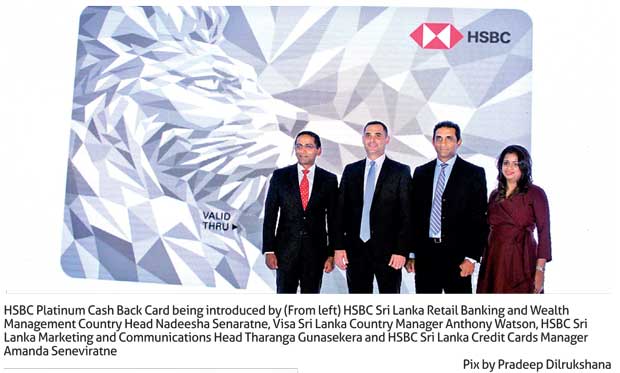 HSBC, continuously revolutionising the credit card industry for over two decades,has joined hands with Visa International to introduce Sri Lanka's first ever Visa Platinum Cashback card.

This new credit card will 'extra-fy' the benefits cardholders receive on their everyday spend when they make payments using the card at any supermarket or fuel station.

With more people preferring plastic over cash, the number of credit cards in circulation in Sri Lanka has hit an all-time high. Credit card transactions in everyday spend categories such as supermarket items and fuel are increasing rapidly year on year, showing double digit growth. Whilst customers do enjoy seasonal savings, which has become synonymous with credit cards across the board, there is a clear vacuum in the industry when it comes to offering a consistent proposition that customers can enjoy on their daily expenses anywhere in the country, all year round.

With the launch of the new HSBC Visa Platinum Cashback Card, HSBC, in their continuous efforts to offer customers with what is relevant for them, offers 10 percent cashback on supermarket items and fuel island-wide, anytime on any day. A game changer without a doubt, the new card will consolidate all spend into a single platform to reward HSBC's frequent customers across all major players in the modern trade including all Keells Super outlets, Cargills Food City, Arpico Super Centre, Lanka Sathosa and Laugfs Sunup Supermarkets and all fuel stations managed by Lanka IOC, Laugfs and Ceypetco.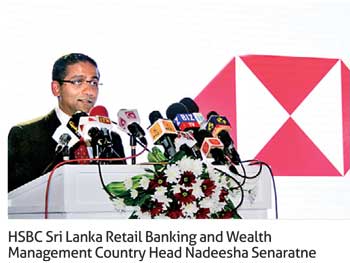 What's more, customers will be entitled to cashback on all other spends up to 0.1 percent on total spend, coupled with discounts up to 50 percent at over 100local merchant outlets ranging from shopping and dining to hotel stays and travel, plus over 250 offers at merchant outlets world-wide with the bank's Home and Away privilege programme. Cardholders can also enjoy attractive interest rates for their installment plans from as low as zero percent at over 500 merchant outlets or as a quick loan on their credit card account.

First time users who sign up and spend with their new HSBC Visa Platinum Cashback Card will receive an additional welcome offer up to Rs.5,000cashback upon spending Rs.25,000 within the first two months.

Commenting on the launch of the new card, HSBC Sri Lanka Retail Banking and Wealth Management Country Head Nadeesha Senaratne said: "We continuously strive to get to know our customers better. As a result we understand what really matters to them, and that is why we have decided to launch this unique proposition to make everyday purchases using the HSBC Visa Platinum Cashback Card to be a rewarding experience. We have significantly invested in 'Bigdata' to carefully analyse and understand our customers' usage habits, trends and their likings. The new proposition is an outcome of data driven insights and listening to the voice of our customers. Given the larger relevance on selected categories and the attractiveness of 'extra-fy' benefits, we are very confident that the new product will become the latest plastic money in your wallet this year."

HSBC also has taken this opportunity to unveil the new global plastic design with the iconic HSBC Lions, making it easily recognised anywhere in the world. They have been the symbol of the bank for nearly a century representing prosperity and protection while guarding the bank's employees and its customers across the world. "We have used the HSBC Lion on the card face to serve as a daily reminder of our promise to support our clients in achieving their ambitions," Nadeesha
further elaborated.

"Visa is pleased to join hands with HSBC in presenting the HSBC Visa Cashback Card to its customers. With an increased rate of credit card penetration in Sri Lanka, we believe that the Sri Lankan consumer is ready to embrace new and value added services that give them extra benefits on their cards. In a market with changing dynamics, we understand that consumer expectations evolve with time; meeting those needs successfully remain vital to us at Visa," said Visa Sri Lanka Country Manager Anthony Watson.