---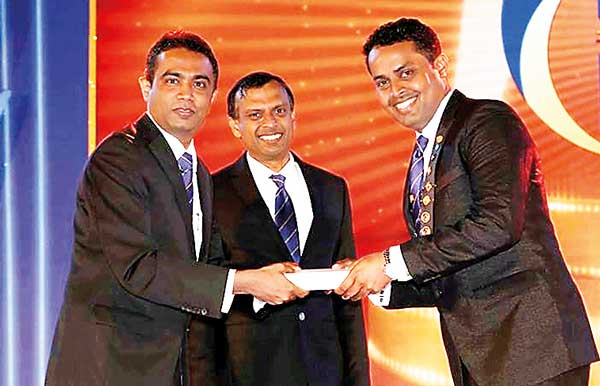 Asian Alliance Insurance DGM Life Operations – Lasitha Wimalaratne and DGM IT – Amal Dharmapriya presenting an 'eAdvisor' tab to one of the company's best-performing Life Sales Advisors
Asian Alliance Insurance has empowered their Life Sales Advisors by providing the latest in the range of Samsung S2 Tabs equipped with numerous in-house applications, thus streamlining and enhancing the efficiency of Sales Advisors and thereby further improving the high quality of service enjoyed by their customers.

The 'eAdvisor', the latest technological innovation from the country's most innovative insurance provider, will simplify and streamline a range of functions, by eliminating paper and by enabling instant generation of Life Insurance quotations. It also allows Life Sales Advisors to have key information relating to the customer, the products and the company literally at their fingertips.

For instance, by using the 'Click4quotes,' the Life Sales Advisors can immediately generate quotations for life insurance products online. They can also quickly fill customer proposals via 'eAdvisor' with only a few clicks and upload the images of the necessary documents – thereby eliminating the need for cumbersome paperwork.

The eAdvisor provides access to customer leads, underwriting guidelines and procedure manuals, financial information on the company, product demonstrations, advertisements and if necessary even the payment history of the customer. Therefore it facilitates a more personalized service by enabling the Sales Advisor to be notified of the customer's birthday etc. via the Digital Diary and interact with the customer via social media etc.

This key technological development marks the first occasion in the country's life insurance industry that many of these applications have been made available in a mobile device given to sales staff, reflecting Asian Alliance Insurance PLC's leadership in the local market in customer-focused technological innovation. In its first phase of deployment, the 'eAdvisor' has already been given to the company's 200 best-performing Life Sales Advisors.

"By significantly streamlining the Life Insurance sales process, enhancing efficiency and facilitating an even better quality service to the customer, the 'eAdvisor' represents an important milestone in Asian Alliance's journey to continuously enhance operations via customer-centric technological innovation," Asian Alliance Insurance PLC Chief Operating Officer (COO) – Life, Chula Hettiarachchi said. "These regular innovations amply demonstrate our dedication to fulfilling the needs of today's discerning customers, who place high importance on the speed of delivery of service."

Asian Alliance Insurance has been a leader in innovation in the country's Life Insurance Industry having introduced the 'Click4Life' smartphone app that enables Life insurance policyholders to update a number of policy details via their smartphones without having to engage in tedious correspondence with the company. The company was also Sri Lanka's first life insurer to launch self-service Insurance Kiosks for Life Policyholders.

Asian Alliance Insurance PLC is held by Softlogic Capital PLC and is part of the Softlogic Group.