---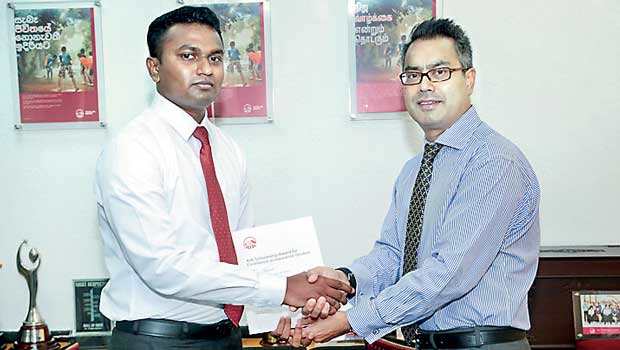 Wayamba University of Sri Lanka is the only Campus in the country to offer a Degree in Insurance and Valuation.

AIA Insurance partnered with the University to recognize the best amongst the best in insurance studies, seven years ago. Since then, AIA has been presenting a scholarship every year to the student with the most outstanding academic performance in the Department of Insurance and Valuation at the Wayamba University.

This year's winner of the AIA Scholarship for Excellence in Insurance Studies is a final year student, Yeshan Fernando, who will receive a monthly study allowance with a six month internship programme at AIA Sri Lanka. The Company's Chief Executive Officer, Shah Rouf, presented Yeshan with a Certificate in recognition of his outstanding academic performance last week.

Chathuri Munaweera, Director, Human Resources at AIA, congratulating Yeshan said "AIA is dedicated to encouraging academic excellence, especially when it is in insurance studies. We're proud and delighted to extend an internship at AIA Sri Lanka that will expand your horizon in insurance and pave the way for rapid upward mobility in your career."

Varuni Nilwala, who received the same scholarship last year and was on a six-month internship programme is now employed at AIA Sri Lanka. She said "The placement at AIA was both enjoyable and invaluable because it gave me hands-on experience that has given my career a great boost.