---

IPS Chairman Prof. Razeen Sally presenting his comments during a panel discussion while (from left), Ceylon Chamber of Commerce Immediate Past Chairman Suresh Shah, Former Central Bank Deputy Governor W. A. Wijewardena, Finance Minister Ravi Karunanayake, President Maithripala Sirisena, Ceylon Chamber of Commerce Chairman Samantha Ranatunga, PEMANDU Malaysia CEO Dato Sri Idris Jala, and (extreme right) Central Bank Governor Dr. Indrajit Coomaraswamy look on. Pix by Kithsiri de Mel
By Shabiya Ali Ahlam
Sri Lanka's growth potential has always been acknowledged across all segments of the economy, but its translation to real terms is yet to be seized.
Successive governments had spelt out their ways forward but emerging challenges, both in the local and global context, did not allow their plans to be fully implemented. Experts have attributed the inability in delivering to plans being too ambitious and to a greater extent not getting the basics right.
The same sentiment has come to haunt the new unity government since it took over on January 8, 2015. It promised the sky; the expectations were so high but the business community still waits with bated breath for the regime to walk the talk.

Defending policy decisions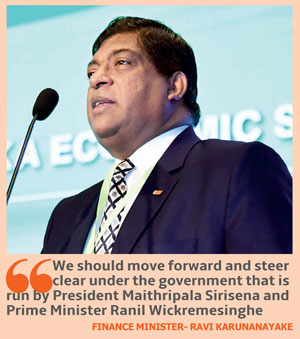 In an effort to convince the private sector that the government is rightfully spending its time correcting the unforgivable mistakes of the previous regime, Finance Minister Ravi Karunanayake yesterday stressed time and again that getting the fiscal policy right is important and getting it implemented in the correct manner is given maximum priority.

Addressing a fully-packed audience at the Ceylon Chamber of Commerce (CCC) Sri Lanka Economic Summit 2016, that kicked off in Colombo yesterday, the Minister reiterated that the policies previously created continued to haunt the present government.

"It was a nightmare for us. There was a clear violation of regulations then. Various duties and levies had been implemented. There have been clear violations in the most important aspects of administration and regulation," said Karunanayake during his keynote address on the theme 'Accelerating Growth, Pushing for Performance'.

Soon after, he went on to provide an exhaustive recap of the change that was brought about following the 8 January presidential elections. According to him the business community has been able to reap the benefits of the policy decisions taken since then.

It must be acknowledged that when the new government took over, what they inherited was an economy that was distorted to a certain extent, but its scars were carefully concealed. In addition to mounting corruption, revenues were insufficient, and debts continued to pile up.

While attempts were made to fix the prevailing issues, the relevant departments didn't necessarily get about this endeavour in the manner in which most experts expected they would. However, the Finance Minister thinks otherwise.

"We had to take some conducive measures to ensure that macro issues were handled. At the same time we were compelled to fix certain policies and fulfill certain promises we made," he said referring to the policy changes soon after the new government took over.

He added that year 2015 was the first time that saw all expenditure proposed in the budget met within the year.

"It is important that we look at the real situation. Some are talking without knowing the fundamentals. We can say that for the first time the debt did not increase," he added.

Navigating through turbulent times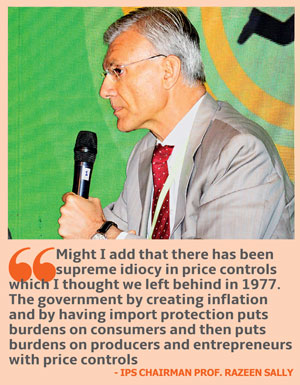 Opining that the government has been successful in navigating through turbulent times, the Minister stressed it was important for the private sector to look at ways in taking advantage of the new climate and the new political order created.

"Today we have the global openings to seize the opportunity but are we doing so?" he asks.
"I would say that we need to take much greater risks. The private sector must be able to take the challenge and implement their plans. You have a government today that is basically regulating and not operating. The government and the Central Bank are having a number of discussions to boost the productivity factor. We want to bring in competitiveness and for that we need to move from talking to taking action," Karunanayake elaborated.

According to him, today there is a government that is listening to the private sector, but the sector at this point happens to be risk averse.

It was noted that now was the time to come forward with proposals that are there.

Financial discipline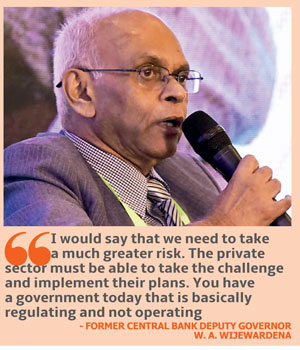 Karunanayake said it was not an easy task to bring in financial discipline, which is the need of the hour, along with fiscal consolidation. While this is to be achieved by increasing revenue and reducing expenditure, he said in the latter the government has been successful, in a limited sense. To further improve in this regard, Karunanayake called on financial institutions to "come forward at a time when the government was taking a thrust into the deep end."

"What are we doing? We are ensuring that an investment boom takes place. There cannot be unlimited debt. We need to have controlled development of expenditures. Professional decisions should be taken and must ensure that we guide and steer clear in this area and take Sri Lanka to a better position," calling for greater involvement.

These are the areas he said where certain controls, that were previously non-existent were brought in.
Providing an example on how financial discipline was instilled, it was pointed out that in the 14 months of governing the overall cost of a kilometre of expressway has been reduced by 22 percent. This he said clearly indicated that "something" has been going on in the past.

"It is not fashionable to come here as a government official and put the blame on the past regime. But the harsh reality is that if we didn't mention the same, people would think that we were an inefficient government that was unable to grapple the situation."

He added that the government would appreciate constructive criticism as it helped in making the right decisions.

"Sometimes the professional advice can be mixed up with political realities and we will be able to come out with something that is acceptable," noted Karunanayake.

Never seen before budget
Under the guidance of President Maithripala Sirisena he said it is considered that the capital expenditure spent today is the revenue for tomorrow. Karunanayake shared that is why there was much emphasis in this regard in the maiden budget that was "never seen before".
"Almost Rs.354 billion was on capital expenditure. Be it in education, health, or poverty alleviation, it was that focus that was able to provide the necessary uplift"

Improvement in revenue
With regard to the revenue front, the government earns from customs, excise duty, and the Inland Revenue Department. Stating that departments have been successful in establishing financial discipline, Karunanayake said through these avenues the government had achieved a 36 percent increase in revenue within the first six month of 2016, compared to the corresponding period of the previous year.

Pay your taxes!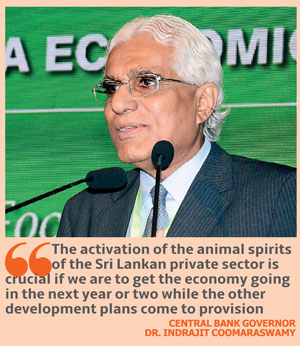 A major blow on the government's revenue is a large proportion of businesses not paying their taxes. Sri Lanka has 2 million businesses registered, and of them only 15,000 are estimated to be paying VAT, and only 21,000 paying NBT.

Corporate taxes are paid by 48, 800 individuals of the total workforce. All in all, only a mere 9.7 percent pay taxes, making revenue collection a daunting task.

"We compare ourselves to Singapore as our role model. Everything from womb to tomb is free in Sri Lanka. But in Singapore everything is taxed. And then you compare the two countries," said the Minister implying it was not fair to do so.

"If each of you came forward and paid slightly more than last time, I am sure we could reach our targets. And together we can reach heights," he noted.

Way forward: Ravi's mantra
Karunanayake said it is preferred for the private sector to put forward a sense of direction to the government so that both could work together to have a win-win policy framework.

"We want to develop a very strong Sri Lankan based economy. You can reach us. At any given moment you can meet us. We are responsive to the problems you are facing. A sense of friendliness is what we are trying to pursue. If there are any problems there, you are free to come to us."

Status of the economy through the eyes of CB Governor
Newly appointed Central Bank Governor Dr. Indrajit Coomaraswamy kicked off by stating that Sri Lanka seemed to be making some headway in putting in place some conditions for sustained growth and development.

Not grasping for quick fixes, sugar hikes, boom and bust cycles as seen in the past, he said there was keenness in creating a foundation of strong macro-economic fundamentals and a clear ground to go ahead.

"I am encouraged that the President and the Finance Minister stated clearly that fiscal consolidation is most important. If we are able to crack that, we will be able to create a foundation that is necessary," he said.

With the Prime Minister gearing up to present the five year development plan in the next few weeks, a plan that would see the combination of sound macroeconomic management and fiscal consolidation, Coomaraswamy opined those in the private sector would have a framework that could allow to recalibrate its risk appetite to invest in the future of the country.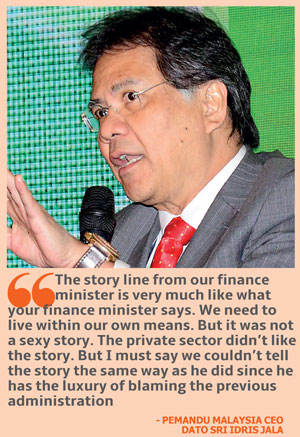 Economic growth: Past and future
When looking at the economic growth he said the headline figure is more encouraging than the reality. In the last five years the economy grew at 6.4 percent, but looking further, the average growth in the recent years has been only 4.3 percent.

Translating that to understandable terms, he explained that the low average meant after the war there was unsustainable macro-economic policies which led to the 8 percent growth to slow down a few years later.

"If you ask why the economy didn't pick up it is simply because that after the stabilization in 2012 we haven't had the necessary structural reforms to increase and strengthen the growth framework," he said.

Cautioning low inflation would lead to detrimental effects in the local context, he said the CB aimed at keeping it at 5 percent, even though the average inflation in Asia was 2.5 percent.

"We are saying so because the conditions in the economy are such that if we go for low inflation we would end up squeezing growth out of the economy. This would be the consequence since our growth framework is not robust enough," said Coomaraswamy.

The consequence of having a five percent inflation instead of maintaining it at low levels is that it would put a high premium in bringing in productivity.

"We would rather be competitive. We need a big productivity drive. If necessary the Central Bank stands ready to support this with competitive exchange rates," he said.

Lack of policy consistency
There has been a lack of policy consistency over the years and that is mainly driven by the government budget, said the Governor. He went on to say that when the government was constrained for resources, it needs to go through all avenues to address the revenue shortfalls.

"That is what created volatility. The access demands leads to imports tipping the BOP stance. When the budget and balance of payments (BOP) are in trouble, then the government will have to recalibrate its policy, which creates uncertainty," noted Coomaraswamy.

He shared that if Sri Lanka has a more stable macroeconomic environment and policy framework, improvements can be witnessed in the operating environment.

However, he noted that it was essential for the private sector to recalibrate itself by making an assessment before taking a leap. The time for such a move is now, added Coomaraswamy.

Cross boundaries
In the coming years Sri Lanka will have to go to international capital markets due to the backlog of debts. It is important for the nation to have that access. Encouraging according to Coomaraswamy is the dual trans issue recently being four times oversubscribed. Even though the interest rate was higher than what was in the past, it was lower than anticipated.

"We created conditions in the domestic economy, therefore investors were confident. This gives very clear signals and in the future we will have forward looking policies which will ensure that the macro economic conditions will be stable. The country will have to go to the international market to get the money that they require at a good cost," he noted.

Stabilization underway
The key message according to Coomaraswamy is that the government has stabilization coming underway. It has the ambitious plans for the Western region, in Hambantota where China is to enter. Singapore is to do a master plan for Trincomalee and will try to mobilise investment in that area. Furthermore, Japan is interested in a master plan for Kandy.

However, this will take about two to three years. In those few the years major responsibility lies with the private sector.

"So you need to make a call. Are the conditions favourable to get you going? The activation of the animal spirits of the Sri Lankan private sector is crucial if we are to get the economy going in the next year or two while the other development plans come to provision," he advised.

Harsh reality on current economic status
Delivering the status of the economy in an extremely straight forward manner, Institute of Policy Studies Chairman Prof. Razeen Sally at the outset said that what he has to offer is a grim assessment since Sri Lanka has a "long and sorry" record of the macro-economic policy, in the fiscal front particularly.

As he has been highlighting in the recent weeks, Prof. Sally reiterated that last year saw the presentation of bad budgets, excessive spending in the public sector, increase in salaries, and the deterioration of the tax system.

While the IMF programme was supposed to reverse the process, he noted that witnessed is some "unwelcome" work instead. Getting into the specifics, he observed there were too many ad-hoc measures in taxations, businesses are understandably vexed due to high levels of contradictory policies, and uncertainties continue to spill over from the last regime.

"Might I add that there has been supreme idiocy in price controls which I thought we left behind in 1977.

"The government by creating inflation and by having import protection puts burdens on consumers and then puts burdens on producers and entrepreneurs with price controls," he said, while opining that moves were market "busting" rather than market facilitating.

Hats off to new CB governor
Commending the new Central Bank Governor for understanding the current situation of the economy, he said previously the Central Bank was focusing more on core price stability and not fiscal policies.
Implying a new leadership was mandatory, he expressed confidence in the new Governor achieving the targets and re-establishing the integrity of the Central Bank. "I wish him well in improving his credentials in regulation and not paying much emphasis on treasury bond auctions," he quipped, taking a jab at the previous Governor who is currently under investigation by a Parliamentary Committee on bond scam charges.

Need of the hour
Moving on to what needs to be done, in addition to corrective measures on macroeconomic policies, for which he said no serious reforms were spelled out as yet, the window of opportunity still remained to be exploited, stressed Prof. Sally.

Highlighting four areas, he said the first priority was to stop taking ad-hoc tax measures and to trim public sector expenditure.

The second he said was to treat fiscal consolidation as key, and at the heart of it should be tax reform. He stressed that what Sri Lanka needs is a system of simplification of rationalization of VAT, indirect taxes, and income taxes.

Thirdly, he said required was a new package to improve the business climate, not by just reducing the number of approvals. "There is work in the pipeline and I hope it gets implemented very soon," he added.

The last priority is the need for new policies, which he said is not close to being formulated.
"We must have proper trade agreements; it is good that we are having trade agreements with China, India, Singapore, but those are not going to make a fundamental difference in the domestic front. We need to be more ambitious than that. We need to have trade agreements with our main exports markets, the EU, UK, and the US. None of this is of course going to happen in the economic wish list without some important political changes which we haven't seen so far," he explained.

Furthermore, he stated that better appointments were required in key positions. There is a need to bring competitive professionals who can take charge and coordinate within the government. There has been a deficit in this regard in the past.

"The negative scenario of the opportunity being lost is that Sri Lanka will continue to drift towards complacency and mediocrity. The worst is that things might unravel and there would be a backlash. That will have politicalrepercussions and life chances will not improve," he stressed.

Dancing to the wrong tune
Sharing similar sentiments, Former Central Bank Deputy Governor W. A. Wijewardena said that looking at the main ailment suffered by the country in the past, it was as if the citizens were invited for a dance without knowing how they might perform the next day.

This he said was a big punch ball given by the Central Bank to the banking sector by creating additional liquidity in the market, by the government borrowing from both domestic and external sources.

"People were very happy thus were dancing. Now all of a sudden the new Governor took away the punch ball as he raised interest rates. This gave a very serious signal for all of us that the dancing cannot go on forever," he said.

FinMin and CB Governor in opposite direction
While saying that the Finance Minister needs the necessary support in his attempt to bring about macro-economic stability, Wijewardena said that some of the policy measures the Minister had taken contradicted CB's policy decision.

For example the granting of the car permits to public servants. "Interest rates were made to make money more expensive to people so that they wouldn't import as much and thus maintain stability in the external sector. But then we see the public servants are given car permits. We are negating the policy increase. We are then forcing a second round increase," he said.

Wijewardena opined that Sri Lanka was caught up in a vicious circle of policy rate increases as the Finance Ministry is taking certain actions that counteract that of the Central bank.

He stressed the need for the continuous dialogue between the Finance Ministry and the Central Bank to bring about policy reconciliation. "Else it won't work" he asserted.

Deja vu
Having sat through a comprehensive series of comments from the panel, PEMANDU Malaysia CEO Dato Sri Idris Jala, said his country was in this situation not so long ago.

Not so long ago did Malaysia also have high debt, and fiscal deficits. "The story line from our finance minister is very much like what your finance minister says. We need to live within our own means. But it was not a sexy story. The private sector didn't like the story. But I must say we couldn't tell the story the same way as he did since he has the luxury of blaming the previous administration," he quipped.

In 2010, he said Malaysia realized that if it didn't go ahead with a consolidation plan, its economic growth would be stagnant.

"The story we conveyed is a growth story. That was the interest. I suggest you do the same. That is what your private sector wants to hear," he said.

The then Malaysian Prime Minister was conscious of an area that Minister Karunanayake didn't touch on. He was conscious of a middle income trap, which would leave Malaysia's economy stagnant.
"We were not closing the gap of becoming a high income threshold. The question was that with all the plans that we had, how could we deliver this fast. In 2020 we aim to become a high income economy. No ifs and no buts," he said.

The laboratory concept
Malaysia then went on a revolutionary approach here they focused on a few economic sectors and for 8 weeks the government and the private sector deliberated on the way forward.

"We got all the movers and shakers of the industry and put them in a room together. We call it laboratories. For 8 weeks full time. They got to the nitty-gritty and by the end of 8 weeks we saw a commitment of $ 400 billion by the private sector," Jala shared.

He stressed the need to have the dialogue at ground levels and address it in a practical manner. The exercise resulted in the private sector investment increase by 2 fold.

"I think the time has come for Sri Lanka to move beyond just talk about plans. The only way to move forward with the debt level of 90 percent is to allow private sector investment. No other way to get the private sector into a room for 8 weeks. You will see immediate changes," opined Jala.
---
Measures for the forward march
IPS Chairman Prof. Razeen Sally: I would say that firstly the government needs a credible economic plan with a list of priorities. Secondly, that can only happen with a different attitude of political economy. We need to utilize the talent that is out there in Sri Lanka. It is not just out there among the diaspora, there are a lot more here. The problem is that they are not being used. They have to be used not just in business but also in policy making. There needs to be a much better system put in place to coordinate government policy and implementing actions.

Former Central Bank Deputy Governor W. A. Wijewardena: We will have to get both the private sector and the government sector together to prepare all the development plans of the country. The minister said that he welcomes constructive criticisms. To generate constructive criticism we have a lot of publications, daily newspapers, business pages etc. If he refers to all these publications, it is possible for the government to get the best criticism from the private sector.

PEMANDU Malaysia CEO Dato Sri Idris Jala: The next thing the government will say is that it does not have money to go ahead with the plans. My advice to the chambers is for them to coordinate efforts because it is in your interest that the economy should grow.

The second is that everything that the President and the Finance Minister said is absolutely needed. They are willing to do it. But it is not a story that will capture interest. One needs to score, and a growth story has plenty to score.

In Malaysia we had to remove many subsidies. Fuel subsidies for a three-year period were removed; it was very painful. We had to do it to contain inflation. We introduced VAT much later. Some of these measures have to be taken. Some things just need to be done. But the story line of growth, projection, and what you are willing to do to for happiness of the people will capture interest. That is why I suggest that when you walk away from here, have in place the laboratory concept where in eight weeks you will have concrete plans on what you want to do.

Central Bank Governor Dr. Indrajit Coomaraswamy: There is a massive opportunity out there for Sri Lankans. There are government-to-government relationships that can be leveraged productively. The question is whether we will get our act together. I talk about both, the public and the private sectors.
The second point is that we need a laser-like focus on productivity. We do not have that in our DNA. We had over the last six to seven years a rather toxic combination populist politics that was deeply entrenched in the culture. They literally fed on each other and we had a downward spiral. We need to break that. The way to do that is to raise awareness throughout the society. We need to get it together.

Finance Minister Ravi Karunanayake: We should move forward and steer clear under the government that is run by President Maithripala Sirisena and Prime Minister Ranil Wickremesinghe. They have brought on ideas to have a national policy in place. Do not have skepticism on the way forward. There are a few situations that we have to confront but when it was about national policies we stood together. What we want from you is that while we take the risk of changing certain matters, on the fiscal front or financial discipline; we want to ensure that the private sector gets moving. There are inefficiencies, but the private sector would need to go forward. There needs to be a win-win combination.