---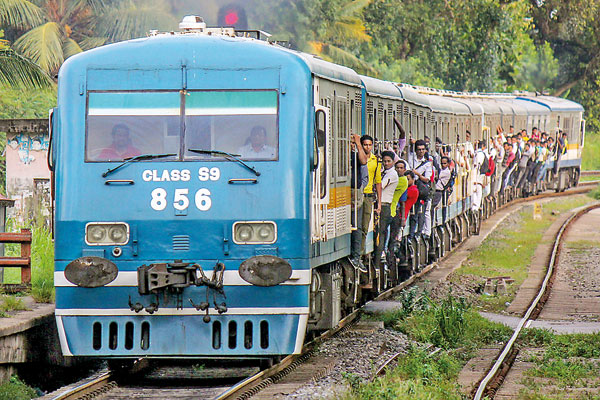 Ask any audience to raise their hands, if they support the renewed thrust for railways in Sri Lanka to be electrified and modernized; all of them are most likely to raise both their hands. The engineering community of the country strongly supports the upcoming project to modernize and electrify the railways. This article says why efficient railways are important.
Passengers sweat it out in stuffy carriages, running at a deplorable average speed of 25 kilometres per hour. They wait endlessly for trains during signal failures. Passengers in other countries, including the major cities in India, travel at double or triple that speed.
Governments that value the overall economic benefits to its people implement public infrastructure projects. In railway electrification and modernization, people save time, money and fuel. Therefore, the country saves. Each minute wasted on the road, is a 'financial' loss to the individual and an 'economic' loss to the country. Furthermore, with modern, fast suburban services, passengers carried can be doubled and more fuel and man-hours saved. Be it New Delhi, Chennai, Mumbai or Jaipur. Be it Singapore or Hong Kong. Their governments implement people-friendly transport services.
Imagine that you travel daily from Panadura to Colombo Fort by train. You have to travel to the railway station by bus because there is no place to safely park your motorcycle or carat the station. You wait in a long queue to buy the train ticket. Passengers struggle to board the train; children, ladies and old people struggle even more, owing to the height difference between the platform and the floor of the train.
Trains frequently run late. The heat inside the coaches is high. Freshness of the morning has vanished by the time you get off the train, your productivity is down. While at work, the bitter train ride in the evening to get back home keeps coming back to your mind. Thinking of leasing a car and drive to office daily and spend even more time and money to be in the traffic for longer hours?
Wait! All this is about to change for the better. The Transport Ministry and the government have now got the best opportunity to take this project on board.

Which railway project?
The Railway Electrification and Modernization Project (REMP) is now ready to go. Initially, the Panadura-Colombo-Veyangoda section will be upgraded and modernized to run electric trains. Soon you will be a proud passenger on one of the advanced electrified suburban railway services in South Asia.
Now you have many questions in your mind.
Why should we electrify Panadura-Colombo-Veyangoda (64 kilometres) section first? A large share of railway passengers now gets in and gets off between Panadura and Veyangoda. This section serves 43 percent of railway passengers. More passengers will benefit by extending the electric train service to Kalutara South and Polgahawela. What about the increasingly popular Avissawella (KV line) service? What about Negombo and the airport? Certainly, such sectors will be done in stages two, three and four, as Sri Lanka moves systematically to modernize the entire suburban rail network in the Western Province. Then move to Kandy, Jaffna and Galle.

Economic benefits are immense
Sri Lanka imports all her petroleum requirements, imports coal for power generation and efficient energy use is a national economic priority. Electric power sets are more energy efficient compared with diesel power sets. Energy and maintenance costs per kilometre would be halved with electric trains. The net fuel saving will be about Rs.40 per train kilometres, which will work out to be equivalent of Rs.1 billion of foreign exchange every year, just for train operations between Panadura and Veyangoda, to serve the existing passengers.
It has also been established by the pre-feasibility study jointly conducted by the Intuition of Engineers (IESL), Sri Lanka Railways (SLR) and Ceylon Electricity Board (CEB) that maintenance costs would also be slashed by 55 percent. The project can expect the passenger load currently served to double by the year 2025 and the equivalent net savings to the economy to increase by a further Rs.1 billion per year. There are numerous other macroeconomic, social and environmental benefits such as economies of scale of train operations, attraction of passengers from road to rail, travel time saving, reduced passenger fatigue and reduced air and noise pollution.

A technical brief
Technology behind electric trains is not so complex. It is our engineers' duty to introduce the latest, proven technologies to Sri Lanka with this mega project, to build the most modern and efficient suburban railway service in South Asia. The project will use the existing rail route: no expensive tunnelling or elevated tracks. Tracks will be improved to allow 100 kilometres per hour and will be fenced to avoid accidents. Remember: electric power sets are fast and quiet. All level crossings will be automated and the number of level crossings will be reduced by providing overpasses and underpasses.
There will be a catenary wire fixed above the tracks. Two pantographs fixed at two ends of the train will tap the electricity supply. One rail will be used as the return wire.
New 'electric power sets' will run between Veyangoda and Panadura, through Colombo. Their fast acceleration and rapid braking capabilities help achieve high average speeds; time to run between two stations will be reduced. Air conditioning will be a standard feature, with doors closed. Long distance trains will run express in the electrified section.
At peak times, SLR now operates the maximum possible number of trains but we know there aren't enough trains to meet the passenger demand. This project will also build a modern signalling and control system to run trains in two-minute intervals. Imagine trains running at two-minute intervals! It will be a reality by 2020.
Stations will be refurbished with modern architectural designs, with larger circulating areas to welcome passengers newly joining trains. The platform height will match the height of the coach deck. The latest electronic displays and passenger information systems will be installed. Parking facilities for private vehicles will be available at main railway stations. E-ticketing will be introduced and there will be no long queues at ticket counters because your ticket can simply be reloaded through a text message to your bank. Gates at the station will monitor your entry and exit and deduct the train fare from your account.

Fits well with the master plan
When public transport fails, people are forced to move to private transport. Private transport is more expensive, requires heavy expenditure on road building and roads occupy properties. Often there is no money or land to build new roads or even to widen existing roads. Many countries have modernized bus and rail transport to provide efficient and cheap mobility.
The Colombo Transport Master Plan developed by the Transport Ministry and revised by the University of Moratuwa in 2015 has proven that railway electrification and modernization should be a priority project. It shows that there can be a total of six corridors including the Panadura-Veyangoda sector that can provide efficient rail transport to Colombo City. These six priority rail corridors include two new lines from Dematagoda to Horana and from Kelaniya to the Biyagama area.

How to finance the project
The IESL is aware that the Asian Development Bank (ADB) has pledged technical and financial support to design and implement REMP. The ADB website and various progress documents confirm this. Concessionary financing from international agencies such as the ADB and the World Bank are given to nationally important projects, at very concessionary interest rates, sometimes as low as one percent, repayable in 30 years. Any government, especially one that wants to reduce imports (fuel), improve economic productivity, would grab such funds and diligently implement such projects at utmost speed.
A country that is sunk deep in debts secured at higher interest rates (some as much as 8 percent per year), would grab cheaper financing to implement people-friendly projects. So where is the hitch, the lock, the stumbling block, or whatever you may call it?
The secret is in two words: 'private investment'. Readers may remember that at least three 'private investors' offered to build, at different time, an expressway each from Colombo to Kandy. Previously in the 1990s, the government was looking for that elusive private investor who would build the expressway to the airport. Alas! They came and went, made it into newspaper headlines and ran away at the same speed, never to be seen again.
Railways worldwide are built by governments. Why? Because they are not 'financially' viable as private investments but 'economically' viable as public investments. When you visit some country, do not be misled by seeing a private-looking train and friendly, private-looking staff? It may be the modern version of the government railways of that country, running the efficient service.
To learn more, be present at a seminar on electrification at the Institution of Engineers Sri Lanka, No: 120/15 Wijerama Mawatha, Colombo 7, on Monday, May 9, 2016, 5:30 p.m. to 7:30 p.m. All are welcome. Admission free.

(Contributing authors: Energy Consultant Dr. Tilak Siyambalapitiya, University of Moratuwa Transport and Logistics Department Senior Prof. Amal S. Kumarage, University of Colombo Economics Department Senior Lecturer Dr. T.L. Gunaruwan, former Sri Lanka Railways General Manager and IESL Past President Eng. Priyal De Silva)