---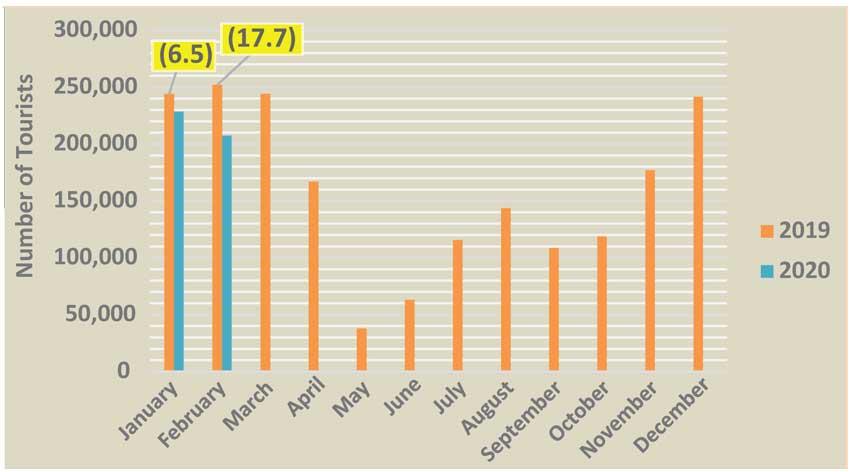 Arrivals from China down by 92.5%
India, Australia and Eastern Europe arrivals up
Tourist arrivals to Sri Lanka sharply declined by 17.7 percent Year-on-Year (YoY) in February to 207,507 mainly driven by a record decline in arrivals from China due to COVID -19 outbreak while the arrivals from other key markets also dropped fuelled by virus fears with India, Australia and Eastern Europe
being exceptions.

Tourist arrivals from China fell by 92.5 percent YoY to mere 2,058 in February, the lowest since last May, in the immediate aftermath of Easter Sunday attacks.

China also fell out from the top ten tourism source markets of Sri Lanka for the first time in recent years, according to Sri Lanka Tourism Development Authority (SLTDA) data.

Since last May, the decline in tourist arrivals was gradually improving up to last December, indicating a steady recovery of the sector following the Easter attacks.

However, the trend was reversed in January as the COVID -19 outbreak impacted Chinese tourist arrivals and global travel.

Cumulative tourist arrivals in the first two months of the year fell 12 percent YoY to 435,941.

Nevertheless, tourist arrivals from Sri Lanka's largest source market, India, grew for the third consecutive month in February with 9.4 percent YoY growth recording 32,286 arrivals, accounting for 17 percent of the total traffic. Meanwhile, tourist arrivals from Russia rose to record high of 20,948 in February with a 61 percent YoY growth and Russia replaced China as the third largest source market for the month.

Direct flights between the two countries along with discounted booking prices may have contributed to the recent rise in Russian tourist arrivals to the country.

According to a recent Russian Aviation report, regular flights between Moscow and Colombo operated by Rossiya Airlines saw a 34 percent increase in their traffic. The airline has increased the number of flights operating between Moscow and Colombo to 44 from 21 at the end of 2019.

However, tourist arrivals from Western and Northern European countries declined by over 20 percent YoY during the month.

Tourist arrivals from Sri Lanka's second largest source market, United Kingdom (UK) fell by 14.9 percent YoY to 26,348 and arrivals from Germany declined by 5 percent YoY to 16,405. Visitors from Italy, the largest tourism market in Mediterranean, fell by 30.2 percent YoY to 3,743 in February.

Overall, Central/Eastern European region recorded 27.6 percent YoY growth in arrivals in the month. Followed by Russia, arrivals from Ukraine and Poland in particular increased, gaining slots among Sri Lanka's top 10 source markets in February.

Tourist arrivals from Australia also rose 7.3 percent YoY to 10,619 after recording a decline of 21.7 percent YoY in January.

Meanwhile, arrivals from the Middle Eastern region declined by 32.3 percent YoY in February after growing by 41 percent YoY in January.

Sri Lanka's tourism authorities have revised the arrival target to 2.3 million for the year.

However, the industry which is still recovering from Easter Sunday deadly attacks remains pessimistic of archiving the new targets.