---
As far as democratisation of banking services in Sri Lanka is concerned, People's Bank remains atop. It was the bank that took commercial banking, which was primarily serving the wealthy and the financially sophisticated, to the masses. When it was founded in 1961, one of the bank's key mandates was to create financial inclusivity by driving rural economic growth in Sri Lanka. With a majority of its 14 million customers from outside the affluent Western province, People's Bank appears to have stayed true to its mandate. In 2016, the bank embarked on the second lap of its banking services democratisation journey by initiating an ambitious digitalisation drive, to better serve its evolving customer base while adopting new technology to stay relevant. Four years later, People's Bank was adjudged the 'Best Digital Bank in Sri Lanka', at the coveted Asiamoney Best Bank Awards 2020. In this backdrop, Mirror Business sat with People's Bank Chief Executive Officer/General Manager Ranjith Kodituwakku to gain insights into the bank's digital journey so far and how the COVID-19 pandemic may be accelerating it.

By Indika Sakalasooriya

2019 was a tough year due to the Easter Sunday attacks. But 2020 has proved to be tougher, with the outbreak of COVID-19 locally as well as globally. How is People's Bank dealing with the challenges?

Yes, these two years have been difficult years but we have been able to navigate the challenges successfully. We were able to provide the banking services required by the people during these difficult times, keep the money circulating in the economy, while sometimes helping the government to settle some of the COVID-19-related payments.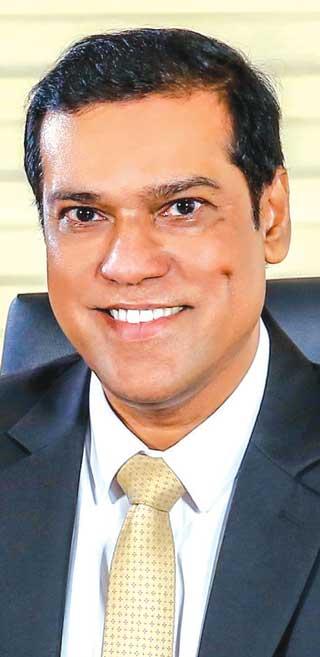 People's Bank CEO/General Manager Ranjith Kodituwakku

I believe we successfully played and are continuing to play our special role as the country's second largest lender by assisting those affected by the pandemic while powering the country's economic and financial activities.
But the bank's financials may have felt the pinch?
Because of the contribution made to society (I would prefer to say it's a contribution rather than a burden) to revive the businesses and support individual entrepreneurs, we had to shoulder an almost Rs.5.2 billion hit to the bank's bottom line, which we took as a day-one hit. From a pure financial point of view, it may look like a loss but I would like to look at it as an investment made to our society, supporting our people to steer through the difficult times.

At the end of the second quarter, our profits plummeted to Rs.1.3 billion. But once the lockdown orders were lifted in mid-May, business picked up very quickly, except the tourism industry and was heading towards pre-COVID-19 levels. As a result, we were able to record a bottom line profit of Rs.6-6.5 billion by the end of the third quarter. Given the current economic conditions, we are happy with our results, though inferior compared to the previous years.

Yes, our margins have become thinner but the deposit rates have also come down, providing us with some breathing space. Yet, compared to our competitors, our deposit rates are higher. As a state lender, we are not just a profit-oriented entity; we also have a broad social duty. A lot of our customers depend on the interest income on their savings.

Despite a decline in our bottom line, our loan book and deposit base have grown robustly so far this year. Our deposit base has grown exponentially, which is an industry-wide phenomenon, due to COVID-19 lockdowns and lower consumption. Our loan book has grown by 12.5 percent.
How does the bank's non-performing loan (NPL) situation look like?
Actually NPLs started growing after the Easter Sunday attacks, last year. Due to the impact the attacks had on businesses, our NPLs increased to about Rs.43 billion by the end of 2019—the highest increase seen in the bank's history. With the COVID-19 pandemic, NPLs have risen by about Rs.10 billion.

So, our NPLs are around Rs.53 billion right now, which we feel that in the current market context is still better because if you look at the absolute figure, it is very high. It's just 3.8 percent of our asset base and the loan book, which is the best in the industry.

Although we expected a spike in NPLs, it hasn't happened. From the third quarter, a lot of businesses, except those in the travel and tourism sector, have started paying their loans with no major disruptions to business coming from lockdowns. The loan moratorium has also helped to keep the NPL levels under check.
But the rating agencies are forecasting further asset quality deterioration next year.
With the outbreak of the second wave of COVID-19, certain customers, particularly the small and medium-sized enterprises (SMEs), may not be able to service their loans as expected.

We intend to extend further concessions to them by way of capital moratorium. COVID-19 is not their fault and we have to help them to get back on their feet. With that and the expiration of debt moratorium, yes, there can be a slight increase in NPLs next year.
Despite the pandemic, banks are seen strengthening their capital bases by issuing debt instruments and via private placement of shares. The other two major state banks have also raised moneys issuing debentures. How is People's Bank looking at this development?
We raised Rs.20 billion this year through the country's biggest debenture issue up to now, which was oversubscribed on the first day itself. Currently, our capital levels are comfortably meeting the Basel III standards.
We also raised Rs.10 billion via a debenture issue, last year. Going forward, we are looking at the possibility to issue debentures worth up to Rs.10 billion every year to match our business growth.

With challenge comes opportunity. Being a fully digitalised bank, I believe People's Bank is one step ahead of other banks to serve its customers at a time when in-person contacts are discouraged.

In a situation like this, uninterrupted service delivery remains paramount. Everyone had to rethink how they were going to deliver their services during a pandemic, a situation we had not experienced before.

In that context, we were actually one step ahead as you rightly said, because we are a fully digitalised bank. We have invested serious money going digital. We are building a single digital integrated banking system, which connects all our functions and customer interfaces.

People's Wiz, our real-time digital customer onboarding platform, now has over one million customers and the value of the digital transactions by those customers as of October has surpassed Rs.157 billion.

We also have 5,000 corporate customers on that platform and the value of digital transactions by these customers as of October was almost Rs.16 billion. Nearly 350 People's Bank branches offer digital onboarding of customers to People's Wiz platform.

This digital onboarding process is completely paperless, which is a first in any bank in Southeast Asia, for which we won several international awards. When a customer is digitally onboarded, the process includes everything—issuing an ATM card, SMS banking, etc. offering a complete, end-to-end service.
Our mobile banking app, People's Wave, integrated to the bank's core system, allows a customer to carry out over 50 different banking transactions, including utility bill payments in the comfort of their homes, without ever having to step into a branch. It is the most downloaded finance app in Sri Lanka, with over 800,000 downloads as of October.
Then we have our completely paperless retail loan originating system (RLOS), which we call People's Wiz Credit. Through this, a loan is granted within an hour or so through digital devices. RLOS is activated in 100 branches as of now.
With digitalisation, has the recruitment of staff by the bank gone down?
We hardly made any new recruitments in the last five years.
So, that means, are you planning to abandon the brick and mortar model?
Going forward, it is clear that we don't need that many buildings and space to carry out our operations. It doesn't mean that we are going to close down our branches. Our roadmap is a hybrid model.
We know that digital adoption happens only gradually. May be scenarios like COVID-19 would accelerate it a bit. So, our model is while maintaining our physical presence, we gradually increase our digital presence. That is why even in the branches we offer digital banking through our digital infrastructure—including the self-banking units and kiosks—while offering conventional banking.
Also, we know that all our customers are not tech-savvy. Changing their mindset to have a bank account without a passbook takes a long time. For that we need to build confidence in the customer's mind. That is why we are doing these two operations—conventional banking and digital banking—parallelly, so that customers will be comfortable enough to adopt new technology.
We have close to 750 branches and we don't have any plans to close down any of them because our presence is important being a state bank, providing a great service to the nation.
But we are thinking about a model where the centre will take up a lot of processing while the peripheral branches will be delivering front-end customer services. This will scale down not the number of branches but the operational levels of those branches, which will help to cut down costs in terms of energy and space.
Correct me if I'm wrong. Despite all the technological advancements your bank offers, the younger crowd hardly thinks of People's Bank when they want to open a bank account. Why is that?
Yes, we have identified this problem. What we see is the perception gap. The younger generation still tends to think that People's Bank is a traditional bank and not technologically advanced as a private sector bank. We are taking a lot of measures to change this perception.
Those who have experienced our digital offering know that we are well ahead in the market. When we opened our first fully paperless digital branch on York Street, some bankers from other banks came and opened accounts with us. They were surprised to see the advanced technology we were offering. But you are right; there is a gap in perception and communication, which we are addressing as of now.
Next year People's Bank is celebrating its 60th year in operation. Have you planned anything special to mark the occasion?
Sixty years is a long time and it's a key milestone for us. People's Bank has rendered a great service to the nation in the last so many years and it will continue to do so in many years to come. Whatever we do will benefit the masses of this country.