---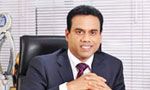 Chevron Lubricants Lanka PLC, a unit of US-based multinational said its net profit for the quarter ended September 30, 2014 (3Q14) rose 23 percent year-on-year (yoy) to Rs.750 million.
The revenue for the quarter rose 11 percent yoy to Rs.3 billion while cost of sales increased at a lower pace of 3 percent yoy to Rs.1.8 billion, resulting in a gross profit of Rs.1.26 billion, up 23 percent.
The distribution costs fell 8 percent yoy to Rs.120.2 million while the administrative expenses increased 18 percent yoy to Rs.153 million. The operating profit for the quarter stood at Rs.990.6million, up 30 percent.
The finance income showed a significant 63 percent yoy reduction to Rs.25 million. For the first nine months 2014, the finance income declined 58 percent yoy to Rs.98.3 million.The construction of Chevron Lanka's US $ 15 million blending plant in Sapuguaskanda is scheduled for completion by October this year.

The earnings per share for the quarter improved to Rs.6.25 from Rs.5.08.Meanwhile, the net profit for the first nine months rose 13 percent yoy to Rs.2.18 billion. The revenue rose 5 percent yoy to Rs.8.7 billion while costs of sales fell 2 percent yoy to Rs.5.1 billion. The gross profit improved 17 percent yoy to Rs.3.6 billion.The earnings per share stood at Rs.18.24, up from Rs.16.18A third interim dividend of Rs.5.50 per share to be paid on November 18, 2014 has also been announced.