---
By D.B.S. Jeyaraj

"Both here and hence pursue me lasting strife, If once I be a widow, ever I be a wife!..............................
"The lady doth protest too much, methinks
- William Shakespeare
:Hamlet Act 3,Scene 2.


Politicians are a breed thriving on publicity – negative or positive. Their preference is to bask in the limelight always. They crave attention almost all the time and love to be the cynosure of all eyes.It is said in lighter vein that politicians want to be the bride in a wedding, baby in a baptism and the corpse in a funeral!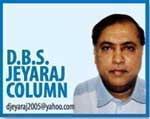 The most common method used by politicians to generate publicity is to engage in political stunts. Time and again politicians say or do unusual things that capture widespread attention. Once upon a time in Sri Lanka, one parliamentarian came in an "Amude" to Parliament to protest the rise in prices of textiles. Another MP smuggled in a wreath to the house to signify the death of democracy. Some snatch the mace and run away. Others fling objects around like hand guided missiles. In recent times a group of MP's inclined towards Ex –President Mahinda Rajapaksa took over the house by Diyawanna Oya nocturnally - wining, dining and reclining!

Other stunts include "fasting unto death" while feasting on lemon puff biscuits, walking in pada yatras, chanting Jana Goshas, riding in bullock carts etc. The easiest of them all is to utter controversial statements, provocative or otherwise. Making such statements do not require much effort or investment. All you need to do is to let off steam or release hot air regardless of consequences. Immediately, there is a blaze of publicity that lasts more than the fifteen minutes of fame allocated by Andy Warhol.

In the Sri Lanka of today there are many such publicity seeking politicos on either side of the ethnic divide. Most of us are knowledgeable about the "usual suspects" south of Vavuniya. Many of us however are not so familiar with their counterparts north of Vavuniya. In recent times, Northern Province Chief Minister Mr. Canagasabapathy Visuwalingam Wigneswaran is perceived as the chief exponent of political stuntmanship in the Tamil political sphere.From the Genocide resolution to lighting the flame at Mullivaaikkaal , the former Supreme court judge indulges in political stunts galore. His chief contender in this exercise –as in the race for preference votes- is Northern province councillor Ms. Ananthy Sasitharan. This lady whose initial claim to fame was as spouse of "missing" senior tiger leader "Ezhilan" is the focus of this column this week.



Sinnathurai Sasitharan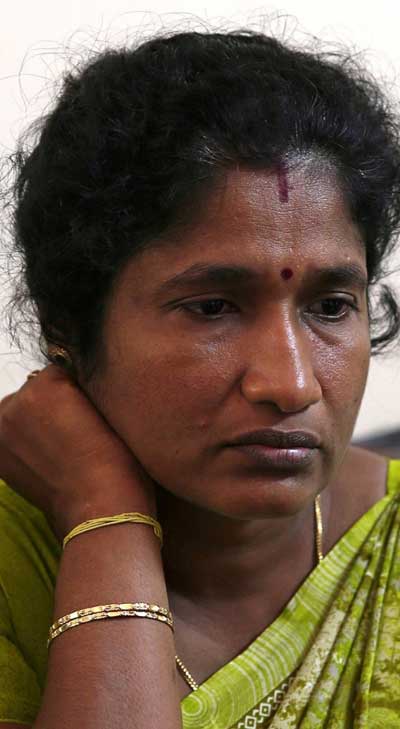 As is well known, Ananthy Sasitharan is the wife of Sinnathurai Sasitharan alias " Major Ezhilan" who was a senior leader of the Liberation Tigers of Tamil Eelam (LTTE). He had reportedly surrendered - along with a number of fellow tiger leaders – to the armed forces in Mullaitheevu district in May 2009. There is no information about their fate and all of them including Ananthy's husband are regarded as "missing" or "disappeared". Ananthy captured national and international attention by a determined campaign demanding information about her husband's situation. This resulted in her receiving lots of sympathy and empathy from the long suffering Tamil people of Sri Lanka.

The Tamil National Alliance(TNA) cashed in on this by fielding her as a candidate of the Ilankai Thamil Arasu Katchi (ITAK) in the September 2013 Northern provincial elections. She won handsomely with the second highest tally of preference votes in Jaffna.After becoming a provincial councillor, Ananthy Sasitharan chartered an independent course in politics that often fell foul of the TNA hierarchy position. Currently she is "suspended" from the ITAK on disciplinary grounds. This has not deterred the irrepressible Ananthy who continues with her penchant of being in the news intermittently.

Ananthy Sasitharan's latest phase of controversial publicity is due to two reasons. One is her threat to self –immolate in front of the UN building in Geneva if she does not receive justice in the case of her husband Sinnathurai Sasitharan.

The second is her revelation that her husband had consulted Indian Rajya Sabha (Upper house) MP Ms. Kanimozhi Karunanidhi who allegedly advised him to surrender guaranteeing his safety. Ms. Kanimozhi is the daughter of Muttuvel Karunanidhi the Dravida Munnetra Kazhagham (DMK) chief who was Chief Minister of India's Tamil Nadu state at that time.While Ananthy wants Karunanidhi and Kanimozhi to explain what had happened then, the chief minister's daughter has flatly denied the charge saying she had never even heard of Ezhilan at that time.

Whatever the final outcome of this Ananthy – Kanimozhi "clash" there is little doubt that the current crisis has afforded Ananthy a bright blaze of publicity as usual. Some however speculate that the controversy is a calculated effort to boost Ananthy Sasitharan's electoral fortunes at the forthcoming Parliamentary elections. Apparently Ananthy seems to have cultivated a constituency of her own in Jaffna and with the financial aid of the extremist Tamil Diaspora has a very good chance of being elected as an MP. Though engaged in a political flirtation with Gajendrakumar Ponnambalam's Tamil National Peoples Front(TNPF) now, Ananthy realises that chances of victory are greater if she could be nominated on the TNA list under the ITAK symbol of the house.

According to sources close to her, Ananthy hopes to patch up with the ITAK- TNA soon and gain party nomination. She is likely to use the TNPF card as a bargaining chip in these political stakes. Hence, her on going attempt to garner political publicity utilising her missing husband, is aimed at promoting her image with the ultimate goal of securing a parliamentary seat via the TNA-ITAK. While widows of slain politicians seek electoral office in the Sinhala south, Ananthy is doing the same in the Tamil north as the wife of a missing person.



Political Ambition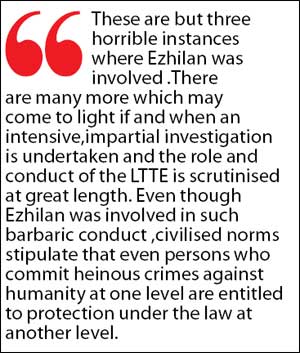 Ananthy Sasitharan's political ambition is not a factor that can be dismissed lightly. Even her critics acknowledge that she is a tenacious woman who pursues her objectives with single minded determination. The circumstances of her romance with Ezhilan and marriage to him serve as testimony to her steely resolve. People who are aware of what happened then joke that Ezhilan had no chance whatsoever once Ananthy had set her sights on him.Those events and other matters concerning Ananthy Sasitharan such as her politics, have been related earlier in these columns but are still worthy of being re-visited in the present context.

It was in the aftermath of the war that Ananthy Sasitharan first grabbed attention as the wife of Ezhilan. She presented herself before the Lessons Learnt and Reconciliation Commission (LLRC) in 2010 when it held sittings in Kilinochchi and testified that her husband had gone missing after May 2009. Ananthy stated that she had personally witnessed his surrender to the armed forces at a point near Vattavaahal in Mullaitheevu district. She was a Govt employee at the Kilinochchi district secretariat at the time she deposed before the LLRC.

That disclosure made her a sensational figure then. This was the first time after the war that the spouse of a senior LTTE leader had been bold enough to come before a commission and testify that her husband had surrendered and was now reported missing. Speaking to the BBC Tamil service after her testimony Ananthy related her version of what had happened then. Ananthy said that when her husband Ezhilan went with other senior LTTE leaders to surrender, she and the three children had walked behind.

She said that she saw her husband being identified as "Maavilaaru Ezhilan". According to Ananthy an Army officer had asked her to turn back and surrender along with other Tamil civilians as she was a Govt employee and assured her that Ezhilan would be released later.

Whether true or false Ananthy's testimony before the LLRC and her subsequent media interviews did make a powerful impact. LTTE media organs amidst the Tamil Diaspora derived maximum mileage out of it. It later came to light that Ananthy had been encouraged and supported by TNA parliamentarian

Sivagnanam Shritharan to go public and testify before the LLRC. Nevertheless a wife trying to trace her missing husband was very justifiable and few found fault with her for that. The sight of a single mother with three young daughters seeking the truth about a husband and father aroused much sympathy. Besides there was a romantic touch as the Sasitharan-Ananthy union had been a love story of sorts. Ananthy was born on September 10th 1971 to parents hailing from the Kankesanthurai and Chulipuram areas in Jaffna.

She was the fifth in a family of six children. Her elder sister Vasanthi who joined the Eelam Peoples Revolutionary Liberation Front (EPRLF) had been killed by the LTTE at Kurumbasitty in 1989. Some years later Ananthy's younger brother had joined the LTTE. He went missing after a while and is presumed to have been killed in combat.





Victoria College
Ananthy was a student at Victoria College in Chulipuram when she first saw Ezhilan who was then in the LTTE. He was from the Atchuvely area in Jaffna. Ezhilan was then active in the political wing of the LTTE. He had come to Victoria College to deliver a lecture to the students. It was customary in LTTE controlled areas then for tiger cadres to address students in their respective schools.

Ezhilan with his dashing looks made a positive impression on young starry-eyed Ananthy. Also the progressive views he expressed in his lecture on matters such as caste, dowry and women's rights impacted greatly on her.

It was a case of love at first sight for Ananthy. But that was not so for Ezhilan. When Ananthy conveyed her feelings to him through intermediaries he rejected them immediately. She however persisted and finally met him face to face and proffered her love. Again Ezhilan turned it down saying he was wedded to the ideal of "Tamil Eelam" and advised her to concentrate on her studies.

Ananthy was not one who gave up easily. She kept on trying to win Ezhilan's heart. In the meantime she completed her secondary schooling and began pursuing studies in accountancy. She gave up studies after getting a Government job. Ananthy started working as a clerk at the Jaffna Kachcheri from June 10th 1992.She worked at the Valigamam west AGA office in Chankanai from 1993 to 1996.

During these years her passionate ardour for Ezhilan did not diminish. Determined to win her heart's desire Ananthy kept on persevering. Finally Ezhilan melted. But soon there was another problem. The Sri Lankan armed forces regained control of Jaffna through "Operation Riviresa" in 1995-96. The LTTE including Ezhilan relocated to the Northern mainland of the Wanni. Ananthy too followed soon after. She worked at the Mullaitheevu district secretariat as a clerk from 1997 to 2003. Thereafter she began working at the Kilinochchi district secretariat as a management assistant from 2003 onwards. She continued to retain that job until obtaining a release in 2013 to contest the Northern provincial poll. Ezhilan too began rising up in LTTE ranks as a political wing member. He was a particular favourite of the LTTE political wing chief Suppiah Paramu Thamilselvan. Ezhilan was made political commissar of the Vavuniya district by Thamilselvan with the approval of LTTE supremo Prabhakaran. After the ceasefire came into force in 2002, Ezhilan was transferred to politically sensitive Trincomalee as LTTE political commissar.



"Maavilaaru Ezhilan"
The Oslo facilitated ceasefire had begun crumbling after 2004. The decisive turning point was in the Trincomalee district when the LTTE blocked the Maavilaaru river in the Moothoor region and prevented water from flowing into Sinhala inhabited areas. This was in July 2006.Ezhilan played a prominent role in justifying this decision and gave many media interviews about the river Maavilaaru and the importance of the blockade. Hence he came to be known as "Maavilaaru" Ezhilan. The war escalated due to the Maavilaaru episode ultimately resulting in the Mullivaaikkaal debacle.

Ezhilan and Ananthy married on June 6th 1998 at Mulliyavalai in the Mullaitheevu district.LTTE political chief Thamilchelvan presided over the ceremony. Ananthy continued to work in Mullaitheevu and Kilinochchi during the time Ezhilan was stationed in Vavuniya and Trincomalee districts. After being driven away from Trincomalee, Ezhilan and other tiger cadres relocated to the Northern Wanni. Ezhilan began working in the LTTE secretariat in Kilinochchi. Ananthy working at the Kilinochchi Kachcheri stayed together with her husband then.

The Ananthy-Ezhilan couple have three children all of them girls. The eldest Nalvizhi was born on May 23rd 1999.The second Ezhilvizhi was born on 22nd November 2001.The youngest Kayalvizhi was born on July 15th 2003.

The family left Kilinochchi when the army advanced and moved to Mullaitheevu district. After the war ended in 2009, Ananthy and the children stayed in an IDP camp for a while and relocated to Kilinochchi where she resumed working as Management assistant in the Samurdhi department at the district secretariat. The children were sent to Chulipuram in Jaffna while the mother shuttled between both places.

It was while working in Kilinochchi that Ananthy came under the sway of TNA parliamentarian Sivagnanam Shritharan who encouraged her to testify before the LLRC. Apart from the media, the LLRC testimony also attracted the attention of several Non-governmental organizations(NGO) and International NGO's concerned with issues such as disappearances and women rights. Ananthy had much interaction with them. Some NGO's found her useful in helping to mobilise women with "disappeared" families and utilise them for demonstrations. Initially she went along with these organizations but soon it became apparent that Ananthy had an independent agenda and would not play second fiddle to another. The interaction with these organizations resulted in writs of habeas corpus being filed in courts by Ananthy along with some other women on for their respective family members who had allegedly "disappeared".

Ananthy now began involving herself with NGO activities concerning women and families of disappeared and/or missing persons. She was a fixture at demonstrations often enjoying huge media attention.



Window of Opportunity
A new window of opportunity opened out as elections to the Northern provincial council became a distinct certainty. ITAK general secretary and TNA strongman Somasundaram Senathirajah alias "Maavai" approached her and asked her to contest on the TNA ticket. She readily agreed. Subsequently Maavai began having second thoughts about his overture as TNA leader Rajavarothayam Sampanthan raised objections.

Then came Shritharan's intervention on her behalf. Strengthened by Shritharan's endorsement Senathirajah ignored Sampanthan's objections and granted nomination to Ananthy wife of Ezhilan as TNA candidate from Jaffna.

Ananthy who has been raising the issue of "disappeared" persons in general and that of her husband in particular used the name of Ezhilan liberally in her electoral campaign. She was not portrayed or projected as a candidate on her individual merits but as "Ezhilalin Manaivi Ananthy (Ezhilan's wife Ananthy). It was felt that being a mother of three children whose husband had disappeared Ananthy would strike a responsive chord among women. Besides the phenomenon of a wife fighting for the life of her husband or seeking justice on his behalf was sure to evoke sympathetic feelings in the Tamil psyche. Hindu mythology relates the tale of Savithri who locked horns with Yaman the god of death and won a reprieve for her husband Sathiyavaan. The Tamil epic" Silappathikaaram" narrates the saga of Kannaki(Pathini Deiyyo) who sought justice for her husband Kovalan's death from the Pandyan king and in its absence burnt down Madurai city. Ananthy in that context was projected as a latter day combination of Savithri and Kannaki.


The dawning of polling day on September 21st 2013 saw a bizarre - Ananthy related - election incident occur. A fake "Uthayan"newspaper with the same format as the original newspaper was printed with the sensational news that Ananthy Sasitharan had deserted the TNA and crossed over to the Government. The fake "Udhayan" news aroused much interest but dismissed with disbelief and contempt. The Jaffna voter was not to be conned so easily as the forces responsible for the counterfeit edition had naively expected.

The duplicitous exercise however did churn a wave of sympathy towards Ananthy Sasitharan. Whatever the motives behind the attempt, the cumulative effect was the formation of a massive sympathy wave.The final results saw the TNA sweeping the polls with 30 out of 38 Provincial council seats.Former Supreme court judge and chief ministerial candidate CV Wigneswaran topped the preferences poll with 132,355 votes while Ananthy Sasitharan came second with 87,770 votes.







Provincial Councillor
After being elected as provincial councillor Ananthy Sasitharan has continued to be courageous and consistent in speaking out on the unknown fate of her husband Ezhilan. Since she claims to have personally witnessed the surrender of her husband to army officials on May 18th 2009 at a point near the Vattuvaahal bridge, Ananthy's testimony has a ring of authenticity about it. This is why her testimony is received well and most people who hear it cannot help being sympathetic towards her situation.There is also admiration for her boldness in coming forward without fear of consequences. Cynics would say she is using the Ezhilan card for political gain.

Even as one sympathises with Ananthy Sasitharan's predicament one must also think of the numerous victims of the LTTE in the past. It is pertinent in this regard to briefly examine Ezhilan's record in this respect.This does not diminish Ananthy's personal grief or sorrow in any way but merely depicts the dichotomy of the situation.

Ezhilan as stated earlier was an active member of the LTTE's political wing. He served as the LTTE's political commissar for the districts of Vavuniya and Trincomalee. It is openly admitted that there has never been a clearly defined demarcation between the military and political wings in the LTTE.

Ezhilan himself came into global prominence in 2006 when serving in Trincomalee. He played a key role in planning and executing the blocking of water supply via the Maavilaaru river to Sinhala inhabitants in Moothoor division of Trincomalee district.The blocking of water supply is regarded as a crime against humanity. Ezhilan was also responsible for justifying that act publicly.It is indeed a fact that the Maavilaaru blockade was a colossal blunder by the LTTE and afforded the Government the moral high ground with which to prosecute the war intensively. This does not absolve the role of Ezhilan in the matter.His close identification with the exercise earned him the title "Maavilaaru Ezhilan".

After the army succeeded in retaking the east Ezhilan relocated to Kilinochchi where he worked under Thamilselvan in the LTTE political secretariat. As the war escalated the duties of the political wing underwent drastic transformation. The political wing was required to expand recruitment and enhance the number of fighters.The recruitment drive which relied on intensive emotion based propaganda during earlier stages soon deteriorated into forcible recruitment and conscription.



Conscription Drive
The LTTE political wing members were at the forefront in conscripting youths based on the dictum "Veetukku oru veeran allathu veeranganai"(a hero or heroine from each home). Excessive force and sheer cruelty was shown in this conscription drive.These acts have been publicised by this columnist in earlier articles. After Thamilselvan's death in November 2007, Ezhilan was placed in overall charge of recruitment which was in reality conscription. Ezhilan and Thamilini the woman political wing chief acquired a notorious reputation for forcibly recruiting young men,women and children in the years 2008-2009.

The LTTE escalated its conscription to very high levels after being restricted to the Puthukkudiyiruppu and Karaithuraipattru AGA divisions in Mullaitheevu district. Ezhilan continued to play a terrible role in this along with other senior LTTE political wingers.As the war continued to intensify along the Mullaitheevu coast the trapped civilian population were in a tragic hostage situation. A movement claiming to fight for the liberation of the Tamil people was holding its most vulnerable component in bondage and exposing it to danger and hardship.It was during this time of an unfolding humanitarian catastrophe that this writer appealed repeatedly through these "Daily Mirror"columns to "Let my People Go". These pleas however fell on the deaf ears of the LTTE and what happened thereafter is now history.

During this tragic phase of war when the Tamils of tiger controlled areas were regarded as the wretched of the Wanni earth that the political wing of the LTTE descended into despicable levels. The LTTE political wing was involved in three terrible tasks even during those perilous times.

Firstly the political wing continued to forcibly recruit youths and children in huge numbers.They were thrown into war as cannon fodder without adequate training or experience. Secondly the LTTE political wing acted repressively to prevent civilians from trying to escape from tiger controlled areas to army controlled areas for reasons of safety and security. Thirdly the political wing dealt out inhuman punishment to the civilians apprehended while trying to flee. Ezhilan played a significant role in all these.



Puthumaathalan
Among the many cruel acts of Sinnathurai Sasitharan alias "Major Ezhilan" three horrible acts stand out as illustrations of the depths of depravity one could sink into in a crisis situation.The first is the incident in Puthumaathalan when an ICRC vessel had berthed to transport injured persons for medical treatment. The LTTE as usual prioritised injured cadres,supporters and family members of Tiger members first instead of on the basis of seriousness of injuries.These led to frantic attempts by relatives of injured persons to show their injured family members to ICRC officials and seek priority in being transported by sea for treatment.

This was resented by the LTTE.Instead of firing guns and alerting ICRC officials the tigers used swords ,knives and poles to hack and assault the civilians and block them from meeting the ICRC. Ezhilan himself brandished a sword and was seen wielding it with much gusto on the helpless civilians.The Maathalan peoples revolt continued even after the ICRC ship departed. Now the LTTE suppressed the protests of the people by firing. At least seven civilians were killed and over fifteen injured in the firing. The tigers opened fire on the orders of Ezhilan it is alleged.




Valainjarmadam
The second incident was at the Catholic "Our Lady of the Rosary"church at Valainjarmadam. Over 900 men,women and children had sought refuge at the church and were looked after by the Catholic priests and nuns who fed them "kanji"or porridge. The refugees in the church consisted of people without any form of shelter, forcibly recruited cadres fleeing LTTE clutches and families with children facing danger of tiger conscription.

A tiger triumvirate comprising Ezhilan, Ilamparithi and Malaimahal paid frequent visits to the area and demanded that the Catholic priests turn out the people or allow the LTTE to go into the premises and inspect the refuge seekers.The Catholic clergy stood firm and refused saying the people had sought sanctuary in the church. After repeated endeavours Ezhilan lost patience and set in motion an operation to clear the church.Armed LTTE cadres assembled outside the church as if for a military assault.Ezhilan informed the Catholic priests that members of Tamil groups proscribed by the LTTE were occupying the church and had to be weeded out.

The LTTE led by Ezhilan then went into the church premises and began dragging out the youths and children in their early teens. When some youths resisted the LTTE opened fire and killed four persons. Over 500 youngsters of both sexes, children and able bodied men were marched out at gun point and compelled to board buses brought by the tigers.They were taken to the battlefront.About 300 older men and women were left behind at Valainjarmadam wailing and sobbing over the loss of their loved ones. Ezhilan was present on the spot from beginning to end supervising and directing the operation.



Crucifix Junction
The third incident was also at Valainjarmadam at a place called "Kurusady santhi" or Crucifix junction. Ezhilan and former LTTE administrative division head Thangan were leading a team of tigers who had captured a group of civilians trying to flee to Govt controlled areas.Ezhilan was questioning and reprimanding the people as traitors for trying to escape when a young woman with an infant and two small children responded by saying that her children had no milk and that was why she was trying to escape. A heated argument broke out between Ezhilan and the young woman who accused the LTTE of being inhuman and queried "Neengal Manisar Illayaa"? (are you people not human). At this point Ezhilan whipped out his pistol and placing it on the woman's forehead fired twice killing her in cold blood.

These are but three horrible instances where Ezhilan was involved .There are many more which may come to light if and when an intensive,impartial investigation is undertaken and the role and conduct of the LTTE is scrutinised at great length. Even though Ezhilan was involved in such barbaric conduct ,civilised norms stipulate that even persons who commit heinous crimes against humanity at one level are entitled to protection under the law at another level. Even a notorious violator of human rights has basic human rights such as the right to life and can be penalised only after due process of the law.



Critical Question
It is against this backdrop that Ananthy Sasitharan wife of Ezhilan strives to seek justice for her missing husband. The critical question is whether Ezhilan was a victim or perpetrator of human rights violations or both.In that context is Ananthy Sasitharan a voice of the victims or that of the perpetrators?
Ananthy Sasitharan is at the interface of two contradictory positions.As the wife of senior LTTE leader Ezhilan who was reportedly involved in several human rights violations and crimes against humanity, she is at one end of the spectrum. At the same time it is a fact that her husband who surrendered himself to the Army in May 2009 is now missing. In that sense Ezhilan is a victim and so is his wife and family.Thus Ananthy's current situation is complicated being the wife of a person who is both a perpetrator of human rights violations as well as a victim.(ENDS)


D.B.S.Jeyaraj can be reached at dbsjeyaraj@yahoo.com