---
C1960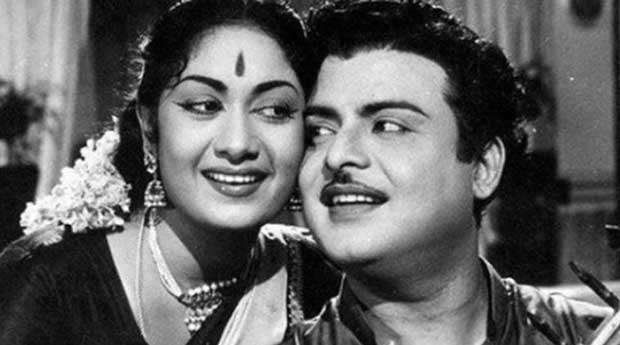 A biopic on Savitri in both Tamil and Telugu released

Savitri regarded as a great actress...

Dulquer and Keerthi receive rave reviews
By
D.B.S.Jeyaraj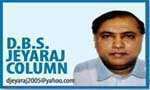 Film stars often act the roles of real persons in what is known as Biopics or biographical movies.
Biopics are usually about illustrious and interesting historical figures. Actors and actresses enacting such roles get praised if their performances are brilliant enough to project those historical figures in a realistic manner on screen.

While artistes acting in biographical movies about noteworthy people are an established norm, it is very seldom that a real-life film actor is considered worthy enough to be portrayed in a biopic on screen.

One such film made about a great actress, who sparkled brightly in the South Indian film firmament decades ago, had a worldwide release a few days ago.
Savitri ruled the roost in Telugu and Tamil filmdom for nearly 15 years in the fifties and sixties of the last century. She was hailed as the finest actress of her time and earned the laudatory sobriquets Mahanati (Great Actress) in Telugu and Nadigaiyar Thilagam (Doyenne of Actresses) in Tamil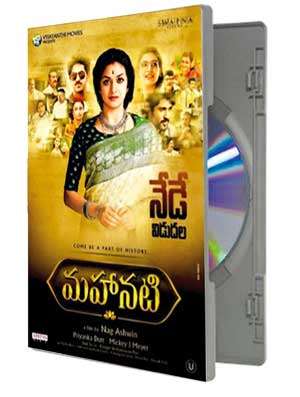 The film Mahanadi made in the Telugu language hit the screens on May 9th. Its Tamil version Nadigaiyar Thilagam was released on May 11th. The film is about yesteryear actress K. Savitri, who was known as Savitri Ganesh after she married Tamil romantic actor Gemini Ganesan, also known as R. Ganesh.

Savitri in an acting career of more than three decades acted in 248 films in five languages. The breakdown was - Telugu- 136; Tamil -90; Kannada -09; Hindi -07 and Malayalam -06.

Savitri ruled the roost in Telugu and Tamil filmdom for nearly 15 years in the fifties and sixties of the last century. She was hailed as the finest actress of her time and earned the laudatory sobriquets Mahanati (Great Actress) in Telugu and Nadigaiyar Thilagam (Doyenne of Actresses) in Tamil.

The filmmakers have most suitably used those titles Mahanati and Nadigaiyar Thilagam for the Telugu and Tamil films respectively.

During British rule, several regions in India were formed into territorial units known by the term Presidency. Much of what is known today as Andhra Pradesh together with Tamil Nadu comprised the bulk of the Madras Presidency then.

With Tamil and Telugu being the dominant languages in the Madras Presidency most films were made simultaneously in the Tamil and Telugu languages and released together. The bi-lingual films were made in Chennai city then known as Madras.

After the creation of Andhra Pradesh State under the linguistic re-structuring of States principle, Telugu filmmakers began moving to studios in Hyderabad and Vijayawada in the newly created State.
Savitri and other famous Telugu artistes like A. Nageswara Rao, N.T. Rama Rao, S. V. Ranga Rao, Bhanumathy, Anjali Devi, Jamuna, Devika, Sowcar Janaki, S.Varalaxmi et al acted in both Telugu and Tamil films in those days.

Savitri herself made a name for herself by acting in Tamil -Telugu films like Devadas, Chandraharam, Maaya Bazaar and Missiyammaah.

In that context, the making of a biopic on Savitri in both Tamil and Telugu and releasing it simultaneously does seem quite appropriate.

Controversial Marriage To Gemini Ganesan
Though the film has been in theatres only for a few days all indications are that it will be a blockbuster. This is because Savitri the actress was extremely popular with Tamil and Telugu audiences during her time and enjoyed what could be termed as a 'cult following' at the peak of her career.

Savitri's screen persona was very lovable and fans both male and female, were infatuated with her. Rising from humble beginnings, she had reached great heights as a popular film star through her acting skills, dedication and hard work. Her controversial marriage to Kaadhal Mannan (King of Romance) Gemini Ganesan captured the imagination of all young lovers.

Yet, her life ultimately ended as a tragedy. Her foray into film production and direction brought about financial ruin and estrangement from her husband. In a bid to drown her sorrows, Savitri the social drinker became an incurable alcoholic. She died a few days before her 46th birthday after being in a diabetic coma for more than 18 months. The story of Savitri was known widely in South India due to numerous articles and books. Thus the film is proving to be an irresistible magnet to filmgoers.

Savitri was of Telugu ethnicity and the younger of two daughters. She was born on January 4th, 1936 in a small village called Chirravurru in the Guntur District in the present day Indian State of Andhra Pradesh. At the time of her birth during British rule, Guntur was part of the Madras Presidency.

Savitri's parents were Kuruvaiyya and Subhadramma Reddy. Her father Kuruvaiyya Reddy died when she was only six months old. Savitri's mother Subhadramma took Savitri and her elder sister Maruti and moved to her husband's elder brother Kommareddy Venkatramiah Chowdhury and his wife Durgammaa's home. Thereafter Savitri's paternal uncle K.V. Chowdhury became the guardian of both sisters.

Discovering that Savitri had a flair for dancing and acting her paternal uncle let her participate at a very young age in dance-dramas staged by a theatre company.

As the film industry started flourishing in the post-independence period, Savitri's uncle Chowdhury began seeking openings in films for her.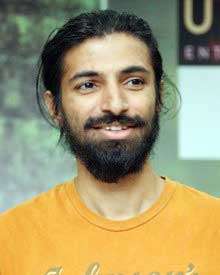 Director Nag Ashwin

The family relocated to Chennai in order to facilitate Savitri's entry into films. Savitri got her first break in 1950 through a minor role in the Telugu film Samsaaram. After getting a few more films doing minor roles, Savitri got her major break in 1952 through maestro L.V. Prasad, who directed Pelli Chesi Choodu in Telugu and its Tamil equivalent Kalyanam Pannip paar.

Savitri was the second heroine in the film starring N.T. Rama Rao and G.Varalaxmi.

Thereafter she got to play the lead roles in some more films. In 1953 came Devdas/Devadasu made in Tamil and Telugu by director Vedantam Ragavaiah.

Savitri was the heroine and A. Nageswara Rao the hero in both films. The film was a roaring success. Savitri was now established as a heroine in Tamil and Telugu films. She began to get paired with almost all the leading actors in films including her future husband Gemini Ganesan, who was earlier known as R. Ganesh in films.

Full-Fledged Love Affair
Her first film with him was Manam Poala Maangalyam in 1953. It was directed by
P. Pullaiyah.

Gemini was already married to Alamelu called Bopji and had children by her. This did not deter the man who was regarded as the king of romance on screen as well as off-screen. Both Ganesh and Savitri were struck by Cupid's darts while acting together in Manam pool Maangalyam.

It developed into a full-fledged love affair in 1955 when both acted in Missiammaah directed by L.V. Prasad. By this time R. Ganesh had become Gemini Ganesan.

When Savitri's family objected strongly to this liaison, she ran off from home. Gemini and Savitri married secretly at the Chamundeswari temple in Mysore (Now Mysooru) in a Hindu ritual conducted by a Brahmin priest, where Ganesan tied the Thaali around Savitri's neck.

Gemini who was then living with wife Alamelu and children at Nungambakkam set up a second home with Savitri in a rented house at Abhiraamapuram.

Later Savitri bought extensive property in T'Nagar and built a modern mansion. Gemini began shuttling between both houses. The couple had two children a girl Vijaya Chamundeswari and a son Sathishkumar.

Chamundeswari is a physiotherapist in India while Sathishkumar is a computer engineer in the USA. Sathish is the only son Gemini had. All his other children were daughters.

Meanwhile, Savitri's film career blossomed and she soon became the top female star in Tamil and Telugu films. While pairing with leading male actors, Savitri also acted in many films where the story revolved around the chief female character played by her.

Film scripts were written with Savitri in mind. She received top billing in film advertisements. Many box office hits owed their success to Savitri more than the main male actor. She became a highly paid star on par with her male counterparts.

Savitri and Gemini were very popular in Sri Lanka known formerly as Ceylon too. The couple had many fans from all communities in the Island. Savitri, in particular, had a lot of female fans. I remember Gemini and Savitri arriving by plane from India at the Ratmalana Airport in the early sixties.
They were the chief guests at a cultural event named Silamboli or Tone of the anklets. Hundreds of fans mobbed them at the Airport. The newspapers in all three languages published photographs of their arrival. In later years Gemini Ganesan had come several times to Sri Lanka.

In 1978 Gemini along with actress Rajshree attended a musical show at the Sugathadasa stadium as chief guests.
2018

Savitri's Gold-Clad Feet
Savitri bought a lot of property, jewellery, motor vehicles and expensive sarees with her earnings. She flouted convention and created controversy by wearing anklets made of gold.

Photographs of Savitri's gold-clad feet were widely circulated. Since it was not customary to wear gold on one's feet, Savitri was severely criticised for this. Even though she wore gold on her feet, Savitri had a golden heart. She was a great philanthropist who donated lavishly to deserving causes. She also helped several needy people by paying for their education, medical treatment and wedding expenses.

Savitri was regarded as a great actress on equal terms with the legendary Sivaji Ganesan. Thus when Sivaji was honoured with the title Nadigar Thilagam or Doyen of Male actors, Savitri was bestowed the female equivalent Nadigaiyar Thilagam (Doyenne of Actresses).
With Tamil and Telugu being the dominant languages in the Madras Presidency most films were made simultaneously in the Tamil and Telugu languages and released together. The bi-lingual films were made in Chennai city then known as Madras
She acted with Sivaji in films like Annayin Aanai. Kaathavaraayan, Raththa Thilagam, Paasa Malar, Padithaal Mattum Poathumaa?, Navarathri, Thiruvilaiyaadal.

With M.G. Ramachandran she acted in films like Mahadevi, Paris and Vaettaikkaaran.

However, some of her most memorable films were with her husband Gemini Ganesan.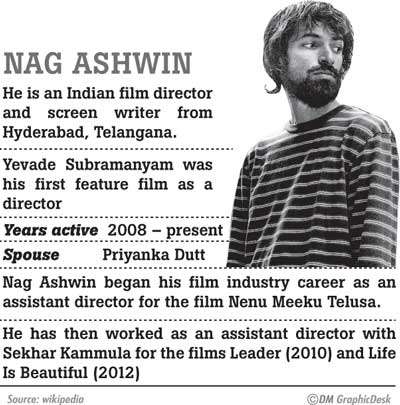 Missiammaa, Yaar Paiyan, Maayaa Bazaar, Kappaloatiya Thamizhan, Paava Mannippu, Paarthaal Pasi Theerum, Paatha Kaanikkai, Hello Mr Zamindhar, Kaathiruntha Kangal. Poojaikku Vantha Malar, Aayiram Roobai and Katpaham were some of these films with both.

Fans loved seeing these real-life partners playing lovers or acting as husband and wife on screen. Sadly the loving Gemini-Savitri couple got separated after some years.

What had happened was that the talented Savitri formed her own film company and began producing and directing films. After the first film Kulanthai Ullam flopped, Gemini began advising her not to make any more films. But egged on by a group of self -serving sycophants scrounging off her, Savitri spurned Gemini's advice and went ahead making films.

This led to heated arguments resulting in a permanent split between husband and wife.

Savitri went ahead and made the film Praaptham which she directed, produced and acted in. The movie crashed drastically at the box office. A few Telugu films made by her also bombed at the box -office.

As a result, Saviri had to sell off all her houses, estates, jewellery and vehicles to offset her financial losses. She moved to a rented house and travelled about in three-wheelers and cycle rickshaws. She also started acting in minor roles and also began playing a mother in films.
What had happened was that the talented Savitri formed her own film company and began producing and directing films. After the first film Kulanthai Ullam flopped, Gemini began advising her not to make any more films. But egged on by a group of self -serving sycophants scrounging off her, Savitri spurned Gemini's advice and went ahead making films

Unconscious In a Diabetic Coma for 19 Months
Complicating matters further was her health. Savitri was a diabetic and also suffered from high blood pressure (Hypertension). Furthermore, she had become an alcoholic. It was her husband Gemini who made her imbibe liquor first at a diplomatic function. Thereafter she had become an occasional social drinker. However, after her financial losses and separation with her husband, Savitri turned to hard liquor in a big way for solace and also to drown her sorrows.

Her health began deteriorating. In May 1980 she collapsed at a hotel in Mysore, where she had gone for a film shoot. She was brought to Chennai and hospitalised. She was in a diabetic coma and was unconscious. Her estranged husband Gemini returned to her bedside and looked after her medical bills. She lay in a coma for nearly 19 months and finally passed away on December 26th, 1981.
This then was Nadigaiyar Thilagam Savitri's sad story. Her tale was widely known thanks to numerous articles and books written about Savitri.

So, when a film was made about her so many years after Savitri's demise there was tremendous public interest.

The titular role of Mahanati/Nadigaiyar Thilagam denoting Savitri is played by a young actress Keerthi Suresh, who is of mixed parentage with a Malayalee father and Tamil mother.

The key role of actor Gemini Ganesan/Ganesh is played by Dulquer Salman the son of Malayalam Mega Star Mammootty.

Dulquer Salman and Keerthi Suresh act in Tamil and Malayalam films. In a bid to cash in on their popularity with Kerala audiences the film has been dubbed in Malayalam also. Both Dulquer Salman and Keerthi Suresh have received rave reviews and much kudos for their performances.
Finest Performance Of Keerthy Suresh
Keerthy Suresh has excelled in what could be regarded as the finest performance of the 25-year-old star's cinematic career.

She has brought Savitri to life on the screen. The greatest praise came from Savitri's daughter Vijayachamundeswari, who observed emotionally that seeing Keerthy on screen in the role was just like seeing her mother and that the performance was perfect.

Prosthetics was used to make Keerthi look chubby and fat like Savitri.

She wears 120 costumes in the film. The same hairstyles, Saree designs and jewellery used by Savitri have been replicated. Keerthi also consulted Savitri's daughter and obtained an insight into Savitri's facial expressions and mannerisms. She displays at least 12 of Savitri's unique gestures and movements in the film.

Other roles are essayed by Samantha, Vijay Devarakonda, Rajendra Prasad, Prakash Raj, Bhanupriya, Shalini Pandey and Malavika Nair.

In addition to these character roles, there are a number of other cameos by reputed artistes appearing as actors, actresses, directors, producers, script writers and cinematographers, who were contemporaries of Savitri and interacted with her. For instance, Akkineni Nageswara Rao was the lead actor with whom Savitri acted in many Telugu films. In the Savitri film, the role is played by Nageswara Rao's grandson Naga Chaitanya, who is a popular actor himself.

The 177-minute film is directed by Nag Ashwin. His wife Priyanka Dutt, Sister in law Swapna Dutt and father in law C. Ashwini Dutt are among the producers. The screenplay based on Savitri's life is by Siddharth Sivasamy, while the dialogues in Tamil and Telugu are by Madhan Karky and Madhav Burra respectively. There are five full songs in the film. There are also a number of tracks in bits and pieces from song sequences in films acted by Savitri. Music for both background score as well as the main songs is composed by Mickey J. Meyer. He has tried to bring about the tone and tenor of the music prevalent during Savitri's time.

Samantha Acts as Journalist Maduravani
Director Nag Ashwin has adopted a novel device to relate the story. Savitri is in a coma and a journalist Madhuravani and photographer Vijay Anthony try to unravel her past and probe her life story. The story of Savitri's life is narrated through a series of inter-related flashbacks going back and forth. Madhuravani is played by Samantha Ruth Prabhu, who recently married the actor Naga Chaitanya. Vijay Anthony is enacted by Vijay Deverakonda. Savitri's life from childhood to demise over the time period from the forties to the eighties of the 20th century is covered in the narrative. The tale to a very great extent is told through the journalist Madhuravani played by Samantha. Editing is by Kotagiri Venkateshwara Rao. The art director is Avinash, while the production designer is Shivam. Great effort has gone into making this biopic a flawless period movie. 42 sets were created to shoot the various scenes. Among these were settings such as the now non-existent Vijaya-Vahini studio and Parry's Corner of an earlier vintage.

One remarkable creation was the studio floor within floor set for the scenes of vintage movie Maayaa Bazaar.

Every prop and item used was acquired or constructed with meticulous detail. These ranged from the wooden clapper boards used earlier, the camera and equipment of an earlier vintage and costumes and vehicles of a by-gone era.

The cinematographer is a Hispanic from the USA Dani Sanchez Lopez. Much of the movie was shot on celluloid to get the feel of an earlier vintage. Many sequences are shot in a grainy style to depict the Technicolor of those days.

Scenes are in colour and in black and white and are interwoven seamlessly. Different types of lenses and filters have been used at different times. Organic lighting has been used at times and some shots are taken by hand-held cameras.

The most striking feature about the film's cinematography is the use of colour in the filmy narration.

Colours Depict Phases in Savitri's Life
The colours change through each phase or segment of Savitri's life. Lush greens and sepia browns are used to depict the village life in Guntur where Savitri came from. When she migrates to the urban studios and city life, the colours blossom into warmer pinks, oranges and yellows and reds.
When Savitri falls in love, red and maroons start infiltrating into the frame.

As Savitri becomes successful in her career and prospers, there are brighter hues golden tones. When people get jealous and envious of Savitri's success there are shades of blue-green and green. As her life falters there are shades of blue to illustrate her weaknesses. There are crimson, mauve, purple and blue in darker tomes as Savitri deteriorates. Low-key lighting, deep shadows and circling camera work enhance the mood of pathos. The biopic about Savitri is a profound cinematic creation.
To those of us who grew up seeing Savitri on screen and appreciated her acting, the decline of her personal life has been most distressing. The rise and fall of Nadigaiyar Thilagam Savitri in real life is the stuff from which many melodramatic movies can be made.

It is to the credit of the director Nag Ashwin that he has genuinely attempted to present an authentic account of Savitri's life. The greatest praise he has received for his work is the compliment by Savitri's daughter Vijayachamundeswari that Mahanati/Nadigaiyar Thilagam was the first time that the story of her mother Savitri's life has been told so truthfully by anyone.
D.B.S.Jeyaraj can be reached at dbsjeyaraj@yahoo.com