---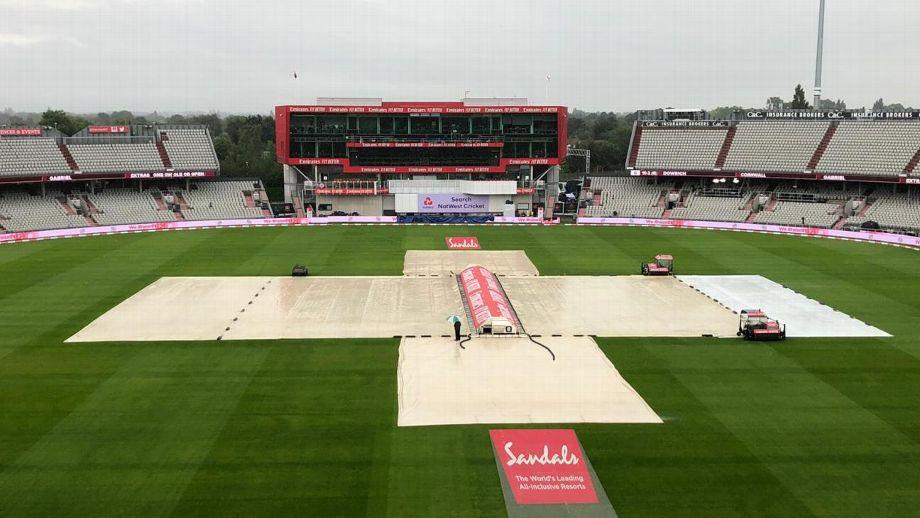 Rain had the final say in Manchester as Day 4 of the third and final Test was called off without a ball being bowled. There was a glimmer of hope in between when rain had stopped and the ground staff got on with business, only for it to return heavier and rule out any possibility of game-time on Monday (July 27).
The start of play was initially delayed, washing out the first session. There was hope of the weather clearing out at some point in the day, but the damp outfield meant it would take a long time to get the ground ready for play for a resumption.
Stuart Broad will have to wait another night for his much-anticipated 500th Test wicket, being on 499 currently. Broad, in the morning session yesterday picked four wickets in four overs, as West Indies folded for 197. England then built on their 172-run lead, with a 90 by Rory Burns and a quick-fire half-century from skipper Root left West Indies with 399 to win. West Indies had just six overs to see through late in the day. They did, but lost two wickets in the process, ending the day on 10 for 2.
The weather forecast for tomorrow is better. While West Indies will hope for the rain gods to help them out of the mire they find themselves in, England just need eight wickets to win. Which, given how Broad and Anderson have been bowling, won't take them too long to get.
Brief scores: England 369 & 226/2 (Dom Sibley 56, Rory Burns 90, Joe Root 68*) lead West Indies 197 & 10/2 (Stuart Broad 2-8) by 388 runs.