---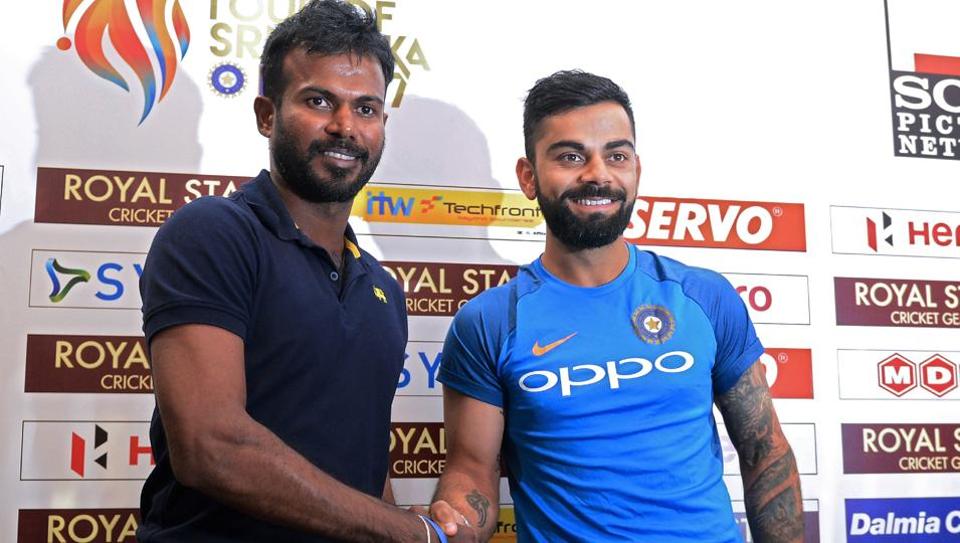 Upul Tharanga and Virat Kohli shake hands at the press conference.
Indian skipper Virat Kohli says a team could ensure a smooth transition if they are 'brave and willing to do the hard yards. He said that experience counts a little if the players have no confidence and belief in their abilities.
A young Indian team under Kohli arrived here in 2015 and despite losing the first Test in Galle, fought back to win the series 2-1, the beginning of a new era in Indian cricket during the last two years. They are currently the number one ranked Test team, having won 17 of their 24 outings. They have lost only two matches with remaining five draws.
"You might have played 100 games, if a guy who has played 10 games has more belief than you, he is going to end up doing well because as I said this game gives rewards to people who are brave and willing to do the hard yards and something that we have certainly respected as a team and we have worked towards," the young Indian skipper said addressing media in Colombo.
Sri Lanka will host India for three Tests, five ODIs, and one T20I during the seven-week long tour. The first Test will begin on next Wednesday in Galle.
"When we played Sri Lanka last, the difference in the experience of Test matches was vast. Sanga (Kumar Sangakkara) was still playing and Angelo (Mathews) was in the side as well and Rangana Herath was there as well. Dhammika Prasad and all these guys. The experience was not even close, if you see the number of Tests that we had played. But what we told everyone in the group was what matters is how much you believe more than the opposition," Kohli explained.
Though India's transition has been smooth and steady, Sri Lanka has had a difficult time, with their performances have been consistently inconsistent across all formats. Although Sri Lanka escaped with a victory in the one-off Test against Zimbabwe, they were beaten 3-2 in the five-match ODI series—their first ever series defeat to the Zimbabweans.
"I think this particular series in Sri Lanka was the series that gave us belief, coming back from 0-1 down in the series. After losing that Test in Galle which was quite a dent for us mentally, the way the team came together was iconic as far as where we have come in the last two years is concerned," he added.
Kohli said that his team gives equal respect for any team no matter whether they are strong or weak. Sri Lanka beat Australia, the number one ranked team 3-0 at home but since they have struggled to perform consistently.
"We definitely never take any game lightly. We never take any opposition lightly. We give equal respect to any opposition because you can be a strong or a weak side but this game is the same game, everyone plays the same game, you play with a bat and a ball. It is no one's game for the taking before it starts. You have to earn your victories and it's something we respect as a team. I do feel that if we want to win a series in any country in the world, we have to play good cricket and we have to work for it, which we are ready to do," the stylish batsman said while sitting next India's new coach Ravi Shastri.
Kohli who said they would not take Sri Lanka lightly as they have been a very formidable side at home added that they are well prepared to face the spin threats from Rangana Herath.
"Well, we had to because he is such a good bowler. If you don't find solutions to a bowler like Herath, he will do what he did at Galle. That's what counts, as professional cricketers, you have to be a step ahead of what you are going to expect, and find ways to counter it. That's what international sport is all about," added.

Image Gallery
Herath led Sri Lanka to victory in Galle claiming seven wickets in India's second innings in the first Test in Galle in 2015 series but his performance in the next two were below par, largely contributing to Sri Lanka's series defeat.
Meanwhile, Sri Lanka limited over skipper Upul Tharanga who attended the press conference instead of regular Test skipper Dinesh Chandimal who is down with the flu said that Sri Lanka are well equipped to tackle the Indians in the series.
---
Lahiru Thirimanne will lead Sri Lanka Board President's XI against India in a practice game today.