---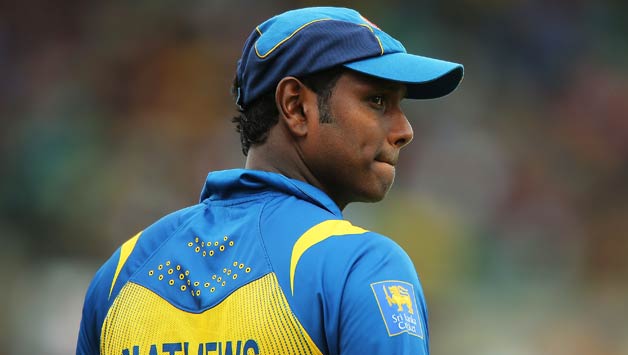 Sri Lanka skipper Angelo Mathews is the only Sri Lankan cricketer to feature in the latest ODI rankings announced by the International Cricket Council.
Mathews who is returning to international cricket after a long injury layoff is fourth among the list of allrounders as none of the Sri Lankan cricketers have made to the top 20 in either bowling or batting.
South African bowler Kagiso Rabada has replaced his team-mate, Imran Tahir, as the world's top ranked ODI bowler while skipper AB de Villiers remains the top-ranked ODI batsman.
Rabada moved up four places to take the top spot after his impressive performance at Lord's in the third ODI on Monday.
The Proteas lost their three-match series to England 2-1, but Rabada's haul of 4 for 39 in the final match on Monday helped him finish the series with seven wickets.
Rabada, 22, is the youngest No 1 bowler since Pakistan's Saqlain Mushtaq in 1998.
Meanwhile Bangladesh pipped Sri Lanka on decimal points to reach sixth rank for the first time, ahead of three former World champions - Sri Lanka, Pakistan and the West Indies. Both Bangladesh and Sri Lanka are on 93 points and eighth-ranked Pakistan on 88 points, giving these teams a chance to gain more points by upsetting better-ranked sides since the rankings are weighted to reflect the difference in points.
ICC ODI Team Rankings (as on 30 May, before the ICC Champions Trophy)
Rank Team Points
1. South Africa 122 (-1)
2. Australia 118
3. India 117
4. New Zealand 114
5. England 112 (+2)
6. Bangladesh 93
7. Sri Lanka 93
8. Pakistan 88
9. West Indies 79
10. Afghanistan 52
11. Zimbabwe 46
12. Ireland 41
ICC ODI Player Rankings
Batsmen (top 20)
Rank (+/-) Player Team Pts Avge
1 ( - ) AB de Villiers SA 874 54.38
2 ( - ) David Warner Aus 871 44.84
3 ( - ) Virat Kohli Ind 852 53.11
4 (+2) Q. de Kock SA 776 43.7
5 (-1) Joe Root Eng 772 47.8
6 (-1) Faf du Plessis SA 765 43.34
7= (+1) Babar Azam Pak 762*! 55.08
( - ) Martin Guptill NZ 762 43.66
9 ( - ) K. Williamson NZ 742 45.90
10 (+1) Hashim Amla SA 734 50.22
11 (-1) Steve Smith Aus 733 43.67
12 ( - ) Rohit Sharma Ind 717 41.37
13 ( - ) MS Dhoni Ind 712 50.96
14 ( - ) Ross Taylor NZ 701 44.01
15 (-1) S. Dhawan Ind 690 42.91
16 ( - ) Alex Hales Eng 667 37.86
17= (+5) Eoin Morgan Eng 646 38.10
( - ) Jos Buttler Eng 646 36.40
19 ( - ) Tamim Iqbal Ban 642! 33.43
20 ( - ) M. Hafeez Pak 632 32.73
Bowlers (top 20)
Rank (+/-) Player Team Pts Avge Eco
1 (+4) K. Rabada SA 724! 24.90 5.13
2 (-1) Imran Tahir SA 722 24.18 4.67
3 (-1) Mitchell Starc Aus 701 19.88 4.81
4 (-1) Sunil Narine WI 690 26.46 4.12
5 (+1) J. Hazlewood Aus 684*! 25.18 4.65
6 (-2) Trent Boult NZ 683 24.85 4.98
7 ( - ) Chris Woakes Eng 645 31.56 5.59
8 ( - ) M. Nabi Afg 622 32.33 4.32
9 (+1) S. Al Hasan Ban 620 28.74 4.38
10 (+1) M. Santner NZ 617*! 32.20 4.95
11= (-2) Matt Henry NZ 615 25.26 5.62
( - ) Akshar Patel Ind 615* 30.20 4.38
13 ( - ) Amit Mishra Ind 609* 23.60 4.72
14 (+1) M. Mortaza Ban 601 30.11 4.75
15 (+3) M. Rahman Ban 600*! 16.00 4.62
16 (+7) Liam Plunkett Eng 597* 31.13 5.73
17 (-1) Jason Holder WI 590 32.90 5.44
18= (-1) Dale Steyn SA 579 26.62 4.94
(+2) R. Ashwin Ind 579 32.37 4.91
20 (-6) Adil Rashid Eng 576 34.12 5.68
All-rounders (top five)
Rank (+/-) Player Team Pts
1 ( - ) S. Al Hasan Ban 362
2 ( - ) M. Hafeez Pak 353
3 ( - ) M. Nabi Afg 330
4 ( - ) A. Mathews SL 309
5 ( - ) J. Faulkner Aus 308