---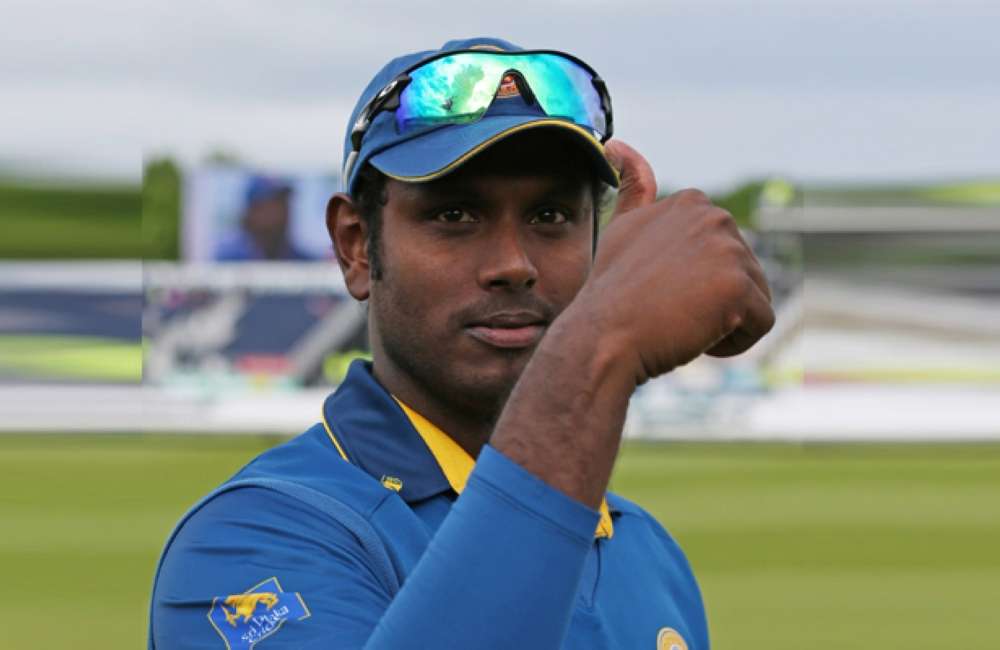 By Champika Fernando
Batsman Angelo Mathews says that he is "very excited to be back" as he approaches his anticipated return from a long injury lay-off.
Mathews, who will be 31 next month, has not featured for Sri Lanka since January 17 owing to a hamstring injury sustained on national duty in Bangladesh. But he is back for the three-match Test series against the West Indies, his first Test tour to the Caribbean.
Having spent the last three months in rehabilitation, the former Sri Lanka Test skipper has regained full fitness and successfully attended a week's session training in Kandy prior to the team's schedule departure to the Caribbean.
"I am really excited," Mathews told the Sunday Times. "It was a break that I badly needed and I am thankful to everyone for the understanding and support extended to give my legs a bit more time to recover."
After missing Sri Lanka's national engagements during the three months lay-off, including the Nidahas Trophy tri-nation T20 competition, Mathews started playing domestic cricket in April in order to gain match fitness—a mandatory requirement for selection to the national side.
"The main cause for my injuries was rushing back to cricket," he said. "So everyone involved with the game, the coaches, trainers, physios and the selectors decided to give me that training block, so that my legs will be conditioned. We did everything possible from sprint training to gym training, weight training to rehab to capacity running, you name it. In the meantime, I started batting to build myself up to start playing a four-day game and three one- day games before I got selected to the squad."
During the time Mathews was sidelined, Sri Lanka completed an excellent series in Bangladesh winning every trophy on offer, but missed clinching the Nidahas Trophy—a tournament organised to celebrate Sri Lanka's Independence from British rule.
Now that he is fit, his biggest challenge is to manage his workload diligently to be free from injuries. Mathews said that constant discussion with support staff and selectors will help him do that.
"I think communication is very important when it comes to workload management with the support staff and the selectors," he reflected. "The selectors are very open-minded. The physios will obviously know who are in the red zone, guys who have played a lot of cricket, and they will communicate that to the head coach and cricket selectors for them to take a call on a player. So going forward, managing players will be very important, especially since we are playing a lot of cricket during the next few months."
As part of managing his workload, he will not bowl in either format at least for now, a decision he reached after thorough vetting and discussion with support staff and selectors. But he has no intention of giving it up completely.
"Yes, initially that's the plan," he explained. "We've discussed it and, during the next few months I will refrain from bowling just to get that capacity. Once we are closing in for the overseas tours, where the ball moves around and does a little bit, I might consider sending down few overs."
"But it all depends on how I feel," he continued. "I will try my best to come back into bowling as soon as possible and in the meantime I will not be rushing. I will just ease into it and keep communicating with the head coach and the selectors and then will make a proper plan for me to return to bowling."
Mathews has been a vital cog in the Sri Lanka team ever since he made his international debut. He has contributed immensely as a bowler, particularly in the ODI format—an advantage Sri Lanka enjoyed during his prime.
"Like I said, I want to bowl," he reiterated. "I have played my cricket as an all-rounder so I will miss bowling during the next few months. But when it comes to the longer format, I have played as a specialist batsman even though I send down few overs. But I feel I can bowl a few overs in one-dayers which gives the selectors and the coach a better option to balance the team. But I will not rush it to bowl. I will get my fitness and slowly start bowling to gradually build it up. Towards the end the year, especially during the overseas tours, I will try and bowl a few overs."
Sri Lanka endured a rough patch in 2017 but Mathews—the limited-over skipper—believes that, in Chandika Hathurusingha, Sri Lanka has found the perfect mentor to turn fortunes around.
"Since Hathu arrived, we've seen a difference in the atmosphere," he said. "You can see how freely the guys are playing and he gives a lot of confidence personally to all the players. This is a huge thing for the players, talking to them individually, giving them that confidence."
"You can see how the players have been performing over the past few months. Yes, we lost the Nidahas Trophy but boys played extremely well in Bangladesh. Our team is growing and, if we play with a lot of freedom, you can see results," an optimistic Mathews said.
Commenting on the tour, Mathews said the players are determined to put up a good show during the Tests where they are yet to win a series.
"Unfortunately, we weren't able to play under lights due to rain but we were able to train during the day and it was very specific and it was absolutely brilliant," he held. "We had sessions with a psychologist and had two consultants working with fast bowlers and spinners. So, all in all, we are well prepared for the tour."