---

Sri Lanka has been on the active lookout to improve its bilateral trade with the economic giants and the United States (US) is one of them. The interest is observed to be mutual, given the number of initiatives taken place in the recent past. However, to pick up pace that would allow both nation to reap the much-needed economic benefits, a number of issues are yet to be ironed out, largely by Sri Lanka. Mirror Business recently met with the newly appointed Assistant US Trade Representative for South and Central Asian Affairs Mark Linscott, who was in Sri Lanka for the first time to explore the potential opportunities. Linscott has been Assistant US Trade Representative for South and Central Asian Affairs since December 2016. In this position, he is responsible for development of trade policy with the countries comprising South and Central Asia, including Bangladesh, Bhutan, India, Iran, Kazakhstan, Kyrgyzstan, the Maldives, Nepal, Pakistan, Sri Lanka, Tajikistan, Turkmenistan and Uzbekistan. He leads efforts in the bilateral Trade Policy Forum with India and in Trade and Investment Framework Agreements (TIFAs) with Central Asia, Bangladesh, the Maldives, Nepal, Pakistan and Sri Lanka. During the brief discussion, the key official shared his views on the relationship between the two counties, areas of patching up and the potential to grow together in a win-win manner. Following are the excerpts from the interview.
Tell us about the reason for your visit to Sri Lanka?
I am here because our trade relations are important. I am relatively new to the region – that is South and Central Asia. This is my first visit but there is so much going on. Sri Lanka has such an exciting and complicated history. Our view is that the county has a lot of economic potential in particular with the coalition government. It seems like a very good first opportunity to be here and talk to some counterparts and also to provide some insights with regard to the new administration's trade policy.

Who have you been engaging with?
We have had a variety of meetings at the Industry and Commerce Ministry, International Development Ministry, Finance Ministry, the Central Bank and those institutions and agencies that have responsibility with trade and international economic policy.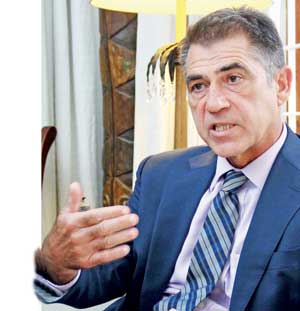 How important is Sri Lanka as a trading partner for the US and why? Where would you place it amongst its regional peers?
Among the regional peers, each country is unique. So, it will be difficult to provide any specific comparison or prioritization. We have significant trade with Sri Lanka but it is obviously not one of our largest partners. We are the largest export market for Sri Lanka but frankly we would like to see more exports from the US as we currently account for less than 3 percent. Sri Lanka definitely has some natural advantages in terms of its position in the Indian Ocean, the Port of Colombo being a hub and being a crossroad for its neighbours. With the coalition government pursuing many reforms, we certainly see many new trade opportunities.

You mentioned you would like to see more exports from the US. So in that endeavour, are there any specific plans from your end to capitalize on Sri Lanka's upcoming hub status?
The new administration's trade policy is very focused on increasing trade and the US exports to all regions of the world. So South Asia is not unique in that respect. We have our own interest to boost economic growth and trade is a big part of that.

The TIFA talks held last year saw the establishment of a US-Sri Lanka Joint Action Plan to boost trade and investment. What is its progress?
In many aspects, it is still a work in progress. Even with the conversations I have been having with the relevant ministries and agencies here in Sri Lanka, we have been interested in exploring how it can be enhanced and perhaps be a bit more focused. We actually have an event related to the GSP programme, a generalized system of preferences. We have an official from Washington, an expert in this area and we will be able to provide information on the scope of the programme and how the Sri Lankan exporters can take that advantage. We are also looking at new aspects to the programme. Its scope is being increased to include travel goods and items such as luggage, backpacks, tote bags and similar items.

We are also very interested in pursuing some of our export interest, the extent to which Sri Lanka is building up; an economic and trade system that needs world-class standards is of great interest. We have already had some conversations about some key areas, reforms that are under consideration, ways to increase trade and achieve economic growth. There have been, with respect to tariffs, many additional charges that have been applied to the US exports and we would love to see some reduction of those. There have been lots of concerns around that. Transparency in procurement and ensuring that our companies have a fair opportunity to win contracts is important. There have been some challenges in the public procurement system in the past. Those are the areas we have been discussing in moving forward with the action plan.

The US continues to be the single largest export destination for Sri Lankan products and the island nation is quite comfortable with that, given there has been less diversification with regard to the markets it caters to. Having said that, there is always room for improvement as Sri Lanka is in need to increase its overall exports. What new areas show potential?
I would suggest that Sri Lanka actively looks at increasing exports globally and not just with the US. We are the largest for Sri Lanka but efforts to increase foreign direct investment (FDI), which is a priority for the government, could present new opportunities to expand in certain sectors to increase the base. For example, the IT sector – it is an area Sri Lanka has experienced tremendous growth in the recent years – big increases in exports. We have advocated for Sri Lanka to join the WTO technology agreement, which would involve reduction in tariffs in certain IT products. By joining this agreement, Sri Lanka would see more investment into the sector and will have new opportunity to export more.

There is a trade imbalance between the two countries. Are there any efforts to bridge that gap – that is for the value of exports to Sri Lanka to surpass imports?
A number of areas, from manufactured goods to agriculture products, to services sectors, for example, in the agriculture products, we have had strong interest with respect to poultry and to have an agreement for poultry trade to take place. I just learnt that our medical devices do not have access. So, we will be looking at that. In the finance sector, Sri Lanka in terms of domestic capital, cannot meet many of the needs for investment. More access to financial services would provide mutually beneficial outcomes. US companies investing in Sri Lanka would allow additional resources available for financing local investments.

How about the area of education?
It is an area of the action plan where not much has been done. Frankly I am not very familiar with some of those specific ideas.

With the new US presidency there are drastic changes in policies, trade included. Would Sri Lanka be impacted by this? If so, how can it cushion itself?
Yes. The new administration is very focused on bilateral initiatives and negotiations in certain areas. As it has been made aware, the new administration declined to be part of the Trans Pacific Partnership (TPP). There is much emphasis on trade deficit, particularly with those countries with which we have very large deficits. We do too with Sri Lanka, a relatively small one compared to what we have with the others. By working together, for example to increase FDI into Sri Lank, it will also allow more opportunities for the US to increase exports and potentially rebalance a little bit the
trade numbers.

What is your take on Sri Lanka's economy in terms of liberalization? Is it liberalized enough to boost trading initiatives?
Again in the area of FDI, an area of clear priority for the government, there remains in many sectors foreign equity thresholds. The non-transparent procedures for approving new investment on a real case by case basis – that is an example of where more can be done. Historically there has been a wide variety of additional charges that are applied above the tariff schedule. That increases the cost associated with importing into Sri Lanka and also increases the lack of predictability in terms of exports.

A number of initiatives are observed between the US and Sri Lanka. So, in that context, what is your outlook of this relationship in the medium to long term?
We certainly hope and are working towards a strong bilateral relation in many different fronts. We expect mutual interest in being stable, transparent, having the principle of good governance and economically working together so Sri Lanka can realize its full potential. Being where it is, having a port like Colombo, there clearly is much more potential in increasing trade from and into Sri Lanka. Those are areas that will potentially allow the relationship to become closer.

Any areas where you would like the Sri Lankan government to take solid measures?
The areas of procurement. We have provided a lot of assistance in this area related to increasing transparency, the kinds of procedure that can be in place, allowing predictability. We would like to see such coming into place. Removing the additional charges on imports and joining the WTO agreement. These are areas where more work must be done. Doing so will allow the opportunity for Sri Lanka to truly excite others countries and investors and be able to differentiate itself from other
developing nation.

Is Sri Lanka swift enough in correcting these issues? These issues have been highlighted before.
A lot of these changes don't happen overnight and certainly it can be challenging in terms of political sensitivities. It certainly pays off in terms of increasing trade and economic growth. The faster the better is what I would have to say.