---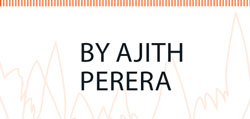 The Sri Lanka Police presented its Annual Performance Report 2016 to parliament last week and it painted a dismal picture of the current state of affairs. The Sri Lanka Police reports that in 2016, it apprehended 388,722 kilogrammes of narcotics, a growth of 3,000 percent over the figure of 13,548 kilogrammes during the previous year.

Whilst police and law enforcement agencies are due credit for this staggering rate of seizures, it also raises a myriad of questions and concerns with respect to the breakdown of law and order, social degradation and development of effective policies.

Not so long ago, narcotics were the 'difficult' option to achieve. However, in the modern milieu, things have taken a drastic turn as youth all over Sri Lanka – even in the farthest villages – have cheap and easy access to dangerous narcotics. Women in villages state that they do not venture out alone after dark, as young men incensed and infatuated under the influence of drugs lay waste to innocent passers-by. Such developments alongside the more publicized acts of disorderliness at sporting venues, places of religious worship and public institutions are a clear indication of the breakdown of the system of religious, social and cultural values and governance that we pride on – but seldom practice.

Narcotics are laying waste to the lives and futures of our youth, disintegrating families and degenerating the social values we espouse. As per the World Health Organisation's global drug map at the end of 2015, 4.9 persons were treated for drug abuse in India per one million inhabitants, 34.8 in Pakistan, 51.2 in Myanmar and 40.1 in Bangladesh. Sri Lanka recorded 80, posting the highest figure per capita for the South Asian region.

Drugs are abundant and trafficked in large volumes to countries like Sri Lanka as they are now cheaper and easy to distribute. In markets where safer and regulated, legal alcohol and tobacco products should serve as the vice for beaten souls, we face the shame of watching our youth turn towards more dangerous and degenerative highs. Price presents the most critical turning factor.
With licensed alcohol and tobacco products averaging above and around Rs.1,000, a kilogramme of Kerala Ganja presents a more potent and lasting alternative at just Rs.800 based on its grade. Delivery can be arranged to any lamppost, rock, postbox, nook or cranny by the wayside, with payments made by hand or with ease using mobile money solutions. There are no sales restrictions on time, location or volumes. As alluded before, narcotics used to be the 'difficult' one to achieve, but today they have become the practical option.

Besides the human costs, the economic impacts too are abundant and can be felt at varying levels.
Smoking ganja and illicit tobacco is cheaper in Sri Lanka than the legitimate cigarette. A kilogramme of low grade Kerala Ganja will yield over 35 sticks based on the manner it is rolled. Sri Lanka's legal tobacco industry recorded a 3.7 percent decline in excise revenue over the first six months of this year as total tax revenue fell short of target by Rs.8 billion a company statement said recently, on the back of a 25 percent drop in volumes due to excessive price.

Smuggled illicit tobacco products must also be branded under the same banner as narcotics, as some illegal products are known to carry narcotics for added appeal. Official reports indicate that over 600 million illicit tobacco products will reach Sri Lanka this year, resulting in over Rs.25 billion in losses to the government.

In Colombo, the Dehiwala, Mount Lavinia, Maligawatta and Narahenpita areas are amongst many others that showcase the degenerative impacts of drug abuse on society and citizens. Ageing parents in poor families sometimes forced into hard labour to fund medical treatment for sons whose bodies have been wasted by the effect of drugs; mothers and wives work hard to earn desperate money to fund the addiction of sons and husbands or to furnish bail for those convicted. Conservative estimates put the daily spend on drugs in the city at Rs.5 million. The human cost is far more significant and greater.

Sri Lanka is plagued with many issues but I believe the drug menace is one that calls for urgent and critical action to ensure the safety, well-being and advancement of our citizens. As mentioned above before, a 3,000 percent rise in detection demonstrates the effective action taken by our enforcement authorities but far larger volumes make their way into the market.

This is evidenced everywhere we go, on the streets of Colombo, Galle, Weligama, Kandy, Badulla, Moneragala, Polonnaruwa, Nallur, Vavuniya and Puttalam – drugs are easily accessible everywhere.
The fight against intoxication needs a better coordinated and coherent plan of action. More importantly, the fight needs to be taken to the correct front.

(Ajith Perera is a retired marine security services director, who was attached to shipping services in Sri Lanka and the Middle East, with extensive experience in engaging the shipping industry and authorities on regulation and anti-smuggling operations)