---
Earth became the beauty because of the interaction between living things and their surroundings.
The two have molded together to create a balance of what we would call today as nature. The only problem is that this natural balance keeps being disrupted by us humans. Time and again we see everywhere the statement that we humans are destroying the environment.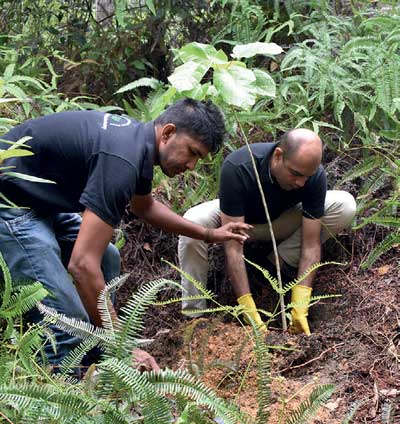 Everyday problems keep increasing, from the fume of vehicles and gas from factories. Trees are being cut down and chemicals are being poured in to rivers. It is nothing new that we are destroying the environment knowingly. Everywhere we go, all we see is garbage thrown everywhere. Yes, we are polluting and always talking about it but the question is how many of us are taking action and doing something about it?
Simply talking about pollution and pointing fingers at the root causes of pollution won't do anything until we take proper action about it as individuals, cooperates and organizations.
The Factory Outlet joins hands with 'BEES' to help reduce the gap in the balance of nature as stated above. The Bio-diversity Education and Exploration Society (BEES) is a non-governmental, nonprofit member based organization in Galle, comprised of young conservationists and environmentalists who are dedicated in conducting research and awareness programs on biodiversity, specially touching the areas of reptiles, amphibians, fresh water fish, fresh water crabs, Butterflies and their habitats. The mission of the society is to create an interest for bio-diversity in Sri Lanka, among the school children as well as general public, which the Society believes will give rise to an ardent community, to work with dedication and commitment for the betterment of
Mother Nature.
Combating global warming, absorbing carbon dioxide and exhaling oxygen, contributing to a healthy soil are enough and plenty reason why our earth needs more plants. Being a large scale or an individual project is not the point here but to go ahead and plant because the world needs it.
Thus, the two organizations have come together to commemorate the World Environment Day that is celebrated on the 5th of June 2017 by initiating a tree planting campaign at Kottawa national forest in Galle. The Factory Outlet contributed a number of valuable plants, contributing towards protecting the environment.
"We are happy to join hands with BEES to make Galle a better and greener environment. We are looking forward to initiating many projects of this caliber in Galle in the future," said Muneer Rafeek, Chief Operating Officer of The Factory Outlet.
The whole ecology of nature is changing due to the rapid development around the world. It is high time that we as humans take responsibility and take action rather than just talk about it. One person's little action may not make a big difference but many people's little actions can and will make a difference. The Factory Outlet and BEES hope that this measure will ignite a chain reaction of inspiration for everyone to take action.