---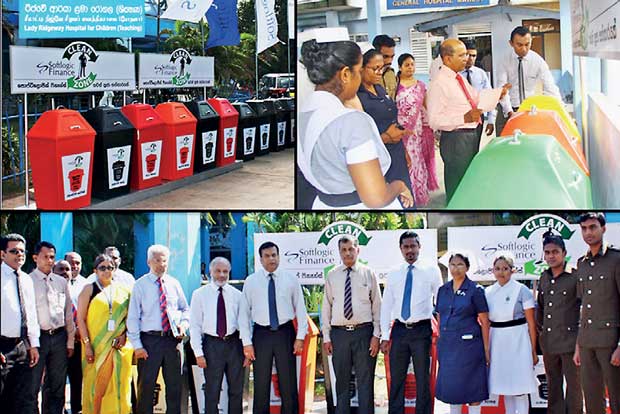 Driven by the overwhelming response to its innovative 'Clean Zone' community initiative aimed at raising community awareness on waste management and the appropriate disposal, segregation and recycling of garbage, Softlogic Finance PLC has further extended the environmentally-friendly CSR programme to a cover host of public spaces including several state hospitals.
The 'Clean Zone' community initiative of Softlogic Finance expects to eventually enhance the cleanliness and facilitate effective waste management of a 100km roadside extent across the country. Initially, a 500 metre roadside extent to either side of each Softlogic Finance location which joins the programme is declared a 'Clean Zone' and Softlogic Finance engages the assistance of the relevant Municipal/Urban Council for the designated area to be cleaned at shorter intervals than before, thus facilitating greater cleanliness.
The designated 'Clean Zone' area will eventually be extended to cover a two kilometre extent around each location. At the launch of each 'Clean Zone' programme, three separate, distinctively colour-coded bins, dedicated for the disposal of plastics, bottles and recyclable material, are placed to promote garbage segregation. Softlogic Finance staff members are also deployed to educate area residents on the vital importance of proper garbage disposal, segregation and recycling.
Following its launch in Nawala in late March 2015, in response to serious social and health problems posed by improper disposal of garbage, including increase in dengue, Softlogic Finance's 'Clean Zone' initiative has been successfully extended to its existing branches and each new branch of the company will open with 'Clean Zone' facilities in place.
In less than one-and-a-half years since its inception, by mid-August 2016, the programme had already been launched at 29 locations across the country, including places of worship –such as temples, churches and kovils – as well as public spaces – including town centres, places of recreation, train stations and schools – in addition to Softlogic Finance branch locations. Notably, the 'Clean Zone' initiative has been launched at the Gangaramaya Temple, Ruwanweliseya Stupa and the Muthiyangana Raja Maha Vihara in Badulla. There has been an overwhelming demand from municipal councils, urban councils and schools to further extend this project, in light of the sustainable community benefits that it offers.
Softlogic Finance PLC recognised that the effective waste disposal and segregation is critical in hospitals as these are public spaces frequently visited by thousands of people daily. Further, it is crucial that a sterile and clean environment is maintained in hospitals at all times. Thus, the latest phase of the 'Clean Zone' programme was launched at the Lady Ridgeway Hospital in Borella, which is considered to be the country's largest public hospital for children and the General Hospital in Matara, both of which are public spaces in which proper waste management and cleanliness are of paramount importance.
Accordingly, separate bins distinctively colour-coded as per Health Ministry approved guidelines were donated by Softlogic Finance to these two hospitals for the disposal of plastics, bottles and recyclable material. Further, at each of these 'Clean Zone' locations, instructions detailing proper waste segregation and disposal have been provided in all three languages for the ease of the thousands of people who frequently visit them. This is expected to assist in further improving the cleanliness of these hospitals and accordingly benefit hospital staff and the large number of members of the public who visit these hospitals daily.
"We take great pleasure in the success of the 'Clean Zone' community initiative in making a meaningful and sustainable contribution to solve a very serious social issue," Softlogic Finance PLC CEO, Nalin Wijekoon said. "Softlogic Finance is most encouraged by the highly positive responses and support that it has received from Municipal and Urban Councils across the country. With their assistance, we are committed to further expanding this programme."
Softlogic Finance PLC is part of the Softlogic Group that has interests in healthcare, retail, financial services, ICT, leisure, automobiles and restaurants.