---
Award-winning Professor Jennifer Perera has joined the clinical panellists of Credence Genomics, the country's leading commercial biotechnology venture, equipped with next generation sequencing technology.

Professor Perera joins the farsighted team behind this pioneering venture led by Dr. Vaz Santosh Gnanam.

Credence has succeeded where few have dared to venture and is the first such entity in Sri Lanka and in fact amongst a handful in the world at the forefront of this field.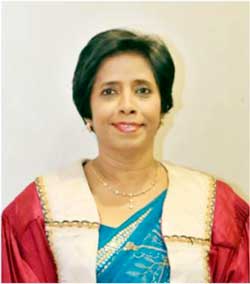 Professor Perera is no stranger to innovation and early adoption of new technologies. She acknowledges that the advent of next generation sequencing allows the microbiologists to look at housekeeping genes found in bacteria to identify the organisms with extremely high accuracy.
The technology of next generation sequencing has been penetrating the spectrum of diagnostics in infectious diseases allowing for clinicians to use this technology to sort out the most challenging infectious case scenarios.

Credence Genomics has developed a range of commercial Genomic products for various industries that include bacterial and fungal testing using the latest metagenomic techniques. The comprehensive sequencing and bioinformatics services offered by the company are available for various commercial sciences, medical, agricultural, marine, as well as environmental applications. The company's business objective is to become a global leader in Genomics through research and design and development of clinically actionable diagnostics.

As the Sri Lanka Medical Association President and Colombo University Medical Faculty Dean, Professor Perera stated, "Next generation sequencing techniques will revolutionize the infectious disease diagnostics by replacing the conventional polymerase chain reaction based methods of disease diagnosis and is expected to monopolize the commercial diagnostic trade during the next decade."

Professor Perera's contribution and recognition of new techniques stems from the fact that she has been a member of many bodies such as the National Science Foundation (Research Committee on Biotechnology), National Research Council, Advisory Committee on Communicable Diseases and Task Force in Microbiology at the Health Ministry Sri Lanka. An award-winning scientist, Professor Perera has won many accolades and prizes including the President's Awards for Research for seven years in a row from 2007 – 2013.

As the Chair Professor of Microbiology, University of Colombo, Professor Perera's presence on the panel of Credence is bound to give the organisation a further impetus and take it to the next level of scientific development and initiative.