---

The year 5 scholarship exam is perceived as a landmark hurdle by students and parents alike. Since the examination opens doors for students to enter esteemed national schools; it has become one of the most competitive examinations faced by school children.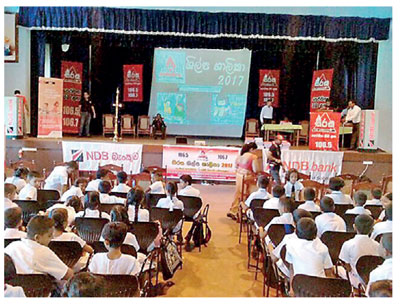 'NDB Shilpa', a versatile solution to help build the dreams of the aspiring younger generation of the country, joined hands as main sponsor for a series of educational programmes initiated by Sirasa FM for the second consecutive year. These seminars are conducted during the past years in a view to support little ones who are preparing themselves for the upcoming Grade 5 scholarship examination.
These programmes are carried out by an eminent panel of lecturers who carry a wealth of experience and expertise in the field of education.
Ten mega programmes will be carried out targeting over 12,000 students to provide free scholarship seminars with informative sessions including study tips and preparation guidelines for the upcoming examination.
Simultaneous workshops are also carried out for parents on valuable tips on how to motivate and prepare their children during the exam period. The bank held its first two programmes in Hingurakgoda and Mahiyanganaya with an overwhelming participation of both children and parents.
NDB has continued to support build the nation by encouraging every Sri Lankan parent to make education the best gift for their child. This year NDB Shilpa will recognize the accomplishment of the first top five students with a token of Rs. 100,000 each, the next five students with Rs.50,000 and Rs. 5000 for any student who gains more than 180 points at this year's scholarship examination. Last year too, NDB carried out a similar campaign and witnessed a tremendous success. NDB Shilpa partners children through infancy up until adolescence as a mentor and a guide supporting their education each step of the way. Thus, NDB Shilpa is customized into three segments namely, NDB Bilindu, NDB Kids and NDB Teen accounts that work by the side of the parents
and the child.
NDB Shilpa Digital www.shilpa.ndbdigital.com is a special web site which aims to effectively cater to the young parents and kids of the digital age. NDB Shilpa digital interface is a child-friendly, interactive online resource which shares valuable information on a variety of themes. The digital resource also designed with edutainment features that will attract and engage with the tech
savvy young ones.
With the vision to be "the driving force for a financially empowered Sri Lanka", NDB is committed to create superior shareholder value and to ensure success of all the stakeholders that join the Bank in its
success journey.
NDB remains dedicated to guide its customers to success whilst being committed to support them accomplish their life long ambitions and uplift their standards of living through the range of services that is accessible through its growing
branch network.