---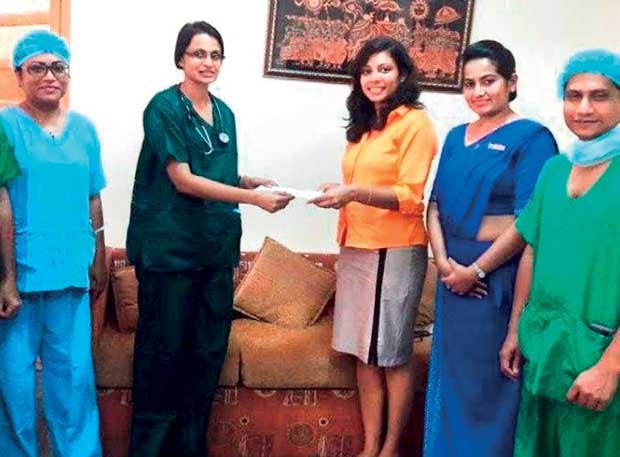 Wathsala Munasinghe of Mihin Lanka, the Project Coordinator presenting a cheque to the surgical staff of the Children's Heart Operating Theatre Project
The staff of Mihin Lanka recently made a significant donation towards the Children's Heart Operating Theatre Project at the Lady Ridgeway Hospital, an initiative earmarked by the staff as a part of their on-going CSR mandate.

The project aims at raising funds to build a crucial heart operating room or theatre that will essentially provide hope to families by saving the lives of children living with heart defects.

At its current capacity, the hospital provides cardiac surgery to sick children free of charge. The contributions from Mihin Lanka and other well-wishers will result in the increase of these surgeries performed on children to 1500 per year. A raffle draw was held internally amongst the departments in order to support this H O P E or the 'Heart Operations Performed Early' initiative.

Earlier this year the staff of Mihin Lanka banded together to provide a break-fast for over 500 Muslim devotees of the flood-affected Zaras Garden's Jumma Mosque. The team also made a contribution of vital rations to the people living in the Welampitiya, area that was impacted by the floods.Mihin Lanka will continue to identify communities and causes that are often over-looked and provide aid to uplift these communities.

Mihin Lanka has been operational since 2007, and has evolved over the years to become one of the most reputed travel brands in the region that is renowned for its signature Sri Lankan hospitality. For information about Mihin Lanka flights and holiday packages visit www.mihinlanka.com