---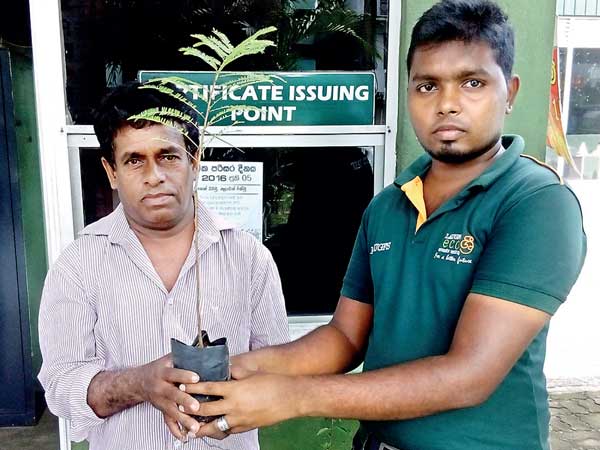 Laugfs Eco Sri recently distributed 5,000 plants among its valuable customers as part of an annual Green Guardian Campaign to raise awareness on protecting and preserving the natural environment.
Customers who visited Eco Sri centres to obtain their Vehicle Emission Test (VET) certificates were provided with free plants by the staff located across the country.

Laugfs Eco Sri, is one the two companies engaged in the issuance of VET certificates in Sri Lanka, and has been advocating positive environmental action through numerous awareness programs and initiatives. It has implemented various campaigns in the past to lobby active participation of local communities and the general public in environmental initiatives, working closely with government authorities, non-government organizations and other interest groups. Its annual Green Campaign, carried out for the fifth consecutive year, is part of this commitment to building a safer, cleaner and greener tomorrow.

"As a home-grown company that deeply value our Sri Lankan roots, Laugfs has always had a strong commitment towards building a sustainable future, which is reflected in the diverse businesses across the group. Laugfs Power engages is renewable energy solutions while currently setting up the country's largest solar power plant. Laugfs Gas offers LPG as an alternative for conventional fossil fuels and similarly Eco Sri offers vehicle emission testing services, critical for effective air quality management," commented a representative of the Laugfs Eco Sri Management team.

"However, we have not limited our responsibility to preserve our natural environment to the confinements of our service portfolio. Instead we try to constantly engage with our stakeholders to create awareness and instigate action through numerous programs. Our vast network of service centres spread across the country, provides us with the unique advantage of engaging with millions of people all over the country. This initiative to distribute 5,000 plants to our customers was inspired by this very notion," he further elaborated encapsulating the idea behind the program.
The spokesperson further reiterated that encouraging citizens to actively play a role in planting and nurturing trees can go a long way in creating a better tomorrow.

"We believe that the best time to plant a tree was 20 years ago, and the second best time is now. So, we made this our campaign theme for this year. Preserving the environment has always been one of our top priorities and as a truly Sri Lankan business, we are actively involved in contributing to build a greener tomorrow for our country."

"Although distributing a plant and encouraging our customers to plant it in their garden may seem a simple initiative, we believe this will be effective in provoking positive thinking, action as well as discussion among our communities on critical environmental challenges facing our country. By reaching out to 5,000 of our customers, we are confident that we will be able to initiate conversation, and hopefully action, among many more around them," he remarked.

Under the annual Green Campaign of Eco Sri, there is also a forest growing project in the pipeline. This project is expected to bring major environmental benefits of long-term nature. "According to research findings, new forests clean a greater amount of carbon dioxide than the old forests, as new plants need to produce more material through the photosynthesis process for their growth. The forest growing project aims to collaborate with the Environmental Ministry and other stakeholders that can support the project for long-term sustainability" he further added elaborating on future plans.