---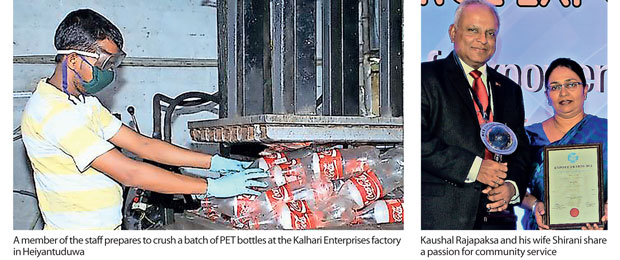 By Ranjit J. Perera
His vision is to establish a Global Recycling Village in Sri Lanka utilizing state-of-the-art technology from around the world. The idea might seem far-fetched to many but for Indhra Kaushal Rajapaksa it is a very vivid dream that has slowly but surely become clearer and
more attainable.
Rajapaksa, a product of Ananda College, qualified in polymer science technology at the Katubedda Campus and obtained an MBA in Business Administration from the USA. He is also a Fellow of the Plastic and Rubber Institute, of which he is currently Vice President. He has experience working in all the major footwear exporting companies in the Katunayake Export Processing Zone.
Rajapaksa's father was an engine driver in the Ceylon Government Railway; his mother is a full-time housewife tending to the needs of Rajapaksa, his two sisters and two brothers. Theirs is a close-knit family even today, sharing and respecting each other as they learnt early in life.
Having worked in several top companies in the plastics and rubber sector, Rajapaksa began the Kalhari group with Kalhari Enterprises in 2003 recycling plastic waste. Operations began with the recycling of PET bottles, mainly beverage bottles. The company gradually became one of the leading exporters of recycled PET bottles at the time.
Plastic waste was collected and brought to the Kalhari factory in Heiyanthuduwa where it was either crushed or baled according to customer specifications. They were then shipped to China
or India.
"Today we do not confine ourselves to PET but have expanded to recycle other plastics as well," said Rajapaksa.
That has given the collector a wider range of plastics including HDPE, LDPE and polythene. Some of them we sell to local manufacturers while the others are exported.
We have also expanded to recycle rubber waste and steel waste. We were the first to have created value for the steel sand generated in steel factories and opened up export markets for them. From the time steel factories commenced production in Sri Lanka they have been dumping this steel waste in low-lying or marshy fields resulting in the entire area becoming barren where nothing could be cultivated and the water bed gets polluted due to the oxide dripping to the bottom with the water," added.
"What we have done is to create a commercial value for this steel waste and generate a huge amount of foreign exchange for the country.
We export the PET to China and Taiwan, rubber waste to Pakistan, China and India and steel waste to China and Korea. During the last seven years, we have started three other factories and that is how we have become a group. We have an additional recycling factory totally dedicated to recycling tyres and the product of that is exported to Japan while some of it is also sold to the local tyre industry," he said.
His efforts have not gone unrewarded. For several years, he has received many awards including the Exporter's Award.
For another, this would only have been a business venture. Not so for Rajapaksa. The growth of the Kalhari group is intimately woven into the community where the factory is situated. Heiyanthuduwa, where the company is headquartered, is about 18 kilometres from Colombo. A rural village accessed through a winding and hilly road, it is also home to most of the employees of Kalhari Enterprises helping in no small measure to raise their living standards.
As a natural leader, Rajapaksa has initiated many community service projects not only in and around his factory and home but even as far as Matara. Giving sight to the poor, catering to the medical needs of the elderly and the needy and helping children are priorities for him. Devout Buddhists, both he and his wife Shirani – always by his side sharing his passion for community service – built a dagoba for the rural community of Nakulugamuwa, in a remote corner of the Matara District.
Recently Rajapaksa and his team conducted an annual community service programme at the Heiyanthuduwa Buddhist Temple for the 10th year in succession. In this period, the project has served around 7000 people and distributed 3,500 pairs of spectacles in addition to the other services provided. The beneficiaries of his philanthropic activities extend from children and schools to the elderly and the needy. Very broad-minded in outlook, he shuns any form of discrimination and insists that community service should be for the entire community.
Rajapaksa's passion for community service has been nurtured by Lions Clubs International District 306 B2. A Charter Member of the Biyagama North Lions Club, he is the Cabinet Treasurer of District 306 B2 for the year 2016/2017.
Today Rajapaksa is negotiating with partners in Thailand, Belgium, Germany and Spain to bring the latest technology in recycling to Sri Lanka. Very soon he expects to be engaged in the recycling of outdated and unused chemicals and experts in this field from Spain and Thailand are due to arrive in the country next month for discussions.
His keen involvement in the boating and yachting industries has seen Sail Lanka Charter become the leading yacht chartering and manufacturing company in Sri Lanka. BAFF Polymech of which he is a Director, has introduced new technology and trained many youth for jobs in
water-based industries.
Rajapaksa has contributed professionally to the industry and through it to the country, even as he continues to contribute to the community through his
unstinting philanthropy.