---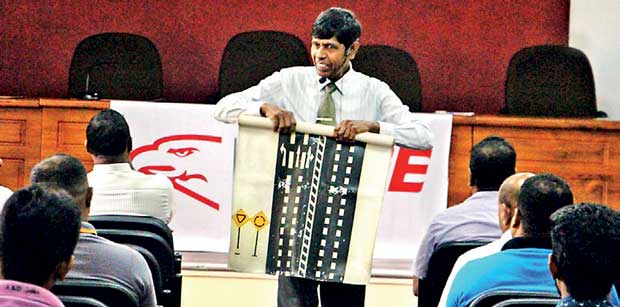 Sri Lanka's premier cement manufacturer, Insee Cement has joined hands with the Board of Investment (BOI) and Sri Lanka Police to launch a road safety awareness programme targeting Katunayake Export Processing Zone (KEPZ).
The initiative recently kicked off at the BOI auditorium focusing on creating awareness among the drivers, waste handlers, logistic officers, supervisors, and executives in the KEPZ factories, on the need to be vigilant when it comes to road safety.
Insee Cement Health and Safety Head Gayan Fernando reiterated "Insee Cement takes the necessary precautions to prevent fatigue, risk taking and the consumption of alcohol by our drivers. We also ensure that the condition of our fleet is maintained at the optimum level. So that when our vehicles are on the road, we are confident that both the driver and the vehicle are geared to perform well, ensuring safety at all times. We take pride, that our contribution to road safety has won prestigious accolades."
Insee Ecocyle Sales and Marketing Manager Najila Ranganath commented "With industrial development adversely affecting people's health and safety, Insee Cement is concerned about the impact this has on our stakeholders, especially those working in the Insee Ecocycle pre-processing facility at BOI, Katunayake. Our knowledge sharing initiative will undoubtedly help to change attitudes and bring about a behavioural change, starting with our own people in the KEPZ, which we believe is the first vital step."
In 2016, more than 3,000 road accidents were reported in Sri Lanka. The primary cause of accidents identified being the negative attitude of drivers, showing disregard for road safety while not adhering to the highway-code. By conducting regular awareness programmes of such magnitude, Insee Cement is geared towards empowering communities – to build brighter futures for the nation.