---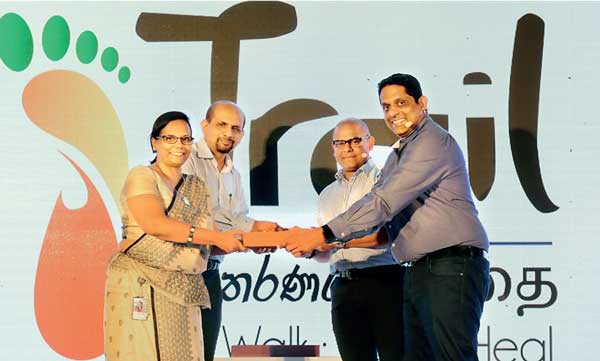 Dialog Axiata Group Chief Marketing Officer Amali Nanayakkara and Dialog Axiata Group Chief Officer Group Commercial and Programme Management Shayam Majeed handing over two ceremonial bricks to Trail Co-Founders Sarinda Unamboowe and Nathan Sivagananthan to mark the entry of Dialog as the Platinum sponsor for Trail 2016 Pix by Indraratna Balasuriya
By Supun Dias
Sri Lanka's premier telecommunication service provider, Dialog Axiata joined hands with 'Trail 2016' as the Platinum sponsor in order to raise funds to construct a US $ 10 million worth fully-fledged Cancer Treatment Centre at the Karapitiya Teaching Hospital in Galle.

Trail 2016 was officially launched recently at an event held at Cinnamon Grand, to mark the entry of Dialog Axiata as the Platinum sponsor as well as to formally introduce the brand ambassadors for this year's walk.
By taking the first step in 2011, where Dialog Axiata was also a strategic partner, Trail raised funds to build a US $ 10 million worth fully-fledged Cancer Treatment Centre in Tellipalai with 120 beds. It was opened in January 2014 and has treated over 4,500 patients from the Northern and Eastern Provinces in Sri Lanka, including the diagnosis and treatment for over 2,000 new patients.

"It is our privilege to be part of the Trail initiative, a programme that has changed lives for cancer patients in Jaffna and neighbouring districts. Cancer is increasing in alarming proportions and it is imperative that we provide the necessary support to the health services sector to combat the disease and rehabilitate victims. Dialog is proud to provide an opportunity to all Sri Lankans to contribute to this cause and we look forward to extending a cancer treatment facility to the Karapitiya Hospital," said Dialog Axiata Group Chief Marketing Officer Amali Nanayakkara.

Trial was born out of the vision of Sarinda Unamboowe, who had pledged to walk the length of his homeland as a commitment to peace was the war to end, and Nathan Sivagananthan.
Speaking at the event to officially launch 'Trail 2016' Co-Founder Sarinda Unamboowe said, "The walk from Dondra Head to Point Pedro in 2011 really was nothing short of life changing. We learned so much about our country, its people and ourselves. As we completed that first journey, we turned to each other with the same thought - that we must next walk for our brothers and sisters in the South."

Trail Co-Founder Nathan Sivagananthan said that Trail 2016 will commence on October 6 from Point Pedro for a 28-day walk covering 28 townships — culminating in Dondra. A total of US $ 5 million will be raised from the walk and through donations. The same amount will be matched by the government by equipping the hospital and making the total investment to US $ 10 million. He requested all Sri Lankans to come forward as one to support this cause and to show the world how united we are in combating such a disease.

Trail 2016 Ambassadors will include Kumar Sangakkara, Mahela Jayawardena, Bathiya & Santush, Jacqueline Fernandez, Otara Gunawardene, Yureni Noshika and many other well-known personalities in Sri Lanka, lending their support and voice for this cause.
Dialog offers customers a number of easy steps to contribute to Trail 2016. They could type Trail<space><donation amount > and SMS to 77100 from any Dialog connection, or dial #141# and select 'Trail' to donate using Star Points. Customers could also use eZCash
to contribute, by simply dialling #111# and entering COCT under institutional payments.

The minimum donation amount via SMS is Rs.5 whilst the maximum amount is Rs.2,500. Customers can send multiple SMS and the sum would be added to the monthly bill of post-paid customers and deducted off the remaining balance from pre-paid customers.
The public could visit any Dialog Customer Care Centre islandwide to make their contributions to Trail, or simply visit the website on http://trailsl.com for online donations.