---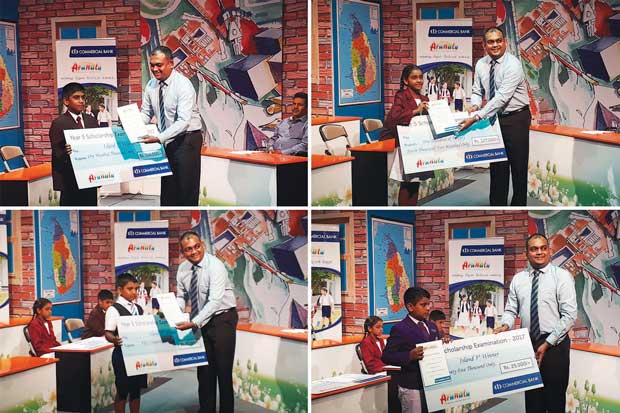 Commercial Bank's Deputy General Manager Marketing Hasrath Munasinghe presents the cash prizes to the four students placed first, second and third at the 2017 scholarship examination
The Commercial Bank of Ceylon has rewarded four of the brightest Grade 5 students in Sri Lanka with more than Rs 300,000 in cash prizes under the bank's 'Arunalu' rewards for top achievers at the annual Grade 5 scholarship examination. The recipients were those who were placed first, second and third island-wide at the 2017 examination.

W. K. Dinuka Krishankumar of Harischandra Maha Vidyalaya – Negombo, the student placed first at the examination, received an outright cash grant of Rs 100,000 from Commercial Bank, while M. A. M. InduminiJayarathne of Welipillewa Kanishta Vidyalaya – Ganemulla, one of two students that tied for second place, received Rs 127,500 because she was already the holder of a Commercial Bank Arunalu Children's Savings Account. The other student who was placed second, T. M. S. NayanajithThennakoon of Thulhiriya Kanishta Vidyalaya – Kegalle received Rs 50,000, while D .A. TharulSahasDharmarathne of Kirillawala Primary School – Kadawatha who came third, received Rs 25,000.

Launched in 1991, Arunaluis Commercial Bank's key savings account for children of the school going age andthe cash prize scheme was introduced in 1998.