---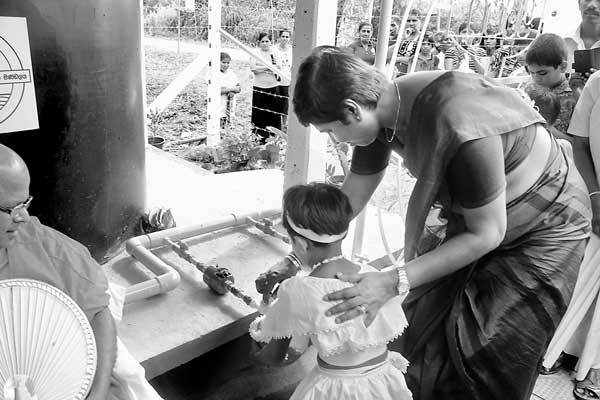 Coca-Cola, in its effort to establish sustainable communities, joined hands with the National Water Supply and Drainage Board (NWSDB) to launch one of two Reverse Osmosis water treatment units in Polonnaruwa and Dimbulagala. The initiative is set to positively impact lives of more than 400 families through enhanced access to safe and clean drinking water.

The key representative attending the official launch Dr. Sudarshini Fernandopulle - State Minister of City Planning and Water Supply said: "As a medical officer I am honoured to be a part of an initiative that is focused on uplifting the health and wellbeing of the people of Sri Lanka.

Access to clean drinking water is a basic right of the people, especially in these areas where there is a high prevalence of Chronic Kidney Disease. Although the reason for Chronic Kidney Disease is unknown, we would like to eliminate contaminated water being a potential factor. As a stakeholder of the state I would like to thank the people of this village for their tireless lobby for clean water, and Coca-Cola who made it possible."
Sonu Grover, Managing Director, Coca-Cola Sri Lanka Private Limited said:"We are privileged to partner with NWSDB to provide access to safe, clean water for the people of Polonnaruwa.

The launch of this RO secures provision of a critical need in this community. NWSDB played a crucial role in designing the units and ensuring the effective implementation of this project in Polonnaruwa.
We look forward to such partnerships that connect across the "Golden Triangle" of business, government and civil society to make a difference to the communities we serve."

Through this partnership program, one Reverse Osmosis unit will positively impact the lives of 418 families or 1672 individuals within the GramaNiladhari Division of Aralanganwila in Dimbulagala, Polonnaruwa, with a daily output of 10,000 litres of treated water.

The treated water will be used primarily for drinking and cooking purposes. Each unit will be operational for up to 20 hours per day, seven days a week and will service several households in the area.
Through these water treatment units the hardness and fluoride levels found in local sources of water will be drastically reduced.

The RO process will also effectively remove other suspected causes of the disease from the water, including the presence of heavy metals such as Arsenic and Cadmium.
In 2013, Coca-Cola partnered with the National Water Supply and Drainage Board (NWSDB) to install a Reverse Osmosis facility in Padaviya, Anuradhapura, which provided clean water to thousands of beneficiaries.
In 2014, the company installed another RO facility at a school in Mahadivulwewa, Madawachchiya to provide over 480 students and members of the community with access to safe, clean drinking water.