---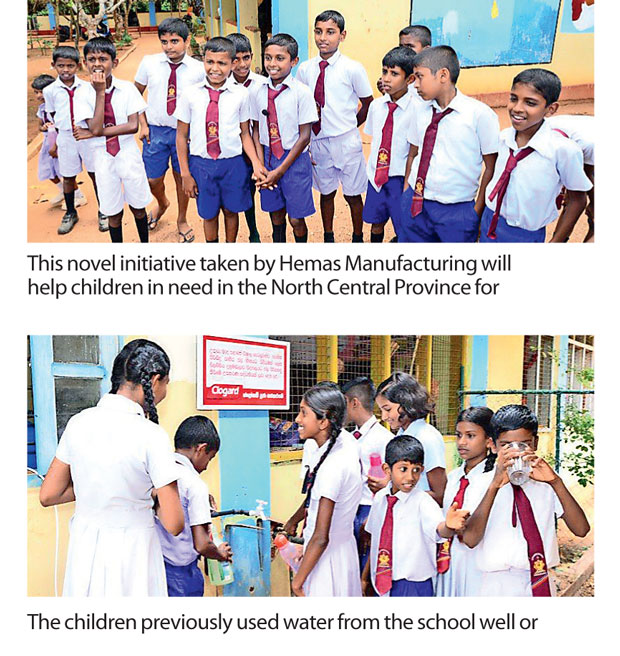 Clean drinking water is a basic necessity for healthy living. However, not everyone in Sri Lanka has easy access to safe drinking water. Having understood the battle against water-borne health hazards, Clogard, the flagship product of Hemas Manufacturing, initiated a novel campaign to provide underprivileged children with a heavy metal water filter fulfilling a vital need for healthy living. This corporate social responsibility (CSR) initiative was instigated by Clogard Fresh Blast Gel.
Hemas Manufacturing is the first Sri Lankan company to produce a gel toothpaste; Clogard Fresh Blast Gel is manufactured with a combination of natural ingredients and opta zinc technology to fight germs providing long-lasting fresh breath. Young people especially, seek the confidence that fresh breath provides, enabling them to interact closely and speak with people of all ages.
The Clogard Fresh Blast Gel team visited a small school in the North Central Province and witnessed the debilitating situation caused by dental fluorosis due to contaminated drinking water. Moreover, prior to the installation of the water filer, the residents faced severe hardships in accessing drinking water and having to pay for clean drinking water. However, to cook and clean they continued to use contaminated water resulting in irreparable dental issues.
"Clogard Fresh Blast Gel wanted to reach out to these children to do what we can do to mitigate the damage done, especially to encourage school children to brush with a fluoridated toothpaste to help strengthen their tooth enamel, preventing tooth decay. We want to drive the message across to children on the importance of using fluoridated toothpaste, contradictory to other misbeliefs in the area," said Hemas Manufacturing (Pvt.) Ltd Assistant Brand Manager Oral Care Shanadi Liyanage.
Clogard Fresh Blast Gels campaign invited the public to get involved to wish these children by embracing values of 'saying it fresh' by submitting wishes to a booth located at Majestic City. For every wish collected, Clogard donated a rupee to a fund which would help purchase water filters that would provide clean drinking water. The campaign enabled youth to join hands and support underprivileged kids and for the public also to contribute towards a worthy social cause. Clogard Fresh Blast Gel campaign was an immense success and featured on the Clogard Facebook page (www.facebook.com/clogard) and TNL Radio receiving over 200,000 wishes from the public. "The children previously used water from the school well or surrounding wells in the area. We had no assurance that the water we used was clean, even to wash our hands. The aged and the children have to face immense hardships. However, we now have an effective solution and can enjoy the joy of clean water," noted a teacher, U.S.A.M. Nilakshi.
The inauguration ceremony of the heavy metal water filter, which was held recently at the school, was attended by several provincial officials, school officials, students, parents and well-wishers.
"The water we used is unclean and by drinking it many of us were exposed to health problems, the main being kidney disease. We dreamt of having access to clean water and now that dream has come true," said a parent, R.A.M.N. Suranjeewa.
Clogard Fresh Blast Gel also conducted a free dental clinic via its mobile dental truck. The children received advice including the importance of brushing and inculcating dental hygiene. This novel initiative taken by Hemas Manufacturing will help children in need in the North Central Province for many years to come.
Clogard Fresh Blast Gel is available in three distinct variants: the strong flavoured, spicy red gel toothpaste is enriched with clove and eucalyptus oil offering consumers a sensational taste; the cool blue variant is enriched with mint and salt to give users a refreshing and cool brushing experience, while the green variant contains nelli and aloe vera offering consumers a soothing herbal sensation. All three variants of Clogard Fresh Blast Gel fight germs and give long-lasting superior fresh breath.